How Forced Evictions Are Pushing Women To The Edge Of Precarity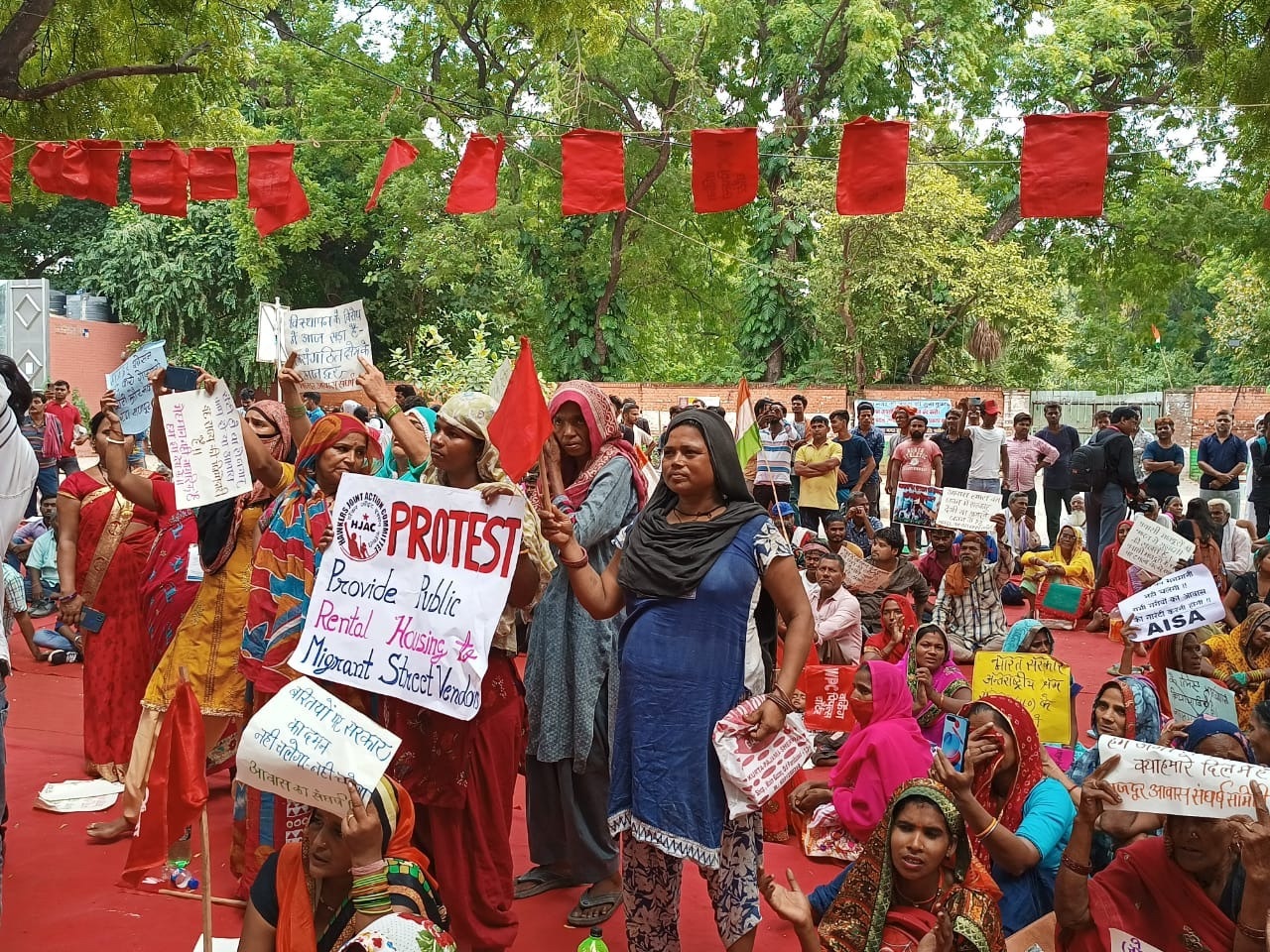 New Delhi: For two years now Shabana Khatoon has been living under a tarpaulin sheet near the Dhobi Ghat in south Delhi's Jamia Nagar. For 20 years, this area had been her home, part of a slum dwelling that was razed in a demolition drive by the Delhi Development Authority in September, 2020. 
"Can a plastic sheet make for a roof over your head? And even that is demolished every time we raise it," she said.
Khatoon is one among the 257,700 people estimated to have been forcibly evicted from their homes during the pandemic months between March 2020 and July 2021, according to the Housing and Land Rights Network (HLRN), which works on housing and land rights. 
Over 15.5 million more Indians are facing immediate threats of eviction, says the 2021 report. 
Thrown out of homes without any notice and with no promise of rehabilitation, women like Khatoon are forced to battle deprivation, insecurity, harassment and indignity every day, we found in our conversations with a dozen women evictees. 
Thousands of people had been evicted from their homes since the beginning of the pandemic in Delhi-NCR by the Delhi Development Authority (DDA), the Municipal Corporation of Delhi, and Indian Railway among others– across slums, jhuggies, and settlement colonies in Sangam Vihar, Yamuna Khadar, Shastri Park, Usmanpur, Rangpur Pahadi, and parts of Faridabad. 
The protesters claimed that they have been living in their now-demolished homes for over a decade. The reasons cited for evictions vary, as per HLRN – beautification of the site, encroachment, environmental restoration, infrastructure development and so on. 
On September 6, over 500 of these evictees gathered at Jantar Mantar, the monument that has become a protest site in the capital, to protest what they called "bulldozer raj". This refers to the government practice of bulldozing settlements to clear illegal settlements with the use of brute force – some of the oft-cited instances of this including the razing of hutments near Turkman Gate in Delhi in 1976 during the national Emergency, and the more recent punitive demolitions in Delhi's Jahangirpuri, Madhya Pradesh and Gujarat. 
The call for the recent protest was collectively given by trade unions and organisations working for the deprived sections of society – Mazdoor Awas Sangharsh Samiti, Dhobighat Jhuggi Adhikari Manch, Delhi Domestic Workers Union, and the Delhi Rozi Roti Adhikaar Abhiyaan, for instance.
Activists and protesters, most of whom were informal workers, argued that the evictions violated various Supreme Court orders to conduct surveys before a demolition drive, issue notices to the affected individuals and provide them rehabilitation. The failure to do so, the court has said, infringes upon the fundamental right to housing guaranteed under Article 21 of the Indian Constitution. 
BehanBox has sought a response from DDA and the railway authorities on the allegations that they did not comply with the pre-conditions for eviction as set down by the courts and executive authorities. This story will be updated when a response is received.
The national capital has 675 jhuggi-jhopdi (hutment) clusters, as per a survey conducted by the Delhi Urban Shelter Improvement Board (DUSIB) in 2014-15. Upto 77% of Delhi's population resides in unauthorised settlements, as per the Delhi Economic Survey of 2008-09.
The influx of migrants into the national capital has resulted in its rapid urbanisation and expansion. The public monopoly over urban lands along and inadequate housing plans for the city's growing population, especially the poor, has led to the mushrooming of unauthorised urban settlements, especially on its periphery. This crisis is not unique to Delhi – nearly half (47%) of India's urban population lives in informal settlements in 2016. 
The Delhi government failed to provide affordable housing for the city's poor under the central government scheme, the Jawaharlal Nehru National Urban Renewal Mission, noted the Comptroller and Auditor General in its report titled Social, General and Economic Sectors (Non-PSU), Government of Delhi, published in 2020. The scheme was launched for seven years from 2005-06 to 2011-12 and was later extended up to March 31, 2017
There was a lack of planning ever since the scheme's inception, and instead of spreading small clusters evenly all over Delhi, housing projects with a large number of dwelling units were concentrated in four districts, the report said.  
While there is no central law governing the process of eviction, there are state and municipal laws on how it may be carried out. In Olga Tellis versus Bombay Municipal Corporation, a writ petition was filed in 1981 challenging the municipal corporation and the Maharashtra government's decision to ​​evict slum Mumbai's dwellers and pavement dwellers and deport them to their place of origin. In 1985, the Supreme Court ruled that any eviction or demolition conducted without prior notice is in contravention with the principles of natural justice and would be considered illegal and unconstitutional. 
The court reiterated this while disposing of a writ petition in 2018 that "before evicting any person the concerned Authority is obliged to give a notice and hear the objections that may be raised".
The Delhi High Court ordered in 2019 that before an eviction authorities must conduct a detailed survey of the settlement, draw up a rehabilitation plan in consultation with the dwellers of the bastis and jhuggis and ensure they are rehabilitated. It stated that "forced eviction of jhuggi dwellers, unannounced, in coordination with the other agencies, and without compliance with the above steps, would be contrary to the law".
The Delhi Slum and JJ Rehabilitation and Relocation Policy, 2015 provides for the rehabilitation of individuals who moved before January 1, 2015, into its jhuggi jhopadi bastis that came up before January 1, 2005. 
Authorities now deliberately circumvent all established legal procedures, alleged Nirmal Gorana Agni, convenor of the Mazdoor Awas Sangharsh Samiti, which works on the housing rights of the working class. "They will find that most of these are documented shanties and thus entitled to rehabilitation in case of removal. Since they do not want to provide rehabilitation, they demolish houses without prior notice. Few will then be able to produce documents. Of them, not everyone will qualify for rehabilitation."
When agencies carry out eviction drives, they sometimes insert conditions for their rehabilitation scheme such as a mandatory one-time payment or a monthly rental. But this may not be an affordable sum for all, argued Agni, who called this a "state-sponsored conspiracy" to alienate marginalised communities such as Dalits and Muslims. 
"On the one hand, the government is making working conditions worse by expanding the working hours and introducing laws that compromise the workers' rights, and on the other, it is directly attacking their right to housing. It is a clear display of power," said Shreya Ghosh, member of the Sangrami Gharelu Kamgar Union.
Women disproportionately affected
Activists believe that the costs of eviction and displacement are disproportionately higher for women. 
An attack on the right to housing is a direct attack on people's survival, especially that of the women, said convenor Agni. "Women are responsible for maintaining sanitation facilities, arranging for food, and their own as well as their children's safety. Once their homes are destroyed, access to all of this is threatened," he said. It is also always assumed that in case of displacement, the women will quit work and care for the children and elderly, he added.
The loss of access to healthcare and housing affects pregnant and lactating women the worst. Many such women have been forced to give birth in the open following being ousted from their erstwhile homes, says the HLRN report. 
In many instances, women have gone into early labour due to eviction-related stress, Anagha Jaipal, programme officer, HLRN, told BehanBox. "Since most families cannot afford to move into rented accommodation soon after being evicted, they are forced to live on the streets until temporary arrangements can be made or alternative housing is provided. Their access to healthcare is anyway constrained, but with an added adverse event like an eviction, it is further impeded due to additional financial constraints," she said.   
Women belonging to the Gadia Lohar community, a nomadic community, whose houses were demolished in an eviction drive in Delhi's Mansarovar Park in 2017, reported facing increased acts of violence during and after the eviction, according to HLRN. BehanBox has recently reported on the violence and harassment faced by the women of the Gadia Lohar community in the absence of proper sanitation facilities. As many as 80% of NT-DNT households in Thane do not have toilets, forcing members to face indignities on a daily basis.
"We have no privacy. I have to constantly worry about my young daughter's safety," said Rakhi, a domestic worker and former resident of the now demolished slum in Sanjaynagar, Faridabad. 
Rakhi's home was demolished in October last year by the railway authorities in an anti-encroachment drive. "My husband and I struggle to make ends meet. As if the pandemic-induced financial distress was not enough, we no longer have a roof of our own," she said. 
Rakhi's husband lost a limb in an accident that left him incapable of earning a living. As the sole breadwinner of her family, Rakhi manages to earn Rs 6,000 a month – more than two-thirds of which goes into paying the rent and other related household expenses. "I just want my own home. I cannot bear to live like this anymore," she said. 
The railway authorities have not even given us the promised Rs 12,000 compensation, she claimed. 
In the aftermath of the demolition, Dhobi Ghat residents made makeshift toilets using bamboo sticks and cloth. However, even these were destroyed by the authorities, alleged Khatoon. "Due to the lack of proper toilet facilities, women have to wait until the evening or dawn to be able to relieve themselves in the nearby backwoods inhabited by snakes," she said. "On most days, we do not even have access to water or electricity."
Khatoon said she and her daughters were repeatedly harassed by men from neighbouring areas. In one such instance, she said, a group of young boys who had been harassing her daughter beat up Khatoon's husband when he intervened. A case was subsequently filed but the accused was let off by the police since he was a minor, she claimed. 
Neither Rakhi nor Khatoon have been offered rehabilitation by the authorities that demolished their homes. 
The Supreme Court had ordered the Municipal Corporation of Faridabad in June 2021 to remove, using force if required, 10,000 residential structures in Khori Gaon, Faridabad, within six weeks from the date of the order as they encroached upon the Aravali forest land. The United Nations called for the halting of the demolition drive at Khori Gaon, which they termed an "abuse of power".  The apex court refused to stay the drive and over 100,000 people have been rendered homeless by the subsequent demolitions. 
"Our homes were uprooted ruthlessly," said Phulwa Devi, resident of the Khori Gaon slum, who has not been rehabilitated under the policy. "We had exhausted all our life's earnings in (building) that home and now we have nothing; no land, no money, no livelihood. Our children can no longer afford to attend schools," she added. 
Devi, a domestic worker, and her husband, who is a daily wage labourer, rarely find work. Since they cannot afford to pay rent they are forced to rebuild their shanties over the debris of their demolished house. Even this temporary arrangement is repeatedly knocked down by the authorities, she told BehanBox. 
"The government talks about 'Beti bachao, beti padhao', but how are we supposed to do that when we are thrown on the roads. Our daughters are forced to bathe and defecate in the open," said Devi. 
Most people living in such informal settlements are migrant workers, labourers, or domestic workers, said Savari Raj, secretary of the Delhi Domestic Workers Union. "Most informal workers, especially domestic workers, already lead precarious lives with no recognition of their work. Bulldozing settlements where these workers live not only robs them of their homes but also of their means of livelihood – which are mostly within the radius of a few kilometres from these settlements," he said.
Rubina, 45, a domestic worker in south east Delhi's Govindpuri, is distraught about the thought of losing her home. "People living in the buildings want us to work at their homes but rarely allow us any dignity or rights. Now they want our homes razed in the name of beautification," she said.
Despite the courts' recognition of the inclusion of the right to resettlement under the right to housing, governments and other state authorities have repeatedly violated the rights of the displaced individuals, as we said earlier. 
The Allahabad High court noted that the right of re-settlement of the persons who do not have proper homes is a part of the fundamental right to housing, which is now well recognised by the Supreme Court, being a part of life under Article 21 of the Constitution of India. 
Additionally the Delhi High court stated that it is the constitutional and statutory obligation of the state to ensure that a forcibly evicted jhuggi dweller is relocated. It also added that the relocation has to be a "meaningful exercise consistent with the rights to life, livelihood and dignity of such jhuggi dwellers." 
The court observed that the lack of basic amenities like drinking water or water for other sanitation facilities, lack of access to affordable public transport, lack of schools and health care often compound the problem for a jhuggi dweller at the relocated site. The relocation site must ensure the protection of the rights of vulnerable people, it added.
The residents of Sanjaynagar, Khorigaon, and Dhobi Ghat are only some of the many who are waiting for rehabilitation measures to be implemented. No resettlement was provided by the state to affected persons in 87% of the cases of eviction in 2020, according to the HLRN report. 
In July 2021, the Municipal Corporation of Faridabad announced a rehabilitation policy for the Khori jhuggi dwellers.
Following the demolition drive, thousands of residents applied for the rehabilitation scheme. But only 1,009 residents qualified for rehabilitation in Dabua colony, said Muskan Kumari, an activist with Team Saathi. 
"Dabua colony is uninhabitable. On reaching the colony, we found skeletal dilapidated buildings that were frequented by youngsters dependent on drugs. The surrounding area was full of garbage sites and pigs. Even 14 months after the demolition, the government has not handed over the  possession to those who were considered eligible for rehabilitation and are asking them for Rs 10,000 for repair-related work in the flats," said Kumari. 
Authorities often push the evicted families to move to government-run shelters for the homeless, but these are temporary arrangements, and never make for a home, said activist Agni.
Support BehanBox
We believe everyone deserves equal access to accurate news. Support from our readers enables us to keep our journalism open and free for everyone, all over the world.