Why India's Nomadic Tribes Must Have Access To Toilets And Dignity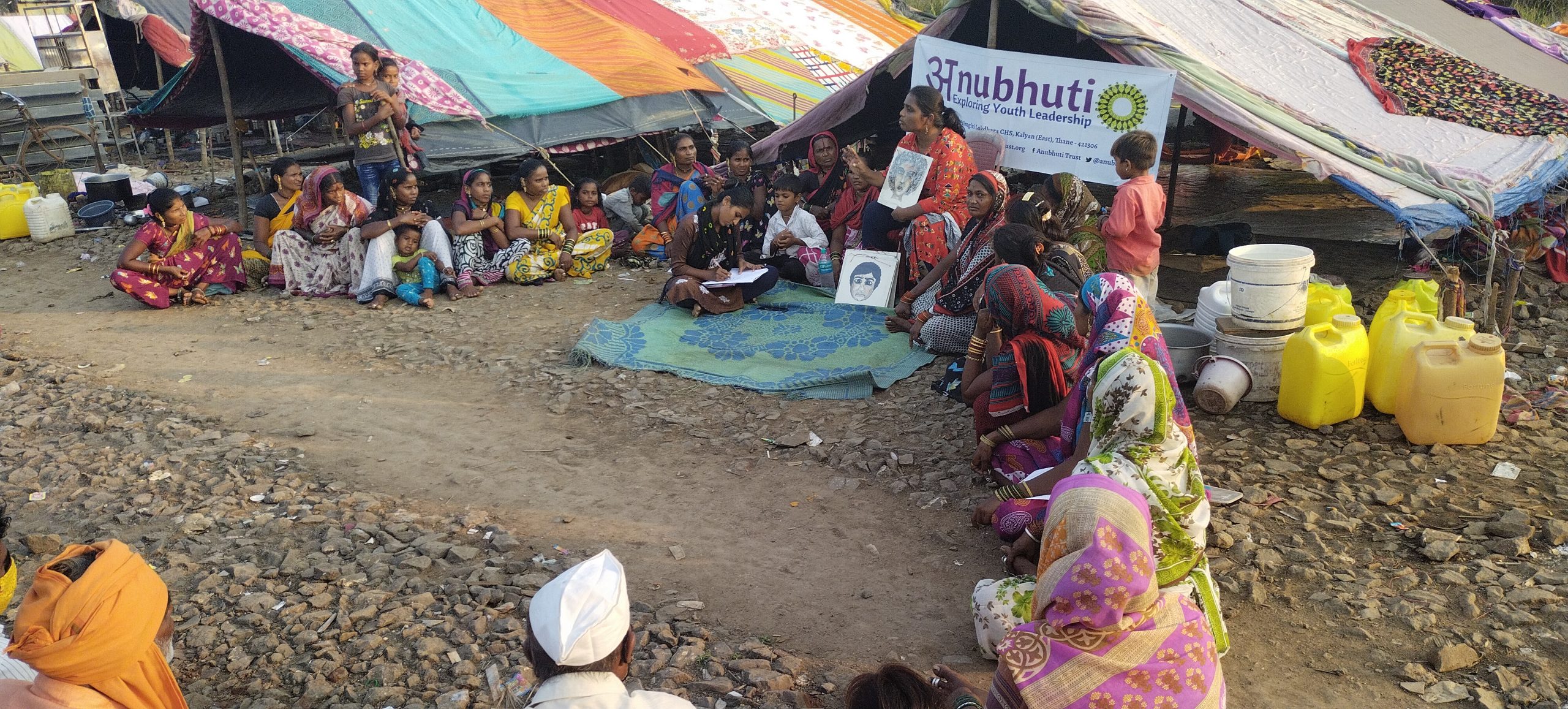 Mumbai: "You are talking about money for ration. Forget hundreds of rupees for food, we don't have Rs 10 to give to the toilet attendant for our women and children. We are so ashamed to even talk about it, who do we go to with this problem?"
This is what a community leader said to me when I and my organisation, Anubhuti, started Covid relief work among the Nomadic and Denotified Tribe (NT-DNT) communities of Maharashtra in 2020. We were the first and one of the few organisations to focus on these groups during the lockdown.
The irony was that while the rest of the world was focussed on staying home during the pandemic, nomadic families, who follow seasonal migration routes, were suddenly stuck in places where they had no networks, shelter or sanitation. Even in normal times, these families have to face many indignities related to privacy, bodily dignity, shame, caste, gender, religion and safety.
I should know, I am from the Ghisadi (Gadiya Lohar) tribe that traditionally crafted iron tools and weapons. And I am the only woman from a nomadic community to head an organisation like Anubhuti that works with a feminist, constitutional lens. I have been part of campaigns for safe, affordable, accessible public toilets, focussed on the rights of women, girls, and trans persons for more than a decade.
August 31 is celebrated as Vimukti Divas, the day India's NT-DNTs were freed from the "criminal" tag imposed on them via the repealing of the Criminal Tribes Act of 1871. But we continue to be stigmatised, abused and marginalised.
In a two-part series to mark the day, I focus on the unique sanitation issues faced by my people. In this, the first, I talk about my lived experiences. In the concluding part, I discuss the findings of a community-led toilet audit that I designed.
Who are we?
There are said to be almost 200 NT-DNTs, forming almost 10% of India's population. They are the erstwhile 'criminal' tribes — unjustly labelled so by the British in 1871 because they rose up strongly for independence. Forcefully made landless and homeless and doomed to an eternity of nomadic existence, they are today commonly seen living on the side of roads, under flyovers or on outskirts of towns and villages in tent-houses. Their traditional occupations — highly skilled artisanship, dance, music, art, gymnastics, construction, tools-making, repair-work, recycling work and so on — are today reduced to unsafe, undignified, and very low-paying jobs.
Even after being denotified by law after Indian Independence in 1952, we are treated with suspicion and stigma by both the society and administration. The Renke Commission Report in 2008 estimated our total population in India is around 107 million, which many NT-DNT activists maintain today is closer to 150 million, about 15% of India's population.
Our tribes are engaged in all kinds of highly informal work as I said. This includes begging, performing on streets with animals, dancing at religious functions and other spaces, performing acrobatics such as rope-walking, singing, selling soil and other wares and offering repair services door-to-door. Most of our houses are nothing more than two bamboo poles and a piece of plastic bound together expertly, but precarious nevertheless.
Few of us have identification or other documents, as per many reports including the Renke Report. This is due to our relentlessly nomadic lifestyle that impacts our ability to prove our existence. We are thus not eligible for government benefits or the use of civic facilities. Few of us own any land or property. Those who do are violently attacked such as the terrifying mob lynching of an entire Pardhi family in Beed in 2020 by a mob of over 30 persons because they dared to own land in the village. The subsequent administrative and police response to this crime had been insensitive.
Already struggling with a structureless and kaccha way of life, we are further neglected because civic facilities are planned and built keeping in mind the needs of settled communities. Local administrations claim that they cannot build toilets for people who never stay more than a few months at a place.
Endless indignities, from school to office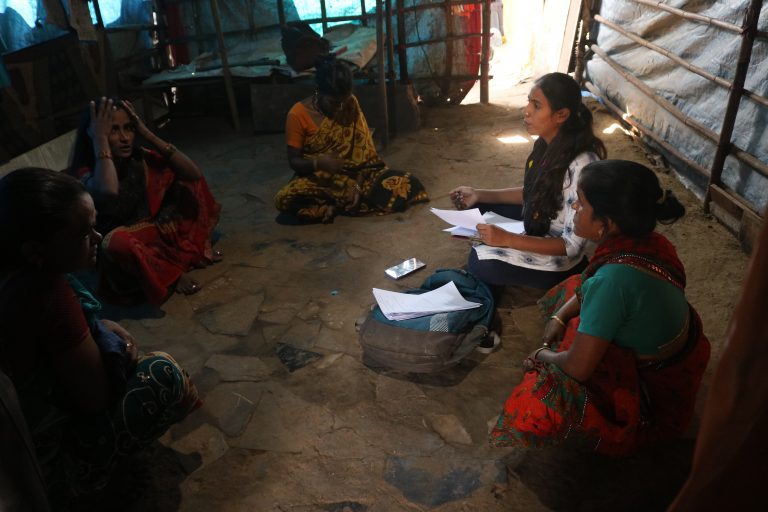 As a girl from a nomadic tribe who grew up and lived in a tent in a Mumbai basti, I know how a simple thing like a toilet can impact one's life deeply. Only someone who doesn't have one at home can understand this. I remember when I was in school, a classmate and I were discussing our daily schedules: he had things like "tuition" and "art classes" while I kept an hour-and-a-half aside every day for "toilet". He laughed and laughed at this and it is hard for me to describe the humiliation I felt. 
How do you explain the daily distress of queuing up to use a dirty, door-less, water-less community toilet. I realise today how many hours of my life and moments of peace I have lost – and how my education and health, already impacted by our circumstances, suffered — because of a toilet.
Another incident highlights the indignity and shaming that people like us face. At one of my jobs, I would be regularly late to the office. My seniors would demand to know why and I would be too embarrassed to say that it was because of the long lines that I had to negotiate at the community toilet. They could not understand because they had not experienced the daily grind and indignity that my people face everyday. 
There are worse stories – of my physical and mental distress when I was pregnant at 18, with no one to help me to the toilet and back. In families like ours, everyone works from dawn to night to afford a meal. These are not just my stories, but of my mother, sisters, and of countless girls and women I have worked with over the years. 
The community itself is the expert
The question comes to my mind — to how many of my people have these stories brought ridicule, judgement and worse, the loss of a job or a seat in a school or college? Who is accountable for the loss of opportunities, of confidence and self-esteem? There is no data available on this. 
Even among the women in the  basti where I grew up, I know that my condition and that of my mother and sisters was different – we lived in a kaccha tent while they rented pakka rooms. They had better social status and capital. 
When our father was alive, because of his disability and because we were the only NT-DNT family living in the basti, we could not raise our voice even if there was an injustice. We could not even afford to be in a situation where we could be targeted or threatened – In short, we needed to be as invisible as possible. We lost our father when we were still children and thereafter, we could afford even less to be in a situation where we were vulnerable to harassment. Sexual harassment is commonly experienced by women and girls who have to use public toilets or defecate in the open.
But it was during my COVID relief work with NT-DNTs in 2020, that I realised how ugly and widespread the situation is. I realised the need for a focused campaign on the sanitation rights of nomadic populations. For this, we needed strong data because there is little research on these communities. I realised that the community itself is the expert, and best-placed to provide data and advocacy on the issue. 
With this in mind, I designed an action-research plan on the unique sanitation-related issues faced by NT-DNTs. It was accessible enough to be confidently led by community members themselves and we concentrated on fact-finding, data collection, documentation, publicity and advocacy. We focussed on the intersections within the field – women, girls, trans persons, the old, persons with disability, and those working in highly informal occupations.
Writing, controlling our own stories
Why did I feel the need to design a community-led data advocacy model? While it was certainly to create evidence for the campaign, I also had a wider vision. 
I commonly hear the complaint among members of my community that the administration does not listen to us. The fact is that we are always dependent on those who are more literate, knowledgeable and powerful than us to articulate about our problems whether it is letters or applications to the administration, or representations to the media and academics. This leaves us vulnerable to exploitation and manipulation, and the risk of losing our dignity. We constantly need to share our sensitive stories with others with no control over how these will be represented or used. 
A majority of our people don't have writing skills or an understanding of the language of administration or academia. We don't have intellectual weapons and thus are in a constant state of 'data disability'. If this burden wasn't so big, we would have started representing ourselves long ago using common oral methods. 
However, since this is not so, it becomes my ethical responsibility — as one of the first few of the community to be educated in a college and join the "mainstream" world — to create mediums for the community, to  help it create its own evidence, data, research, stories, publications and other representations. When the community itself creates its own data, it holds a lot of truth. It is also in our hands to put it to multiple uses, and to supervise, secure and protect our stories and our dignity.
Agency is very important in evidence-based problem representation. For example, if a community leader who participated in the research, described in the next article in this series, comes to me for data specific to him or her, I will give it. Firstly, they can approach easily, and secondly, they already know the data they provided so there is no chance of it being manipulated or held back. All of this is possible because I am one of their own.
Further, I am perhaps the only, or one of the very few NT-DNT women, who is openly feminist. When a minority like me declares that I am an intersectional feminist, our NT-DNT issues on also become part of the larger feminist movement, and my feminist practices and lens slowly become part of the community narrative. 
Also, when data collecting investigators are from the same community as their subjects and they approach a question through the lens of gender, disability and so on, intersectional understanding becomes a part of community narratives. Lastly, when such a community-led practice begins, it organically creates pathways for further organising, leadership and movement-building.
If the matter is approached constitutionally and democratically, that is, if there is political and administrative will to provide fundamental facilities to every human, the sanitation issues of my community can certainly be resolved. This is important keeping in mind that the NT-DNTs form almost 15% of India's population but are still neglected. We need a constitutional approach to understand the needs of nomadic populations, and then plan facilities as per their realities.
Support BehanBox
We believe everyone deserves equal access to accurate news. Support from our readers enables us to keep our journalism open and free for everyone, all over the world.