'Women In Sports Need More Networks Of Solidarity'
Many athletes are not even aware of what constitutes sexual harassment and those who complain meet with apathy from government sports bodies, says Jagmati Sangwan, activist and former athlete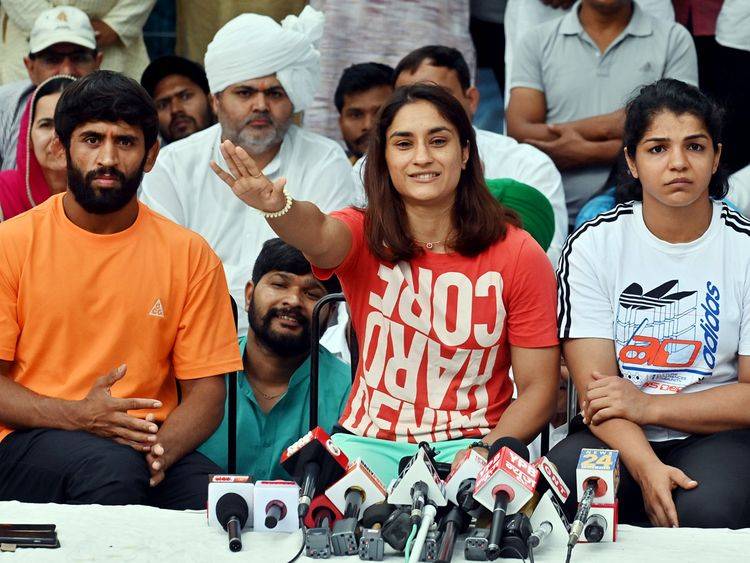 NEW DELHI: Nearly a fortnight ago, several wrestlers started a sit-in protest in Delhi's Jantar Mantar demanding the arrest of Wrestling Federation Chief (WFI) and BJP MP Brij Bhushan Sharma who has been accused of sexual harassment by seven women wrestlers, including a minor. The allegations against Brij Bhushan are not new – wrestlers Sakshi Mallik, Vinesh Phogat, and Bajrang Punia have claimed that sexual harassment has been rampant in the federation for years. 
In India, the government responded to the agitation that started in January by setting up a five-member Oversight Committee to look into the grievances of the athletes. The Indian Olympics Association (IOA) set up another parallel committee to probe the allegations as well. Neither proved fruitful. The Oversight Committee kept its functioning opaque and the head of the IOA, field and track athlete PT Usha, called the wrestlers' protest an act of indiscipline that is "ruining the image of the country".
The Delhi Police initially refused to register an FIR and the wrestlers stationed themselves at Jantar Mantar again in late April and have been there since. While an FIR has finally been filed against the WFI chief upon the Supreme Court's insistence, sportspersons say there is a clear lack of political will to provide justice to the survivors of sexual violence.
A major finding of the Oversight Committee however reveals that there was no Internal Complaints Committee (ICC) in place at the WFI as mandated by law under the 2013 Prevention of Sexual Harassment (PoSH) Act. The ICC or the PoSH Committee is a redressal body that is responsible for receiving complaints on sexual harassment at the workplace from women survivors as per the Sexual Harassment at Workplace (Prevention, Prohibition, Redressal) Act. According to this Act, every employer must constitute an ICC at each office or branch with 10 or more employees.

Not only this, an investigation by The Indian Express revealed that as many as 16 out of 30 sporting federations in India either do not have an ICC or meet its stipulated conditions. India is not alone in this crisis, sportspersons across the world have reported cases of sexual misconduct (here and here) against sports administrators and institutions.
To understand these institutional issues, we sought a detailed interview with Jagmati Sangwan, a former international volleyball player and vice president of the All India Democratic Women's Association (AIDWA), on the lack of awareness on sexual harassment laws, the culture of impunity that protects those in positions of power in sports bodies, the lopsided power dynamics between the complainants and accused, and the need to build collective spaces of solidarity.

The government's response to the ongoing agitation does not quite match the enthusiasm with which it has been cheering the rise of women sports stars in the country. How do you assess this indifference?
In the aftermath of the Rio Olympics in 2016, a palpable energy was reverberating around the country over the exemplary achievements of women in sports: the wins of sportspersons like Sakshi Malik, PV Sindhu and Dipa Karmakar prompted Prime Minister Narendra Modi to add "Beti Khilao" to the popular "Beti Bachao, Beti Padhao" slogan. The ruling regime also assured that every village, township, and city would have the required facilities and established safety and security measures in place to encourage more women and girls to come to play. But as we can see from the ongoing protests, none of that ever happened. In the last few years, there have been so many cases of sexual harassment within sporting institutions. All the government has done so far is to cover them up. Even though the wrestlers have been protesting since January, the investigations against the accused are only underway now. It is clearly visible that there is an utter lack of political will to act against cases of sexual violence when it comes to people in power.

It is legally mandatory under the Prevention of Sexual Harassment at Workplace Act (PoSH) of 2013 for every workplace with more than 10 employees to constitute an ICC to address sexual harassment in the workplace. The WFI did not even have an ICC. That is reason enough for it to be disbanded right away. Despite this clear violation of the law, the protestors gave the federation time to act on their complaints which led to the constitution of the Oversight Committee. But even this body operated in the most non-transparent and undemocratic manner. The findings of this committee were not even shared with the complainants.

What were the precise problems with how the government dealt with the case?
There is a clear pattern to how the sports authorities and the government are responding to the allegations against the federation. Instead of leading investigations, registering FIRs, and arresting the accused, the authorities delayed and eventually sabotaged the process. This bureaucratic delay is in itself a form of harassment and speaks of the culture of impunity in place to protect harassers, especially when they come from institutions of power. The fact that the SC had to issue a notice to the Delhi Police for refusing to register an FIR against the accused WFI chief speaks tomes about this culture. 
This is visible in Haryana too, where we are waging a similar fight against sports minister Sandeep Singh who has been accused of sexually harassing a junior coach. The authorities did not take up the case, it was only after we mounted enough pressure that they started investigating the matter. Even though there has finally been a case registered against him, and that too under non-bailable offences, he has not been arrested. He continues to be a minister. He has been asked by the SIT to undergo a polygraph test which he has refused to take, delaying the process even further. On the other hand, the survivor continues to be harassed — she has been intimidated, been asked to vacate her rented flat by her landlord under pressure from the sports minister, and even sent death threats.
This is their strategy. It is within this interim period; after the survivor makes the first accusation and the time taken to arrest the accused, that their families are harassed, and bullied into silence. All of this is against the law. Brij Bhushan has been booked under PoCSO, how does he still continue to give interviews?
This is also not just an issue of gender-based violence within sporting federations. Take, for instance, the Bilkis Bano rape case where all 11 convicts have been granted parole by the state. Not only does it normalise and further an environment of sexual violence against women, but it also paints an extremely demoralising and hostile picture for anyone undergoing gender-based violence to ever seek justice. 
It is important that all forces of the society come together to raise their voices. Even celebrities. This protest is not just about seeking justice and security for these women wrestlers, it is about creating safe working conditions for all of India's women.
What mechanisms would you suggest for a safe environment for women in sports?
First, stricter implementation of the PoSH law is a must. While the non-constitution of ICCs within sporting federations is a grave violation of women's safety, a larger issue is also that many women wrestlers are unaware of the mechanisms present within their workplace that can be approached when cases of sexual harassment occur. Many women athletes that I have met, tell me that it is only now that they have learned what 'sexual harassment' even constitutes. 
Beyond this, there is a need to build networks of solidarity between women within sports institutions with women's collectives and other civil society organisations. This network will not only instill a sense of confidence in sportswomen to seek support against injustice at the workplace but will also educate them on the several complaint mechanisms in place, and their rights when it comes to addressing sexual harassment.
What appears to be the issue currently is that women are not even aware of their own rights when it comes to complaining about sexual harassment. So many women athletes that I have spoken to tell me that it is only now that they have gotten to know what sexual harassment even means. Otherwise, for the longest time, they had been delegitimising the many, many instances of sexual harassment that they had been subjected to. This lack of awareness, around what constitutes sexual harassment needs to be challenged. 
This is why it is so important for ICCs to exist. The PoSH Act strictly lays down how there should be gender sensitisation within all workplaces to raise awareness.

In 2016, our organisation Himmat NGO, which works at the intersection of sports and women's development in Haryana, held a convention with sportswomen playing at different levels – schools, colleges, universities, as well as national and international levels. The objective of the convention was to create a space where women could share the several challenges they face in their sports careers and devise ways to overcome them. All women raised the unanimous demand for better infrastructural facilities, and safety and security measures so that more women can come forth and play. One of the major demands was to reopen the only government sports university, located in Hisar, Haryana that has been shut since 2002. This has meant that most girls have had to go to private academies to train. When we submitted a memorandum of our demands to the state ministers, their response hugely demotivated us. They replied with only one line, "Where is this sports university?" Not only does it reflect the state government's own ignorance, but it also highlights the absence of any political will to listen to the demands of India's women athletes.
When you were active in sports in the 80s, what was it like? Was there sexual harassment in sports institutions? 
During my time as an athlete in the 80s, women players faced a lot of harassment from the audience. Derogatory and sexist comments on women's bodies were the norm. Even if there were other forms of harassment, of the kind that comes to light nowadays, we did not hear them, given the patriarchal strongholds in place that silenced women. It is also important to note that recognising abuse was also an issue.
More cases of sexual harassment are 'visible' today because more survivors are willing to speak up and break the silence although  at a cost. Because if this is how the complaints of international and Olympic-level sports persons are treated, we can only imagine the kind of intimidation young girls and women from smaller towns, villages, and cities must face when it comes to speaking up. 
Can you elaborate more on why this is the case? 
Building a sports career is a Herculean task. It is only after you spend at least 7-8 years performing and after squeezing every last penny of your family's income that you find medal-winning acclaim. Those who are still struggling to achieve this stage, when faced with harassment, continue to tolerate it in order to make or break it in this industry. They choose not to get into the complications and unending harassment that follow survivors of gender-based violence who complain against their abusers. It is only when they reach a breaking point; when they cannot tolerate the harassment any further, that they speak out.
For instance, the junior coach who complained against the sports minister of Haryana is at the peak of her career. But since her complaint, she has not been able to concentrate on continuing her practice. To speak, more often than not, is a career-compromising choice. For those who are still struggling, especially younger women from small towns and marginalised communities, it is an impossible decision. No one takes this risk. The fact that these Olympians have taken this risk is extremely significant. It has enabled a discourse in society. 
The ongoing protests are really crucial in that sense. If these wrestlers do get justice according to the tenets of the law, it will set a positive precedent for all those young women and girls who want to become athletes. But if the current atmosphere of bureaucratic delay that is leading to delayed justice continues, it will only deter families from sending their daughters into sports. Which is a great national loss. 
Support BehanBox
We believe everyone deserves equal access to accurate news. Support from our readers enables us to keep our journalism open and free for everyone, all over the world.