Inflation-Hit, Women Demand Better Wages, More Workdays Under Rural Jobs Scheme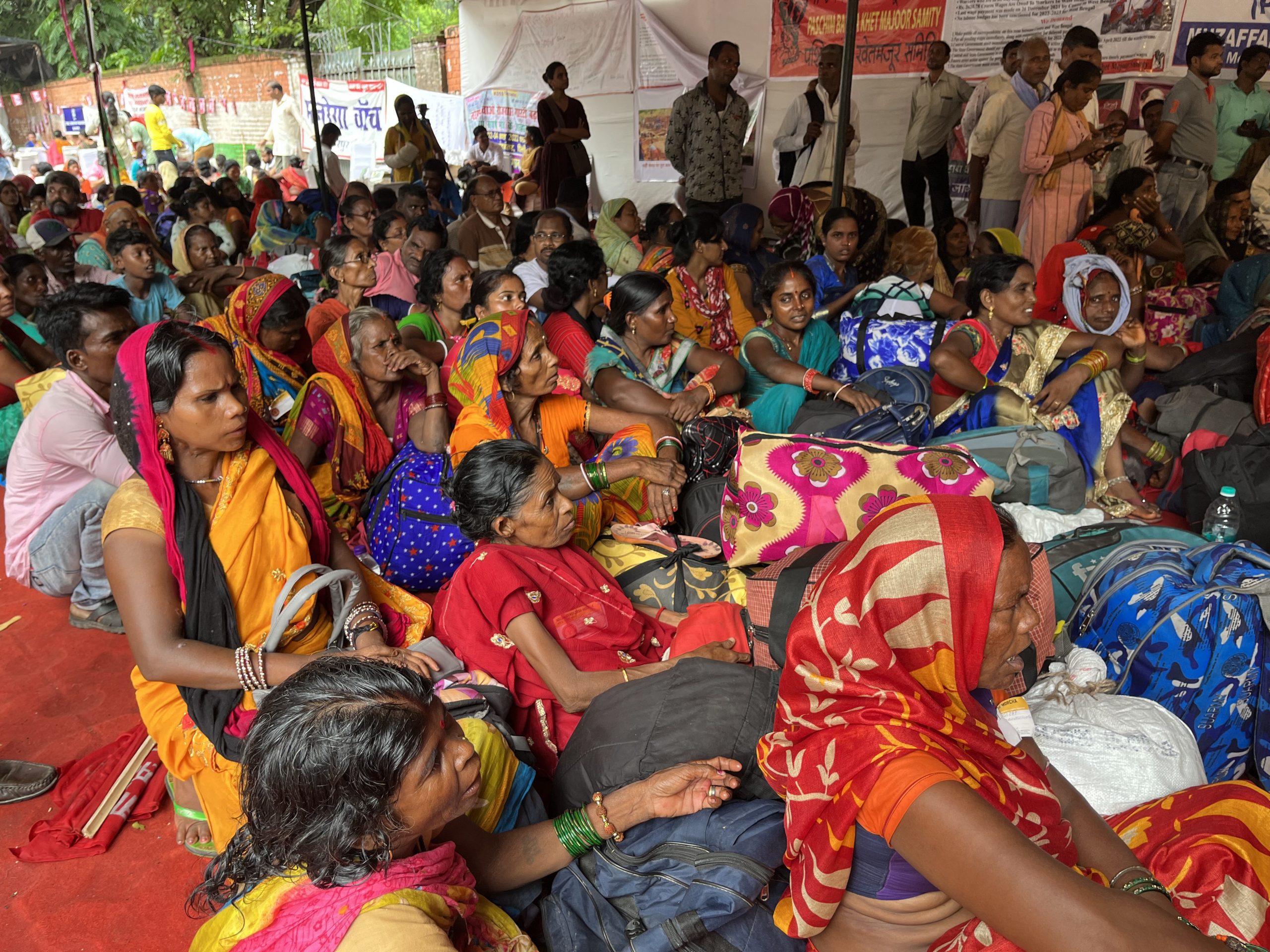 New Delhi: As August rains swept Delhi, more than 500 workers, mostly women, gathered around the Jantar Mantar monument to protest delayed wages, reduced workdays and digital glitches that mar the flagship rural livelihood scheme that employs over 150 million workers. 
The Mahatma Gandhi National Rural Employment Guarantee Scheme (MGNREGS), launched 16 years ago with the promise of providing work for at least 100 days a year, has a critical role in the lives of the rural poor, especially in times of crises such as the pandemic and the ongoing inflation. The daily wage they are paid varies across states, averaging at Rs 232.
These wages are just not enough anymore and need to be raised to at least Rs 800 and the number of guaranteed workdays must be no less than 200, said the protesting workers. Among them is Leelawati Vishwas (35), a MGNREGS mate (as workers are called) from eastern Bihar's Saharsa district. She earns Rs 210 a day and manages to average just 21 days of work every year.  
"Is it possible to feed a family, buy clothes, and send children to school with Rs 210 a day when inflation is skyrocketing?" asked Vishwas. Worse, she has not been paid since 2020. Like her, many protesting workers complained of wages being held up for as long as two years.
In 19 out of 21 states studied, the NREGS wage rate for FY23 was found to be lower than the minimum agricultural wage rate, as per an analysis by People's Action for Guaranteed Employment (PAEG), a group dedicated to research, advocacy and public intervention in MGNREGS.
While the scheme's hobbled functioning affects every worker, it is the women who are most affected. More women than men workers engage in and depend on the scheme: the participation rate of women in MGNREGS in FY22 stood at 54% – much higher than the women's national labour force participation rate for the same year (25%). A closer look at the number of persondays generated under the scheme shows that more employment was generated by women than men in the past five years. 
BehanBox spoke to over a dozen women workers at the protest site — rural Uttar Pradesh, Rajasthan, Jharkhand, Chhattisgarh, Madhya Pradesh and Karnataka – to understand their problems. Behanbox has reached out to the Ministry of Rural Development with a set of questions on the working of the scheme. This copy will be updated when a response is received.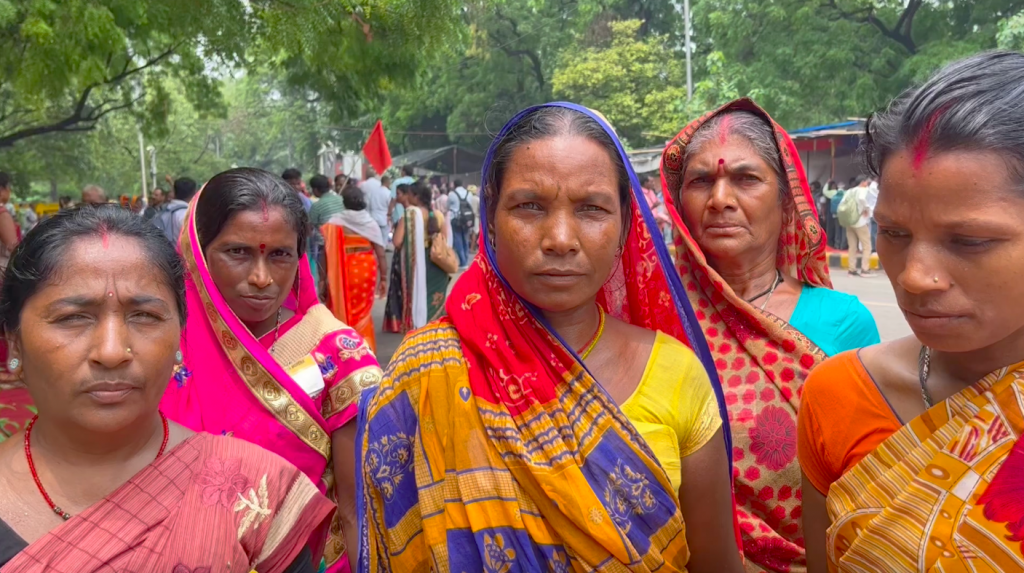 This is not the first agitation for changes in the MGNREGS. Last year, thousands of workers gathered in Lucknow to demand an increase in wages. In 2017 too, workers from Uttar Pradesh, Jharkhand, Bihar, West Bengal, Chhattisgarh and Madhya Pradesh had gathered in the national capital for a five-day dharna against stagnating wages and delayed payments. 
The pandemic pushed up the demand for work under MGNREGS as lockdowns and subsequent job losses forced over 10 million Indians to return to their home states. There was a 21% increase in the number of households that demanded work under the scheme as compared to the previous year. Almost 3.9 million work days were generated in the pandemic year (2020-21) alone. 
However, the unmet demand for work under the scheme during April and June 2020 stood at 22% despite an additional budgetary allocation of Rs 40,000 crore, as per the PAEG implementation tracker. Despite eased restrictions, the demand for work under MGNREGS is now higher than the pre-pandemic levels: in May 2022, over 30 million households demanded employment under the livelihood scheme. 
Workers have been asking for an increase in daily wages and more working days for five years and the Centre has been responding only with allegations of corrupt practices in states (see here, and here).
Waiting for two years to be paid
There are days when Phool Kumari Devi's family makes do with chapati and salt at meals. "I have not received my payment since 2020. Cooking oil alone costs us Rs 200 per litre. No vegetable is less than Rs 20 a kilo. And the gas cylinder costs over Rs 1,100," said Phool Kumari, mate at a MGNREGS work site in Katihar, eastern Bihar.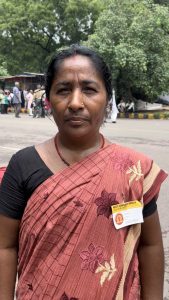 NREGS payments have to be processed within 15 days from the date of completion of the muster roll work. However, payments can take up to months or even years, claimed the workers. The central government had processed only 29% of the fund transfer orders within the mandated time period, showed an analysis of almost 1.8 million invoices between April 2021 and September 2021 by Libtech, a group of engineers, social workers, and social scientists working to improve transparency and accountability in rural public services delivery. 
NREGA and a 2016 Supreme Court order have mandated that workers be compensated if  their payments are delayed beyond 15 days of the completion of their muster roll. However, this compensation is hardly ever paid, activists and workers told BehanBox. 
The biggest hurdle to the efficient functioning of MGNREGS is the funds flow. In FY23, the total budget allocation for the scheme was Rs 73,000 crore. As on July 21, 2022, the central government had exhausted two-thirds of its budgetary allocation for MGNREGS for FY23. Almost 16% of the current year's allocation has been used for clearing pending liabilities. 
In 22 out of 28 states, the government had already spent in excess of the funds available to them till December 31, 2021, in FY22.  And the central government owes Rs 4,720 crore to 13 states and Union Territories as pending wages, the Ministry of Rural Development told the parliament.  
Paltry wages, few workdays
The wages offered vary between states, as we said, and can be as low as Rs 204 (Madhya Pradesh) and as much as Rs 331 in Haryana. The average notified wage rate in India for FY23 is Rs 246, whereas the average wage paid across India for August, 2022, is Rs 232, according to the latest official data. 
These wage levels are untenable in inflationary times, said the workers. 
In 18 states, the increase in MGNREGS wage rates (decided annually on the basis of the consumer price index for agricultural labour) was less than the rural inflation rate in FY23, as per the PAEG analysis. Further, the national average increase in wage rate was 4.7% less than the average rural inflation rate.
Across 20 states, a NREGS worker was paid 13.8% less than the average notified wage rate in FY23, showed the PAEG analysis. The top five states that recorded the highest difference are Telangana (40%), Himachal Pradesh (21%), Andhra Pradesh (20%), Tamil Nadu (20%), and Rajasthan (18%). The difference was close to zero in Uttarakhand, Uttar Pradesh, Assam, and Bihar. 
With the current budget allocation and pending overdues, only 21 days of employment could be provided on minimum wage to each household that demanded work in FY22, as per PAEG.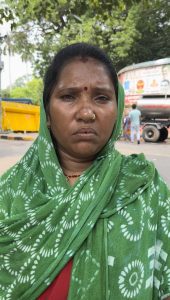 "We are unable to pay the school fees or take care of our health related expenses and have to often borrow money at high interest rates," said Sudha, a NREGS worker from Vaishali district of Bihar, who gets only 6-7 days of work under the scheme every year. Bihar is one of the stragglers in the scheme, having registered the highest unmet demand (33%) in FY22. 
Worse, NREGS mates have to chase officials for work, alleged Devi. "When they finally give me work, they deliberately appoint me to a work site 6 km away from my place. They think because I'm a woman, I will not travel the distance," she said. But she has no choice but to take on work at distant sites and with transport costs rising, this often means a long trudge. 
Instead of giving work directly to workers, block or panchayat officers often grant work to contractors to secure a 40% commission for themselves, alleged Sudha. "If we want to get work, we have to give endless applications or hold protests," she said.
Owing to low wages, most men avoid NREGS work, said Kalulal Gurjar, a daily wage labourer from Rajasthan's Bhilwara district. He and his wife both worked at NREGS sites for Rs 231, the rate fixed for Rajasthan. The money was not just inadequate but also took 3-4 months to arrive. Frustrated with the long delays in payment, Gurjar migrated to Maharashtra, where the daily wage is fixed at Rs 360.
Initially Gurjar's wife stayed back and continued working at a NREGS work site. However, due to unpaid wages and mounting expenses, she joined her husband.
After the men migrate, it is the women who shoulder the burden of running the household, said Mishri Devi, a NREGS worker from Rajasthan's Ajmer district. "Men from our villages lead better lives in Gujarat or Maharashtra, but leave us behind to fend for ourselves and the children. We are forced to take up low-paying work under NREGS," she said. 
NREGS is a major fallback option for women in rural India, especially during the dry seasons, said Telangana-based human rights activist Meera Sanghamitra. "The moment the state cuts budgets, or payments are not made in a timely manner, the purchasing power of the women, who are left behind to fend for the family, gets affected," she said. "The care work burden is primarily on women and they cannot go away easily like the men do. There are not many options back in villages for them when it comes to work, especially during the non-farming seasons."
In May, 2021, the Ministry of Rural Development launched the National Mobile Monitoring Software – an app-based attendance system that takes real time attendance of workers along with geotagged photographs. No attendance, even if it is due to technical glitches, means loss of wages. 
Activists like Sanghamitra maintain that digitisation does not take into account the barriers faced by those who do not have access to or understand technology and it is not sensitive to the larger reality of those who bank on MGNREGS. Several workers also complained about poor connectivity at work sites.
"We have been protesting against digital attendance. A lot of us cannot afford to buy phones and have to take loans to buy one. On most days, there is no signal at the work sites. Workers have to wait despite the completion of their work only to mark the day's attendance," said Vishwas. 
Digitised attendance has deprived many of the chance to take up other work to supplement their income, said NREGS workers. "Earlier workers would often complete the NREGS work and take up side jobs for some extra income. However with the app now requiring geotagged photographs twice a day, workers have to either stay back or return to their work sites – often travelling long distances – to mark their attendance," explained Kanchan*, a MGNREGS mate from Pali in Rajasthan. As a result, many workers are dropping out of NREGS and taking up other tasks, which are often more exploitative, she added. 
Activists are demanding that the mandated social audit system be conducted regularly. However, these audits have been hit by the funds crunch, claimed the NREGA Sangharsh Morcha, a platform of workers' collectives, unions, organisations and individuals.
The funds transferred to the Social Audit Units by the MoRD fell by 63% between FY22 and FY23, said the group citing information collected from audit units across states. Maharashtra, Bihar and Chhattisgarh have not received any funds in FY22 to conduct social audits, it said. 
Support BehanBox
We believe everyone deserves equal access to accurate news. Support from our readers enables us to keep our journalism open and free for everyone, all over the world.