Budget For Adivasi, Dalit Schemes Is Too Little, Gender-Skewed: Report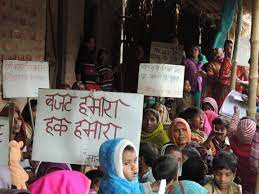 New Delhi: Schemes that directly target Scheduled Castes (SC) and Scheduled Tribes (ST) have not received enough allocations in the Union Budget announced on February 1, says a coalition of Dalit activists. 
Of the total Union budget of Rs Rs 44,14,361 crore for 2022-23, Rs 1,42,342.36 crore were earmarked for schemes benefitting SCs and Rs 89,265.12 crore for STs. While the total welfare budget may seem "quite large scale", only 37.8% (or Rs 53794.9 crore) of the SC budget and 43.8% (or Rs 39,113 crore) of the ST budget are reserved for targetted schemes, noted an analysis of the budget by the National Campaign for Dalit Human Rights and Dalit Arthik Adhikar Andolan (NCDHR-DAAA). 
Target schemes are those that benefit the SC and ST directly and exclusively and the remaining only wear the "mask of SC or ST schemes" without actually addressing the development gap faced by marginalised communities, as per the analysis, 'Dalit-Adivasi Budget Analysis 2022-23', released on February 4. The report pointed to the fact that of the 329 schemes for SCs covered by the Budget, only 74 are targetted; among schemes for STs, of the total of 336 schemes, only 77.
The NITI Aayog, a government policy think-tank that provided the directional and policy inputs for the Budget, has mandated earmarked funds for marginalised groups in proportion to their population. Going by its guidelines, the allocation for SC schemes this year should have been Rs 1,82,976 crore and Rs 98,664 crore for ST, says the coalition, adding that this means the actual allocations have left a fund gap of Rs 40,634 crore and Rs 9,399 crore respectively. This gap would be even wider if we consider targetted schemes .
Upto 62% of the funds earmarked for different schemes are either non-targeted or general, as per the analysis. Many effective schemes that have a direct effect on educational and economic outcomes of the SC and ST communities have been deprived of adequate funding while general schemes got "excessive funds", the group noted.
Pradhan Mantri Kisan Samman Nidhi, a central government scheme that promises minimum income support to farmers, gets the highest funds for Dalits and Adivasi this year. Even as it takes up 8% and 7% of the total allocation under the SC and ST budgets, it is not exclusively targeted at these communities.
Unemployment and livelihood generation
As on February 3, 2022, India's unemployment rate stood at 6.65%, according to the Centre for Monitoring Indian Economy. Currently in the grip of the Omicron wave, India is still struggling to deal with the job losses resulting from earlier lockdowns. While all caste groups suffered the impact of the pandemic, marginalised communities were hit the hardest, concludes this paper by Ashwini Deshpande and Rajesh Ramachandran.
In 2018-19, even before the onset of the pandemic, salaried youths with postgraduate qualifications from marginalised caste groups were few: only 3.71% of SC youth and 11.95% of ST youth, compared to the 84.34% of other social groups. Given this, the budget for addressing unemployment and livelihoods among marginalised groups has been inadequate, says the Dalit coalition. 
Despite the disproportionate effects of the pandemic on women's employment, no allocation has been made under the Ministry of Micro, Small and Medium Enterprises (MSME) for SC and ST women, the note points out.
Little for targetted schemes
Of the total allocation of Rs 2,682.42 crore for SCs by the Ministry of Labour and Employment, Rs 1,408.51 crore has been allocated to the Employees Pension Scheme (EPS) and Rs 1,062.4 crore to the Aatmanirbhar Bharat Rojgar Yojana. Both schemes are general in nature and provide no direct benefits to marginalised communities, says the note.
In the case of STs, of the total allocation of Rs 1389.69 crore by the same ministry, Rs 729.75 crore and 550.40 crore have been allocated to two flagship schemes, respectively. In all, Rs 3,751.06 from the Dalit and Adivasi budgets under the ministry have been diverted to general schemes. The report by the two Dalit groups called it a "gross violation of SCP/TSP guidelines" of NITI Aayog.
Allocations for employment generation for both SCs and STs have seen drastic reductions in Union Budget 2022-23 since the last fiscal year, says the analysis: the allocation for SCs fell over 86%, from Rs 170.96 crore in FY 21-22 to Rs 22.97 crore in FY 22-23. In the case of STs, the drop is 87%, from Rs 89.5 crore to Rs 11.3 crore. Also, funds for labour welfare schemes for SCs fell to Rs 19.88 crore from Rs 24.90 crore, and in the case of STs, to Rs 10.66 crore from Rs 12.90 crore, as per the report.
"It is a matter of concern that despite the migrant crisis in 2020 that also spilled onto 2021, the Union Budget does not allocate funds for the migrants from the SC and ST community," said the report.
With education moving to the digital space, the pandemic pushed students belonging to SC, ST and other deprived communities beyond even the margins. The NCDHR-DAAA report, Confronting The Pandemic, reported that 51% Dalit and Adivasi students could not access online classes and 46% of them did not receive their scholarship entitlements on time.
BehanBox had reported in December 2021 on how funding cuts and underuse were plaguing scholarship schemes for Dalit and Adivasi students. We had also reported on the disbanding of the National Scheme for Incentive to Girl Child for Secondary Education (NSIGSE), a central government scheme aimed to incentivise education among girls from SC and ST communities. 
The Gross Enrolment Ratio (GER) for SC students in higher education is 23.4 and ST students 18 while the national average is 27.1.
The Department of Higher Education has allocated a total of Rs 3,889 crore for the welfare of SC students and Rs 1,986 crore for ST students. While this is an increase of 1.1% since FY 21-22, none of the featured schemes are targetted, as per the report.
"All these schemes will make a total Rs 3,192 crore for SC and Rs 1,628 crore for ST and have been placed erroneously inside where they do not have any financial flows for the welfare and development of the SC and ST. Paradoxically, the scheme which would benefit the SC/ST students like scholarship for college and university students is only Rs 30 crore," said the report.  
Post-matric scholarship (PMS) is the single largest scheme that supports the education of students belonging to SC, ST, OBC and other minorities. This year PMS-SC has been allocated Rs 5660 crore – a 39% increase from the last fiscal year's allocation of Rs 3,416 crore. However, PMS-ST has seen a 1.4% decrease from Rs 1,993 crore last year to Rs 1,965 crore this year.
The report's analysis of Gender Responsive Budgeting, which BehanBox has analysed here, paints a grim picture for Dalit and Adivasi women. The allocation for women under SC budget fell 21% from Rs 1,5116.2 crore in FY 21-22 to Rs 11,958.95 crore in FY 22-23. In the case of ST women, the drop was of 20%, from Rs 7,204.7 crore in FY 21-22 to Rs 5,744.2 crore in FY 22-23.
The proportion of funds allocated to SC and ST women amounts to only 0.97% and 0.46% of the allocation levels required per NITI guidelines.
Allocations to schemes like Pre-Matric scholarship, Pradhan Mantri Matru Vandana Yojana, Samagra Shiksha, and Saksham Anganwadi that impact women have received lesser allocations this year, as per the report.
Despite the high demand for scholarships among girl students, budgets for the PMS scheme are inadequate, claims the report. As compared to the last fiscal year's budget estimates, there has been a 65% rise in allocation for PMS-SC girls from Rs 1,024 crore to Rs 1,698 crore. In fact the allocation for PMS-ST girls has seen a reduction of 1.3% from Rs 597 crore in FY 21-22 to Rs 589.5 crore in FY 22-23.
Given the vulnerability of the women from stigmatised communities to discrimination and violence, the allocation to improve their access to justice is not enough at Rs 180 crore for the scheme Strengthening of Machinery for Enforcement of PCR Act, 1955 and PoA Act, 1989.
The budget has made no allocations for sexual minorities such as transgender persons and others from the LGBTQI+ community, as per the report.
Support BehanBox
We believe everyone deserves equal access to accurate news. Support from our readers enables us to keep our journalism open and free for everyone, all over the world.