"It Is Imperative To Speak Up For Every Political Prisoner": Labour Rights Activist Nodeep Kaur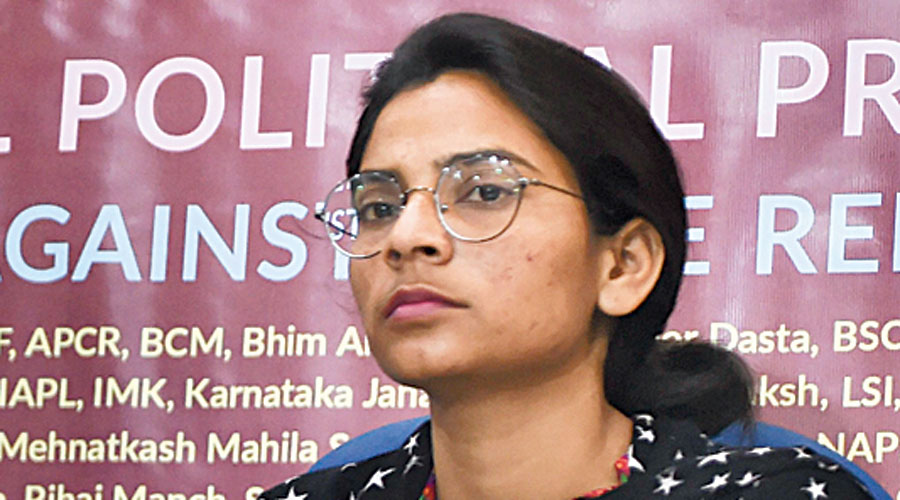 "We need new solidarity between farmers and the working class", asserts Nodeep Kaur. 
The 24 year old Dalit labour rights activist was in news recently after she was arrested by the Haryana police for protesting for labour rights and her alleged custodial torture including sexual assault.There were 3 FIRs against her with charges including rioting and attempt to murder. Kaur spent 45 days in prison and was released after a widespread social media attention and  suo moto cognizance by the Punjab and Haryana High court.
Kaur, a member of the Mazdoor Adhikar Sangathan (MAS) had been raising the issue of unpaid wages and unjust working conditions, including flouting of labour laws in the industrial area for several months. MAS had set up a tent at the site of the farm protests to both express solidarity with the farmers as well as highlight the issues of the workers. On 12 January, she along with Shiv Kumar, a visually impaired Dalit trade unionist was arrested by the Haryana police from the protest site. 
In this interview with BehanBox, Nodeep talks about her activism, her custodial torture by the police, labour rights, the need for unions and women's leadership within the unions.
You come from a family of Dalit landless farm workers and fiesty activists. How has your family situation shaped your own activism?
I grew up in Gandar village in Muktsar district of Punjab with activism all around me. As you mention, we are a Dalit family of landless farm workers. My mother, Swaranjeet Kaur,  has been part of the Punjab Khet Mazdoor Union ( Punjab Farm Labour Union) in the village. In 2014, she  led the protest to demand justice for a minor Dalit girl who was gang raped in the village. I was very young when the incident took place. The minor girl who lived near our house was raped by upper caste men while she was on her way to school. The police were not ready to file an First Information Report (FIR) against the upper caste men because they had bribed them. On the contrary, the upper caste men threatened the Dalit family of dire repurcussions. My mother led those protests in front of the police station for 8 days for which she received multiple death threats. She even spent 8-10 days in the jail. It was only after these protests that the upper caste men were arrested. This was our first big win which I saw in my young age. 
The early years of seeing my mother's struggle taught me that the working class will not get anything without a fight. All the women in my family are activists and with unions. My elder sister Rajveer, is with the Bhagat Singh Chatra Ekta Manch (BSCEM) and  another sister is with the  Mazdoor Adhikar Sangathan (MAS). My younger sister is with the Punjab Students Union.
I came to Delhi after completing my 12th grade board exams from the open school. While working in a factory in the Kundli industrial area of Haryana, I joined the Mazdoor Adhikar Sangathan (MAS), a union of factory workers, after I saw how the working class are exploited here.  Women and men are not paid equal wages, labour laws are either not implemented or openly flouted, and there is no compensation if a worker dies on duty.
Tell us more about the working conditions of the factory workers, especially women workers in the Kundli industrial area. What were your demands as Mazdoor Adhikar Sangathan?
MAS has been working in the Kundli region for the last  3 years. We have been highlighting the deaths of workers in road accidents as they tried to cross the Gurgaon expressway. The workers who die in the accident are left on the pavement like dead dogs, without either the company or government giving any compensation to the family. We started by demanding a bridge for the workers to cross the highway safely.There was a series of attacks on MAS, where Shiv Kumar( the MAS leader who was arrested along with her and faced custodial torture) was brutally beaten and suffered hand and leg fractures. 
The new labour codes mandate an increase from the current 8 hours to 12 hours in work days. Even before the  implementation of new labour codes, workers were made to work for 12hours- women workers for even longer hours. Young girls were told that they were too young to work but  were kept at the sites and raped for days.There are no safety provisions for workers. Families were left to beg when a worker loses their life or limb in an accident at the factory. 
 We have been protesting to repeal the new labour codes because workers will be at the complete mercy of the factory owners if our  right to form unions is taken away. The government has taken away the right to seek justice in case exploitation of workers by owners. With these codes, workers will not enjoy any legal protection. These are our demands that we have been protesting for along with the repeal of the  farm laws.
We have been raising these issues much before the farm protests began. But, we were never able to raise our voice openly due to frequent attacks by Quick Response Team ( a team paid for by factory owners to minimise workers from unionising and raising their demands) or the police because we do not have the right to form unions.
When the farm protests began, we joined them in support. 2000 workers from the Kundli industrial area went on a strike.We placed our separate tent with our logo and placard inviting all the workers who have not received their wages. When we started our protest to demand timely wages, the police arrested me. 
You were arrested on 12 January while at the farm protests. Could you recount the events that led to your arrest and your torture in police custody?
As I said earlier, we have been attacked and even fired upon by the QRT whenever we raised the demand of unpaid wages of workers.The police, instead of registering our FIRs, would in turn, register FIR against us. We wrote to the Superintendent of Police (SP) to  take action against the police officers who were registering false FIRs against us but there was no response. 
On the 12 January, we went to demand unpaid wages once again, when the QRT and the police lathi charged and fired on us.They dragged me while pulling my hair and neck in the absence of a lady constable. The police then flipped the scenario and arrested me for attempting to attack them.I was beaten and dragged by male police officer to an isolated place in a car. A few men in uniform and few others in civil clothes beat me and then brought me to the Kundi Police Station.
I was brutally tortured at the Kundi Police Station where the police hit on my private parts. They abused me. "You are Dalits. Your job is to only work in factories and clean the gutters. We will show you how to become a Neta (leader) that you are trying to be." More nasty slurs are thrown on me which I cannot even say out aloud.
When workers gathered at the police station to demand my freedom, I was taken through the backdoor and village roads through the farms. I was shifted to the Sonepat Police Station because farmer protests spread from Kundli till Balagarh.
At the Sonepat station, they tortured me even more. I was even denied a medical check-up. I was once taken till the gates of hospital but was brought back without a medical checkup. In the middle of the night, I was shifted once again to the Karnal jail.
I was denied meeting with my family members. When I finally got the chance to talk to my sister, Rajveer, I told her about my torture and that I needed medicine.It took her 14 days to get an order from the court that instructed police officials to get me a medical check up.
I was denied a lot of things including  books and clothes. 
While you were in custody for 45 days, it took close to over a month for the world to take notice of your incarceration. Why do you think that is?
Such incidents of arrest, rape and torture are so common and normalised in India that they become commonplace. My sister Rajveer struggled very hard to get attention to my arrest and custodial torture, but to no avail. People in India do not raise their voice against state repression and police easily.  Maybe this is why it took time. 
Look at the case of Shiv Kumar who was arrested for raising the voice of workers in the Kundli area. He was subjected to third degree torture. He was not allowed to sleep for three days which drove him into depression. He was kept in illegal custody for a long period of time. He suffered multiple fractures a result of torture in illegal confinement. Inspite of the court's order, he was not taken to the hospital for medical care. 
It is imperative to speak up for every political prisoner in the country- farmers who have been arrested on 26 January tractor march, political prisoners imprisoned under the  Unlawful Activities (Prevention) Act (UAPA) who campaign for rights of workers, farmers and everyone else. We speak for the people whose situation grabs international attention, while there are many ordinary people  who have  been working for years for people's rights and are left unheard. The government is cracking down on people who fight for rights of workers and farmers. 
You have been speaking of the need for and emergence of a new farmer-worker unity and solidarity. How do you see these as interconnected issues, especially in the context of the new farm laws.
These issues are very interconnected. Under the new farm laws, companies can stock limitless quantities of essential commodities which directly impacts farm workers and other members of the working class. Working classes, already dealing with inflation and no commensurate rise in salaries and wages,will only be able to purchase very limited stock, impacting their food security. If the government doesn't buy grains from the farmers then how will we buy ration at the ration shops? Besides, workers in the Agricultural Produce Market Committees (APMC) will lose their jobs and livelihood if they deregulate and are phased out. ( Read our story on how farm laws affect women farmers and the working class).
Farm workers will also lose out when farmers lose their lands to the big corporate agriculture companies.This is why, as workers, we are in solidarity with the farmers in these protests.
It is imperative to speak up for every political prisoner in the country Every section of society that consumes food produced by farmers should raise their voice in support of the farmers. 
Swaranjeet Kaur, your mother, is an active member of the Punjab Khet Mazdoor Union. Can you highlight the issues faced by the farm labour is Punjab?
My entire family has been working on farms for many years. The situation is so grim that what we earn is not enough to run a household beyond basic food needs. Working conditions for farm workers are terrible. Upper caste farmers use our services but when we take  our animals for  fodder they subject us to worst abuses and sexually exploit our women. 
Farm workers are forced into bonded labour, which is still a reality in India.When our family was in debt, my father worked as a forced bonded labourer  for an upper caste family- working in their home, their farm, grazing their cattle and everything else. But he was not paid a single penny. He used to work from 4 AM to 12 AM. I never saw my father at home as I was growing up. 
It's important to raise the issues of farm labour because they are more in number and do not own any land, compared to the upper caste farmers who own hundreds of acres of land. If big farmers are afraid of not getting the price for their produce, how will the small farmers and landless labour survive? 
Women in Punjab have been at the forefront of organising farm struggles for over 15 years now. Apart from women's wings in farm unions, other unions such as Zameen Prapti Sangharsh Samiti and Punjab Khet Mazdoor Union which work on Dalit land rights have a large leadership and membership of women. Why are these unions important and what role do women play?
It's very important to form unions because if we need to raise our voices collectively against authoritarianism. If we do not, then there will be more repression, more undemocratic processes and framing unjust laws. A just law needs to be widely accepted. Even with people's protests, the government is forcefully pushing bad laws and stifling dissent. Unions are a constitutional right.
Women make up half the world's population and have contributed in all the spaces. Women work harder and yet face double discrimination. They are made to work for longer duration and yet do not receive equal wages. They have been leaders for long but their voices have been cruelly stifled- women like Devanagana, Natasha, Gulfisha, and so many others . Women need to step forward and speak up more and take up more leadership spaces that are currently dominated by men.
What are your future plans?
I am a working class woman and a believer in the rights of citizens. When I was jailed for protesting for labour rights, people's voices made it an international issue. I do not wish to study further or take up employment.The work I see at the moment is to raise the voice for rights of people- farmers, workers, women, Dalits- anyone whose rights are under attack. 
[with inputs from Megha Garg]
Support BehanBox
We believe everyone deserves equal access to accurate news. Support from our readers enables us to keep our journalism open and free for everyone, all over the world.