COVID-19 : Adivasi and Forest Dwelling Women Face The Brunt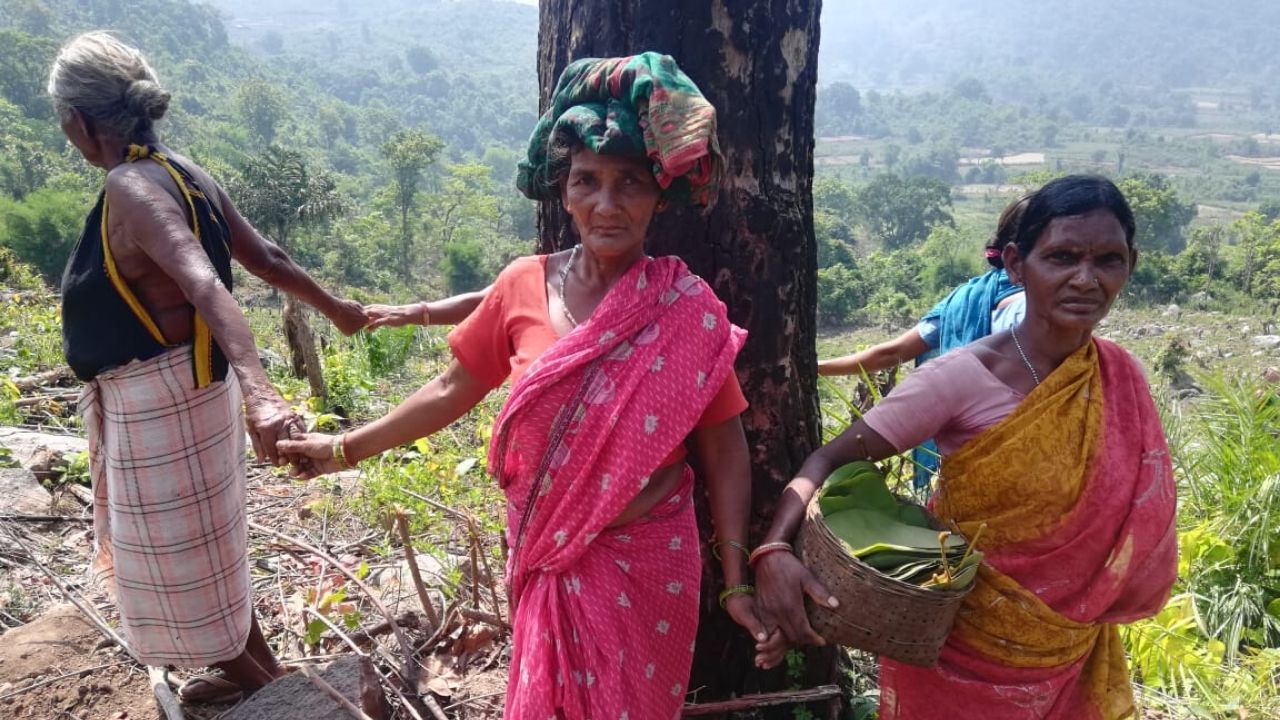 Socio-cultural values and norms have traditionally excluded women from participation in community decision making fora and denied them equal inheritance and property rights, both under formal and customary laws. The Forest Rights Act 2006 is among the few progressive laws which attempt to undo this historical injustice by mainstreaming gender equality in the recognition of forest rights.
These are testimonies of women of Adivasi and Particularly Vulnerable Tribal Group (PVTG), Traditional Forest Dwellers and Pastoral communities of the impact of lockdown on their lives and livelihood.
Some of these women reside within forests where they have tenurial security, others are resisting harassment and eviction. Some do not survive to tell their story.
Some live in Protected Areas, while others labour in the city. Some are responsible for their entire families while others are single women battling survival on their own. These are experiences of women- of struggle and of hope- as members of Minor Forest Produce cooperatives, as leaders in their Gram Sabhas and Forest Protection Committees.
For women in every sphere of life, the lockdown has had an impact in many specific ways- food insecurity and nutrition issues, low minor forest produce collection and sales due to lack of mobility, markets and climate change, forest diversion and plantations on lands which women have cared for and are dependent on. There has been an increase in gender based violence and bonded-labour for women migrant workers- all in the absence of just livelihood options.
In Gram Sabhas where women are recognised as rights-holders, equal participants or leaders, the resultant of greater security, sovereignty and health for forest communities and the environment becomes evident from the testimonies.
These testimonies were first published in "COVID19 & Forest Rights Bulletin: The impact of COVID 19 and Lockdown on Adivasi and Forest Dwelling Communities".
This is Part 1 of the stories of Adivasi, pastoralist and forest dwelling women from across India whose lives have been impacted by the Covid-19 pandemic. In this part we bring you stories from Uttarakhand, Odisha, Madhya Pradesh and Gujarat.
Triloki Devi's Story: A Vanraji PVTG Woman From Uttarakhand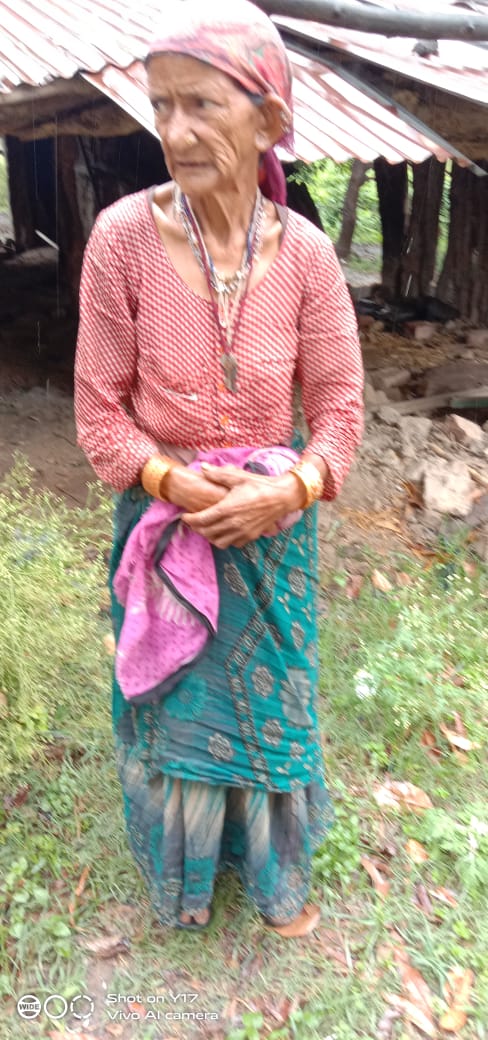 [Photo: Triloki Devi
Photo credit: MAKAAM, Uttarakhand]
I am Triloki Devi, 65 years of age, Vanraji, a Particularly Vulnerable Tribal Group (PVTG), from Khatima block, Uddham Singh Nagar, Uttarakhand.
I have faced harassment by the Forest Department during the lockdown. All of the 40 families- 15 Adivasi and the rest Other Traditional Forest Dwellers- in my village close to the Nepal border are dependent on forests for their livelihood. We collect fuelwood, grass, medicinal plants, fodder, herbs and roots. Our food, vegetables, roots and ferns such as jibura, linguda, parmal or fish and jungle birds, comes from these forests
Earlier, my community used to sell dry wood to restaurants, but has stopped after lockdown. Furthermore, due to strong winds these days, many of the mud and stick houses have been destroyed in our village.
My life is affected due to constant harassment caused by the forest department towards my community and more so during the lockdown.
Despite having filed claims for our rights under the Forest Rights Act (FRA), we are living in constant fear of harassment by the forest department. There is no action by the government against the forest department for perpetrating this violence.
In fact recently, the forest department forcefully got my son drunk and beat him up badly. When I raised my voice about this, the forest department threatened to forcefully evict me from the village.
I cannot even file an FIR as nobody listens to us.
During this lockdown I have not been able to work. I do not have a job card, nor registration in the labour department. I do not have a Jan Dhan Yojana account. I have been ill and I cannot even get treatment done.
Our Demands: We demand from the government that our Community and Individual Forest Rights should be legally recognised as per FRA, 2006 and that our Vanraji community gets linked to the mainstream through convergence of government welfare programmes. We also demand justice for our PVTG community who has not received rations while other communities have.
Rajanti Malik's Story: Women's Collectives Resisting CAMPA Plantations In Odisha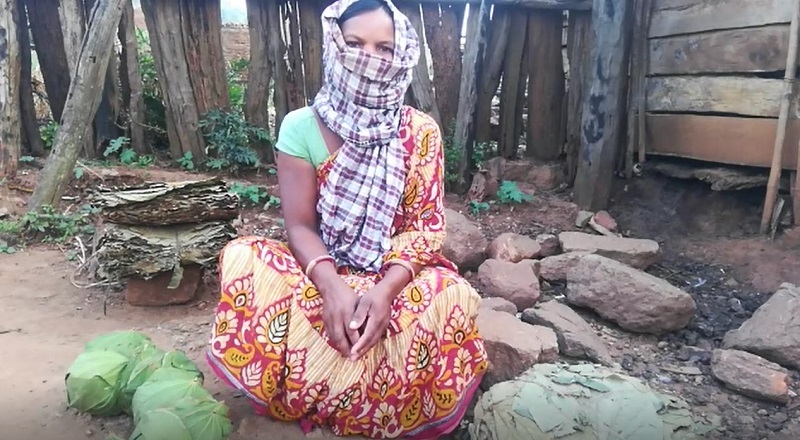 [Photo: Women protecting their forests from CAMPA Plantations in Kandhamal, Odisha
Photo Courtesy: Archana Soreng]
My name is Rajanti Malik and I live in Pidormaha village in Daringbadi block of Kandhamal District in Odisha.
In the midst of this lockdown, while we were told to stay at home, the forest department destroyed and cleared our natural forests. They came and cleared the existing forest, on which we depend for food and livelihood, to plant other trees.
[Rajanti Malik of Pidormaha village in Kandhamal district in Odisha talking about the destruction of their forests for CAMPA plantations]
On that very day, May 27th, our women's collective surrounded our forests to demonstrate our resistance. Due to the coronavirus lockdown, we couldn't even sell our Siali leaf and Sal leaf plates, Tendu or Bahada and all of these are getting spoiled. We are feeling helpless and are unable to understand how to feed & safeguard our children. In this crisis, between lockdown restrictions and the Forest Department actions, we are helpless. How will we survive?
Why Minor Forest Produce Is Important for Maniya Dhurwe and Mayakali Bai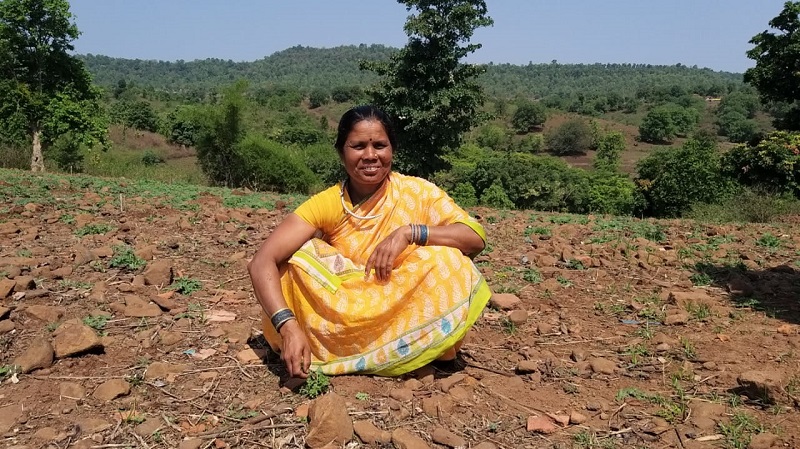 [Photo: Mayakali Bai, a landless Gond Adivasi living on the fringes of the Kanha National park, madhya Pradesh
Photo Courtesy: Shivangi and Dhwani]
In terms of division of labour, women have been assigned with the task of MFP collection from forests. Therefore, when such accessibility to the forests is prohibited for vulnerable forest communities, especially women, it impedes their lives.
Maniya Dhurwe is a Gond Adivasi, landless woman living with her husband and two infants in Gubri village of Bichhiya Block of Mandla district in Madhya Pradesh. Her family has leased a small patch of land (around half an acre) for paddy cultivation and gets rice from the Public Distribution System (PDS) but Maniya's name is not included in the ration card. As a result, there isn't enough food for subsistence of a family of four.
At such a time, access to MFPs proved to be a shock absorber which helped this family to tide over the crisis. In the month of April, Maniya and Ashok collected around 15-20 kg of mahua (Madhuca longifolia) flowers which they sold at a rate of around Rs 25-30 per kg. Since the market was closed and inaccessible, they sold to vendors who came by from village to village to buy the flowers from the collectors.
Maniya bai says that if they would have sold it directly themselves in the market, they would have probably received a slightly higher rate per kg, but the fact that they could even manage to sell in such a crucial time was important for them.
"If it weren't for the mahua flowers it would have become difficult for us to feed ourselves and our children during the lockdown", says Maniya.
Mayakali Bai is a 50-year old widow living alone in Bhimpuri, in the buffer of Kanha National Park. With no ownership of land, she receives a small share of the yield from the land owned by her brother-in-law. She depends completely upon the forest for her livelihood and on daily wage work for income.
This season, during the lockdown due to COVID-19 she could collect and sell around 300 bundles of tendu leaves for which she has received a total of Rs 750. She would wake up at 4 am to collect the leaves and return only by noon. After a quick lunch, and tying the leaves into bundles, she would leave for the phad (the place where tendu leaves are sold) at 3 pm. The phad, in this case is 5 km away from the village.
Mayakali bai along with other women from the village go together walking and often have to return in the dark after they have sold the leaves. However, the sale of mahua was not as successful.
Mayakali bai says that this year, due to the attack on people by tigers and movement of elephants, the forest department announced precautionary measures in the buffer villages and asked the people to not to go into the forest early in the morning or late in the evening to collect the mahua flowers. As mahua trees are inside the forest and shed flowers at night , she would have to go early in the morning to collect the flowers. Due to these repeated warnings, she could not go to collect the flowers for a few days.
The opportunity cost of this was huge. Had it not been for these restrictions, she would have been able to collect 8-10 kg more. Unpredictable weather also caused a lot of harm. For instance, this year, in addition to the stress induced by the lockdown and the pandemic, there was climate change induced variation in tendu leaf and mahua growth.
Stories of Maldhari Pastoralist Women In Gujarat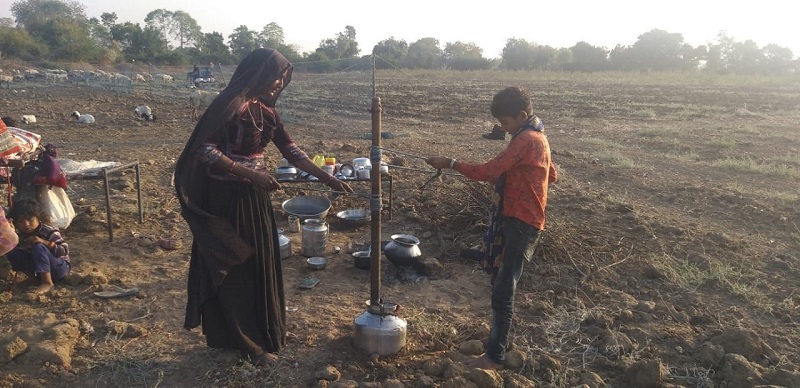 [Photo: Maldhari women making butter and yoghurt.
Photo Courtesy: Marag, Gujarat]
Covid-19 has impacted on the migration pattern of Maldharis– a pastoralist community in Gujarat
They have to take new routes as not only was their movement restricted for a long time, but also due to fear and stigma of coronavirus amidst farmers and villagers who would otherwise invite them to stay on their lands. In some places, Maldharis entry to villages was completely restricted and sometimes they were faced with exchanges of intense argument or even minor scuffles.
While this was discomforting for all, it was particularly difficult for women, as their role is to negotiate with the villagers for water, ration, selling milk in the village, etc. To perform these tasks in newer places has left them with uncertainties, discomfort and often a feeling of insecurity.
Villagers also started prohibiting the Maldharis from drawing water in their villages. Since, this is women's responsibility, they have devastating experience to fetch water for the household needs and the needs of livestock.
Maldharis sell the milk in the dairy cooperative and to the private contractors, but with newer routes, they were not familiar with the dairies and also the private contractors. Thus, the burden of selling the milk comes on women. It was found that in many cases, they have to sell their milk & milk products at a very low price.While they used to get the rate of Rs. 40 per litre of milk, due to lockdown, they have to sell at Rs 22 per litre. This has ruined the pastoralists both financially and socially.
Adding to financial troubles, the trading of livestock was completely impeded, the price of cattle feed spiked during lockdown and it was impossible to get anyone to assist in tasks such as sheep shearing that occur in these summer months.
The financial loss majorly impacts women, as the migrating Maldhari women have the responsibility of managing the financial resources. Since they are away from native villages, they don't have access to ration from the PDS shops in the areas where they migrate. Previously they managed with difficulty. However, they face a huge financial burden this year.
"Our need for chapati is 20 per meal, but we are making only 10 chapatis these days. This is to ensure that the ration lasts for a longer time.", says a Maldhari woman from Kutch.
This has a major impact on the health of women in the group. Some groups have reported having to buy food items at a higher price and women having to walk long distances to get it, increasing their drudgery and stress.
[These stories are collected and compiled by an independent group of researchers and advocates for forest rights. They can be contacted at vanadhikarmedia@gmail.com]
Support BehanBox
We believe everyone deserves equal access to accurate news. Support from our readers enables us to keep our journalism open and free for everyone, all over the world.