ASHAs Within the 'Kerala Model' Lead Covid-19 Response, Get Little in Return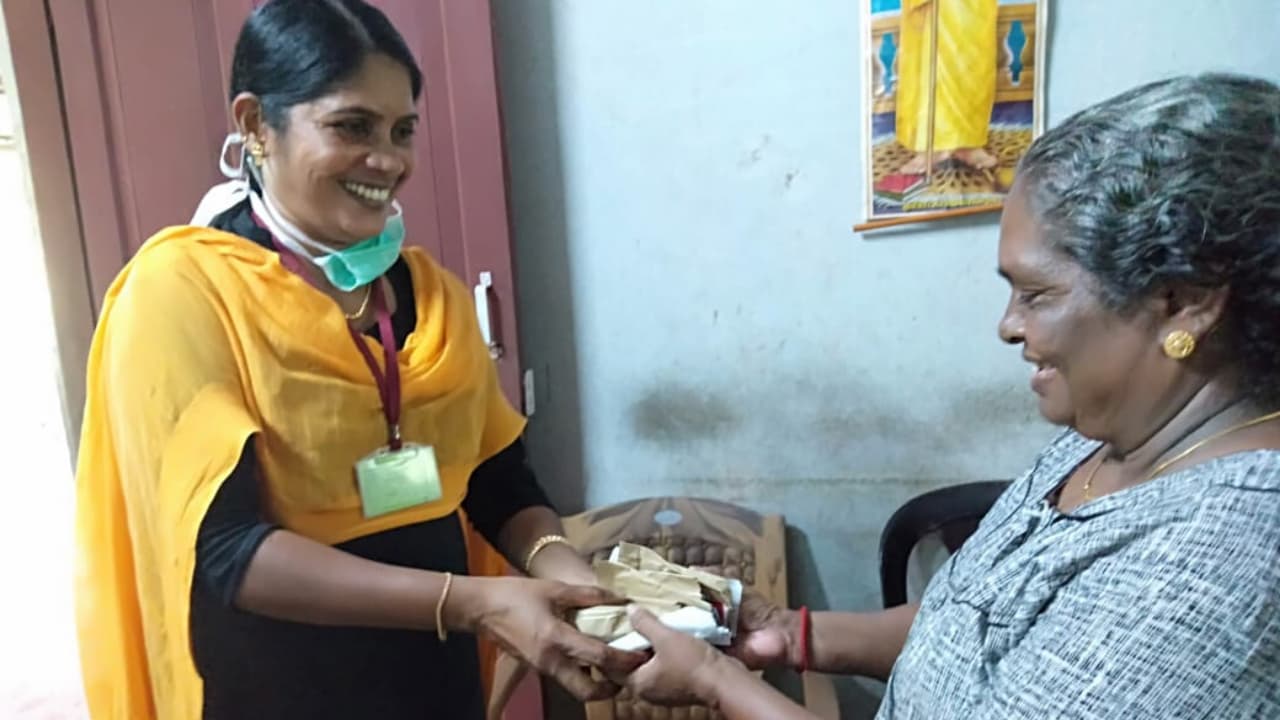 Our 16-state survey found that in Kerala, ASHAs, women health workers at the frontlines of India's resistance to Covid-19, feel empowered and respected. Yet, their demands of being treated as a regularised workforce are ignored
New Delhi/Kottayam (Kerala): "In the Covid-19 resistance, we are as active as doctors and nurses," said Rajini Laiju, an woman health worker, or ASHA, from Kurichy gram panchayat in Kerala's Changanaserry tehsil in the district of Kottayam. "Even though we are the least paid among everyone else on the Covid-19 team, our role is primary and important. This gives us immense satisfaction."
The upper limit of what Kerala's ASHAs can earn every month is only a fourth of what a junior nurse earns, nearly a seventh of what a senior nurse earns and nearly a twelfth of what a government doctor earns, according to data sourced from the Government District Hospital, Kasargod.
Rajini's satisfaction with her job is rare among ASHAs in the rest of India, according to a 16-state survey of 52 female health workers, conducted by BehanBox, a digital Platform for gender data and stories. The survey found ASHAs angry and distressed at being overburdened, underpaid and excluded from official recognition for their contributions to the Covid-19 pandemic response by state governments, as part one and part two of this series detailed.
ASHAs are a volunteer cadre of over a million women health workers who serve as a crucial interface between India's community and public health delivery, providing maternal and child health care, immunisation among other services and supplying the government with critical on-ground health data.
Kerala reported India's first Covid-19 case on 30 January 2020, when a student of China's Wuhan University returned to her hometown in Thrissur and tested positive for the virus.
"Kerala has some unfavourable situations which makes it especially vulnerable to Covid-19 such as some poor health care delivery and development indicators like a low hospital bed-to-population ratio  with 1.05 per 1,000 people, and a large ageing population," said A.K. Jayasree, a Covid-19 nodal officer and head of the Community Medicine department at Pariyaram Medical College, Kannur in a recent webinar organised by the University of California, Berkeley.
With 400,000 incoming migrants from across the world and an economy where 10% of the state's GDP, comes from international and domestic tourism, Kerala had all the conditions for the spread of the virus, said Jayasree.
Regardless, the state was able to respond quickly to the unfolding crisis, thanks to the distinctive Kerala model of healthcare. The model, which rests on a decentralised public health system built over decades and a strong welfare state, has had previous experience of dealing with the 2018's Nipah outbreak, which equipped the state to develop a robust response to Covid-19.
Central to Kerala's public health response are more than 28,000 women ASHAs who are at the forefront of the resistance against Covid-19. Kerala's success, in large part, can be credited to the ASHAs' meticulous pre-Covid-19 data collection of every household, their intricate database of every person who moved out of Kerala for work and their health indicators. This enabled the state to develop a rapid 'trace-test-isolate-support' strategy.
In part one of the series, we reported how ASHAs are performing activities crucial to the pandemic response–tracking and tracing people with travel history and Covid-19 symptoms, reporting them to public health centres, arranging for their testing and educating the public –despite challenging conditions with minimal protection, inadequate support from higher-level healthcare staff and rising hostility within the communities they serve.
In part two, we explored how the policies of different state governments towards ASHAs during the pandemic is making an already exploited workforce even more vulnerable by placing them under financial strain.
In this part, we look at the anomalous 'Kerala model' of public health care which has been largely successful at managing the Covid-19 outbreak. We are also looking at how it treats its ASHAs, who are recognised as being central in its resistance against the disease.
Grassroots Public Health 
In 1996, the Kerala government adopted the People's Plan Campaign (PPC) for decentralised governance. Within health care, this translated to the state transferring the management of all health institutions, except medical colleges and a few general hospitals, to local self governments (LSGs) and allotting  35-40% of its health budget. The public healthcare system consists of 4,575 sub-centres that  serve the population at the ward-level and 809 Primary Health Centers (PHC) that serve a village each.
At the ward-level, various committees such as 'working groups on health' consist of  community members, representatives from Kudumbashree, the world's largest women's community-based organisation, created to aid the state government's poverty eradication programme, multipurpose health workers, elected representatives, ASHAs, and experts who plan projects depending on the community's needs.
"This functioning panchayati raj system is the primary reason we could resist Covid-19," said Sali Jayachandran, vice-president of Aymanam gram panchayat and district president, Asha Workers Union, Kottayam.
"Every ward has one ASHA worker and we work very closely with the ward representative. Together with nearly 2.5 million Kudumbasree members, we run community kitchens and circulate important instructions issued by the health department," she said.
Jayachandran explained how special Covid-19 committees have been created at the ward level which are primarily led by ASHAs due to their experience in dealing with the Nipah outbreak in 2018. Other members of the Covid-19 committees include representatives from different political parties, ward members, anganwadi and Kudumbashree workers, junior health inspectors, junior public health nurses, resident associations, community police called Janamaithri and officers of the state police.
Lessons From Nipah: Plan Ahead, Test, Trace, Isolate, Support
ASHAs played a central role in the response to the 2018 Nipah outbreak — lessons that came in handy during Kerala's response to the Covid-19 pandemic.
Since before Covid-19, ASHAs in Kerala maintained a meticulous record of the health metrics of every person under their care: The number of old people and their comorbidities, pregnant women, children between the ages of 0-5, and the number of people with tuberculosis, heart problems, leprosy, physical disabilities and so on. They also maintain a detailed record of every family member who has gone out of the state, whether in India or abroad, for work.
This intricate data collection process was central to Kerala's test-trace-isolate-support strategy against the Nipah virus.
In the middle of January, when news of a new virus infecting thousands in China emerged, Kerala sprung into action.
"We held daily review meetings with different institutions–community health workers, the chief ministers office, health department officials, LSG members and media. Even the people were included," said Jayasree.
"Every day we took a count of how many beds we have and how many more we would need, anticipating a surge of the infection in Kerala. At the hospital level, we held mock-drills on what infection control measures needed to be taken while shifting an infected patient from the reception to the ICU," she said.
A week ahead of the first case being reported in Kerala, a control room had been set up in Thiruvananthapuram to coordinate between the 18 different rapid response teams (RRTs) formed at the panchayat level. In this process, ASHAs were key participants.
As the virus continued to spread to the Middle East and the US, where a large chunk of Kerala's expatriate population lives and works, ASHAs combed their respective wards multiple times to look for signs of infection among the returnees.
By March 25, when the national lockdown was imposed, ASHAs had successfully collated and cross-verified data on every single person from outside the state and country, which they handed over to the state health department. These reports, then tabulated at state-level, form the basis of the chief minister's daily press conferences even to this day.
"We do all the legwork–house visits, monitoring quarantine, collecting data, coordinating between different departments. We never get a chance to switch off our phones. We are on-demand 24/7," Elizabeth Xavier, an ASHA worker in Ward 16, Kurichi gram panchayat, Kottayam district, told Article 14.
As we reported earlier in this series (here and here), ASHAs nationwide are overburdened with almost all Covid-19-related ground activities. Even in Kerala, with a Covid-19 team at the ward level, ASHAs find their days filled with activities that play a critical role in ensuring vulnerable groups stay home.
"People trust us a lot," said Sudharma K, an ASHA worker in Ward 17, Kurichi gram panchayat in Kottayam district. "If anyone breaks the Covid-19 protocol, we get immediate calls from their neighbours. We need to rush and check and get the police to take action."
ASHAs currently monitor more than 160,000 people in home or community quarantine; only 1,487 are at designated institutional facilities.
As part of Kerala's deep-rooted culture of social welfare, ASHAs also work in community kitchens alongside Kudumbashree members, preparing food for people in containment zones, home and community quarantine and migrant relief camps across the state. They deliver food packets, rations, medicines and anything else people might need with the help of LSG members in order to encourage them to stay indoors.
The Many Hats That ASHAs Wear In Kerala
The ASHAs role in Kerala is not limited to the public-healthcare system.
Apart from the  66 tasks they routinely perform–antenatal and postnatal care, immunisation and so on–across the country, ASHAs in Kerala have a host of other responsibilities due to the state's decentralised  health care system. They must manage non-communicable diseases by communicating and monitoring required lifestyle changes, reduction of substance abuse and adherence to treatment by patients, and they administer palliative care in the state's cancer-care programme. As part of Mission Aardram, an innovative people-friendly public health project, they also perform three additional tasks —  making outpatient tickets and assisting pharmacists and receptionists.
Because of their links, work and position within the community, some have found their way to elected positions in local self government institutions since 2010.
"ASHA workers have a greater chance of winning. So political parties ask them to contest as their candidates," said V.V. Presenna Kumari, founder and state president of ASHA Workers Union, and a member of All India Coordination Committee of Asha Workers of the  Centre of Indian Trade Unions.
She estimated that over 1,000 women have been working as ASHAs while holding different leadership roles in village, block and district panchayats. However, a 2011 state government order issued by the then ruling Congress-led United Democratic Front (UDF), ASHAs who hold panchayat roles had to forego any honorariums for their work in healthcare.
"They were given the choice to either be an elected local self government member or an ASHA," said Presenna Kumari. "Most chose the former, because on paper they pay better, but continued to do both jobs on the ground."
This rule of not allowing dual incomes from double positions was not applicable to public school teachers, anganwadi workers or government bank workers who also hold elected positions in local self government are paid for both roles.
Only in April 2019, after continued demands and protests by the ASHA Workers' Union, did the Left Democratic Front (LDF) government change the rules and agree to pay ASHAs for both roles.
Preetha V.V, an ASHA worker in Ward 15 of Cheruthazham gram panchayat in Kannur district, served as the vice-president of Kalliasseri block panchayat between 2010 and 2015. Then, she was re-elected president.
For almost nine years until April 2019, and through the Nipah outbreak and flood of 2018, Preetha, who uses one name, provided her services as an ASHA worker for free.
She now receives a monthly honorarium of Rs 14,600 for her role as block panchayat president and around Rs 8,000 a month for her work as an ASHA.
"I wear many hats," said Preetha. "But I insist on continuing as an ASHA worker. The kind of mental satisfaction it gives is unparalleled. At times I do feel burdened with too many responsibilities. But in the end, these different roles help me to become a better ASHA worker."
One benefit of being an elected LSG member, she said, was that she now had the power to delegate some data-collection tasks when she had too much to do.
Kerala ASHAs Better Off But Still Not Treated as Workers
Almost all ASHAs interviewed in Kerala felt empowered, respected and recognised both by their community and other health workers. However, their demands of being treated as a regularised workforce echoes with the ASHAs in the rest of the country.
ASHAs across India are not formal employees of the health department but honorary volunteers under the National Health Mission. So, they are not paid a fixed salary and have no paid leave or other basic benefits. Instead, they receive task-based incentives for every immunisation, for accompanying pregnant women to government hospitals to give birth and even for distributing oral rehydration sachets.
In Kerala, ASHAs are paid between Rs 8,000 and Rs 8,500, less than half of the minimum-wage of Rs 18,000 a month that ASHA unions across the country are demanding.
Of their current income, they get Rs 2,000 per month from the central government and Rs 5,000 per month from the state government upon the fulfilment of certain conditions. In addition, they are assigned two to three tasks at public health centres each month under Mission Aardram, for which they receive Rs 500 per task.
In April 2020, the central government announced  an additional Rs 1,000 a month, or Rs 33 a day for their Covid-19 duties.
Pre-Covid-19, even these payments were not regular. Only in the last three months, backlogs in payments to ASHAs have been cleared.
Most ASHA workers interviewed for this story felt they were treated as workers when it is convenient; during floods or when there are new surveys to be conducted, for instance. However, when it comes to payments, they are treated as volunteers who do not deserve the money, especially by junior public health nurses who are their immediate supervisors.
"I regularly receive complaints from ASHAs about payments that are pending for months," said Presenna Kumari. "Even when the state government releases the money, the bureaucratic attitude of the junior nurses at the panchayat level delays the payments."
ASHAs in Kerala, as elsewhere, are not paid a travel allowance. Without transport, ASHAs have had to use private resources or walk for hours door-to-door for their Covid-19 responsibilities.
Their other demand is to be regularised as formal employees of the central government's National Health Mission, so they get a fixed monthly salary, paid leave and other benefits, such as pension.
In Kerala Too, ASHAs Work In Unsafe Conditions
Even Kerala has been sending ASHAs on Covid-19 duties without  adequate masks, sanitisers and gloves, increasing their risks.
"We used to get no protective measures initially," Rajini Laiju told Article 14. "We struggled a lot. After a lot of protests and requests, we now have N-95 masks."
"We were teaching people about the importance of wearing masks when we ourselves didn't have one," said Elizabeth, who uses only one name. "Isn't that funny?"
Kerala's Health Minister KK Shailaja has said the state supplies personal protective equipment (PPE).
"In early January itself, to prepare for a possible outbreak in Kerala, we took a count of how many PPE we had in stock versus how much we needed everyday," said Jayasree in her webinar. But in calculating how much was needed to ensure the safety of its essential workers, ASHAs were left out.
"Even now, the N-95 masks we use, after months of continued demands, have been purchased from MLA funds and donations from the police and other charity organisations," said Rajini.
Gendered Exploitation Of Labour
Kerala's model of governance is often described as an antithesis to economic policies followed in the rest of the country. It has historically rejected neo-liberal, free-market oriented policies that call for minimal state intervention and has instead focused on state-funding of public health infrastructure, housing and education, redistribution of power to village-level bodies and establishing a social system which prioritises community participation and welfare.
However, viewed from a gender and labour rights standpoint, the particular place of the volunteer community health workers (CHWs), such as ASHAs, within its welfare state system, seems even more exploitative.
Public-health researchers have, in fact, argued, pointing to that extracting the incremental labour that Kerala extracts in the name of social welfare, from women-as- who are supposedly volunteers with unjust pay, no safety and logistical support, scope for regularisation and upward mobility is, in itself, a neoliberal practice.
ASHAs across India have a triple burden: as home-makers; community health workers; and community carers.
"Since this lockdown, because the rest of our families have stayed at home, we have to cook food for them and then do this work. Our burden at home and work have both increased due to Covid-19," said M. Malathi, an ASHA worker from Paivalike gram panchayat in Kasaragod district. "This has become tough."
Yet, a culture of public participation and social welfare in Kerala has led most ASHAs to accept the promise of collective good in lieu of remuneration and labour rights for their professional health care service. With added social social roles, ASHAs end up doing even more work without proportional remuneration.
Across the world, community health workers are overwhelmingly female. There is high social acceptance of women's stereotypical role as caregivers and nurturers. Female labour tends to cost less, as there are fewer employment opportunities for women.
ASHAs tend to be poor or from marginalised communities. They hope that volunteering as community health workers will eventually lead to a paid position.
"The state government leadership convinces them of the importance of being a part of health care service institutions, considering that this experience may count when they are eventually regularised," said Presenna Kumari.
"Without us, nothing will move here. Yet, they don't consider us as workers," said Elizabeth. "We have proved our crucial role during past emergencies like Nipah and the 2019 floods, but we don't get that recognition. We are fighting for it in the hope that eventually our role will get acknowledged."
This reportage was supported by the Thakur Family Foundation. The Thakur Family Foundation has not exercised any editorial control over the contents of this reportage
(Pallavi Prasad is an independent journalist and Young India Fellow who writes about gender, culture and society. Arathi PM is an assistant professor at the School of Indian Legal Thought, Mahatma Gandhi University, Kottayam, Kerala.)
Support BehanBox
We believe everyone deserves equal access to accurate news. Support from our readers enables us to keep our journalism open and free for everyone, all over the world.