It Is Time For Transgender Actors To Shine, In All Kinds Of Roles
The director of 'Nooramma: Biriyani Durbar', a play about Tamil Nadu's biryani entrepreneurs from the transgender community, talks about his oeuvre and theatre as a space that brings many marginalised identities together.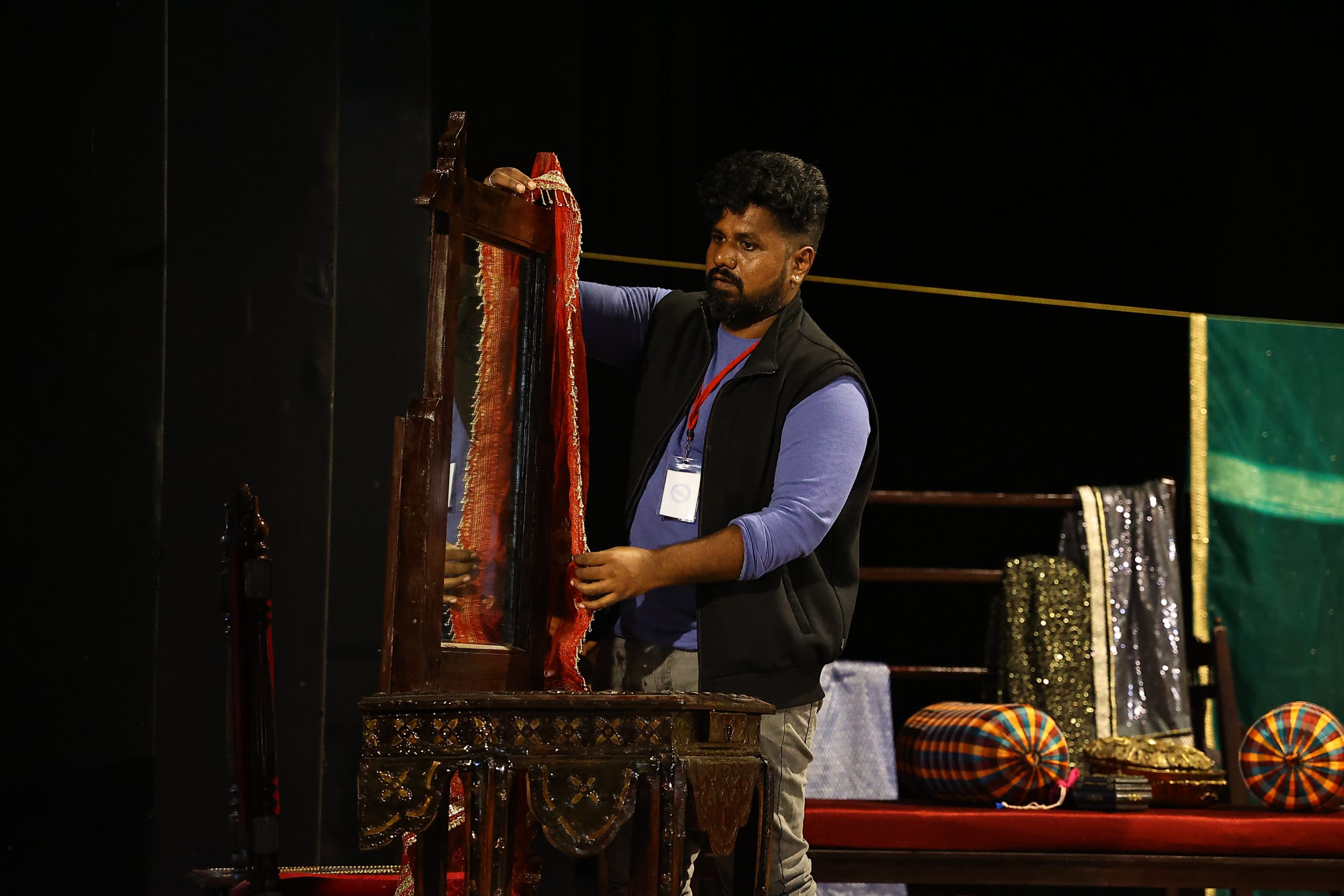 My play Nooramma: Biriyani Durbar is about a trans woman's fight for respect, dignity and the right to livelihood. It is inspired by the stories I have heard of trans women who run successful catering businesses around Coimbatore and many parts of Tamil Nadu. They are amazing and highly respected cooks in their areas and they cater to everyone, for all occasions, regardless of caste and religion. There is a saying that if you knock at the door of a thirunangai (trans woman) anywhere and seek food you will never be turned away because she knows what hunger and humiliation is. 
There is of course a Nooramma, now in her 90s, a veteran trans woman who runs a biryani kitchen in the Coimbatore area – a brief video featuring an interview with her runs at the end of the play. Her story is at the heart of this script but the play is also about many like her whose lives reflect similar stories of displacement, grief and grit. In that sense, it is the story of many Noorammas.
I did dozens of interviews and workshopped them into a script. Everything in the play is personal – my mother's sarees, her favourite songs from the 1950s and 60s. There were no bought "props" on the stage, they were all belongings of the many trans women I know: tin boxes, suitcases, mirrors, jewellery, tables, costumes and veils, photos, everything on the stage.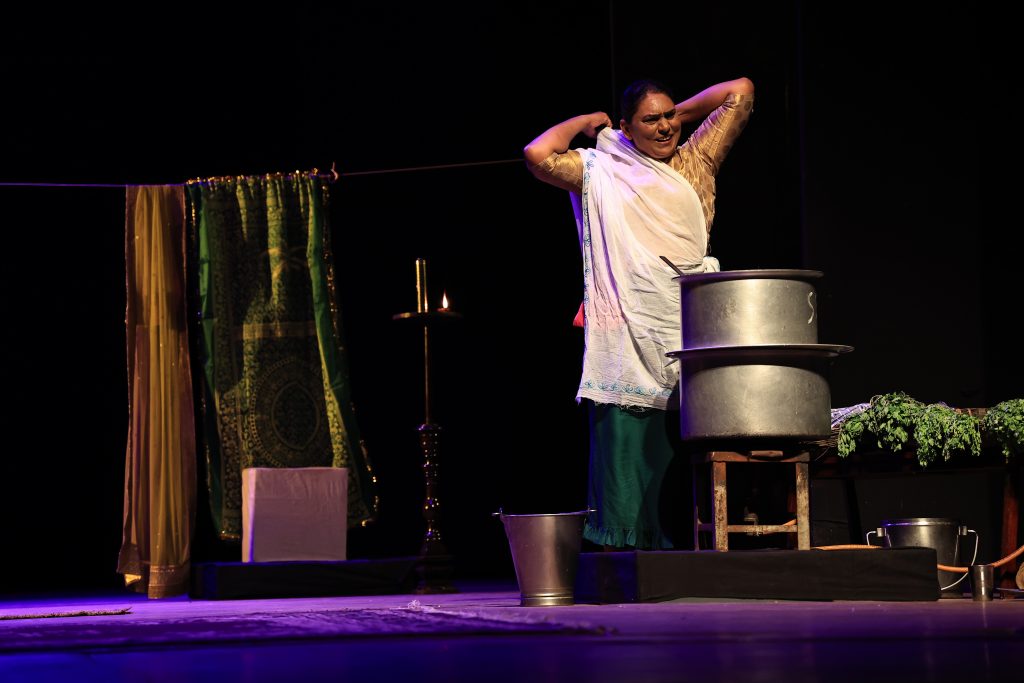 Gana Vimala, a trans artist of the subaltern gaana genre, sings a dirge after the murder of Thangam, a character who runs a restaurant in the play and who initiates Nooramma into the guru-chela system. This character too was drawn from the story of M Sangeetha, a 60-year-old trans woman who ran a restaurant in Coimbatore and was murdered in 2020.
Nooramma's script was raw to begin with and it was Aneesh who finessed it and Aruvi too. It was supported by many; the Carnatic vocalist TM Krishna who sang a track for it, and so did Manjula Ponnapalli. We have presented it in Bengaluru and Mysuru and it was a huge hit. We cooked and served biryani to the audience.
Transgender activist and actor A Revathi, who plays Nooramma, is a hugely powerful figure and her life story too became a part of the script. She has strong political views and all these added to the play.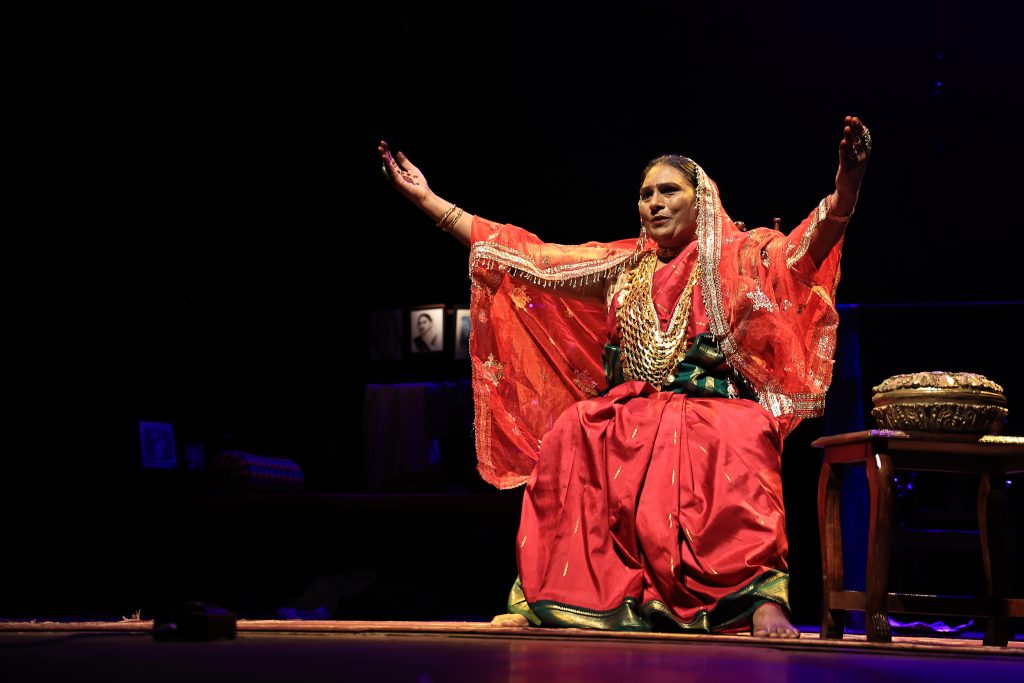 I would credit my theatre ideology to activist and feminist A Mangai. She and other feminist voices like V Geetha have done tremendously powerful work. And this had an impact on not just my theatre life but also my political vision and ideas of equality and humanism, it has given me the ability to use the gender lens. They pushed me to read the works of Periyar and Ambedkar.
I felt that all marginalised groups work in isolation –women, Dalits, transgender persons – but there is one field where all could come together and that was theatre. It is a space for solidarity. This is what pushed me to set up my theatre group, Kattiyakari. In Tamizh, kattiyakaran means narrator or sutradhar, but it a male persona, so I coined the word Kattiyakari which could be any gender. I wanted this theatre to be a platform for all marginalised groups, LGBTQI+, sex workers, Dalits.
I don't do scripted theatre, my plays are all written by those whose lives we portray on stage. They tell their own story. My first play, in 2009, was Molaga Podi (chilli powder) which went on to become a huge success. It was based on a short story by Tamil Dalit feminist writer Bama. Its central characters were two women, one a fiery Dalit, Panchayamma and the other, a privileged caste landowner, Gangamma. The two are always at loggerheads over Panchayamma's habit of trespassing into the latter's land to gather fodder. The dynamics between them centred on the themes of land rights, livelihood, caste and the politics of power.
I chose to cast transgender actors – Living Smile Vidya, Dayamma, Sowmiya, Angel Glady — to portray the caste conflict. I was asked 'why transgender actors for a role written for women' and my answer was 'why not'. In films usually men and women are called to play roles of trans persons, why not one of the very intelligent, hugely talented transgender actors we now have? There is S Negha who won a Kerala state award, Revathi, Sudha. We have no dearth of these actors. So the question, 'who do we cast as a transgender person', makes no sense any longer.
I then turned Saadat Hasan Manto's short story Insult into a play in Tamizh, Apamanan. In the original, the script ends on the word 'Chhii!', an insult thrown at a sex worker and she is devastated by its viciousness especially from a man she has been entertaining. I cast Sowmiya, a trans actor, to play the role of Sugandhi, a sex worker, and changed the ending – I had her get up, change into a beautiful costume, walk into the auditorium and walk off with a man from the audience. Why must we always send marginalised characters into suffering? My work in this play was inspired by Nalini Jamila, whom I count as a friend and influence.
Despite laws, transgender persons continue to be stigmatised. In Chennai, the rent for a single room is hiked from Rs 5000 to Rs 15000 when the tenant is a trans person. They are insulted in public spaces, refused service in shops, denied opportunities. This discrimination works exactly like caste which works in many ways. This is not to say that caste is not an issue with the LGBTQI+ community. Caste pervades everything.
Manjal, my 2017 play on the life of manual scavengers, was two years in the making and it spoke up against the Swachh Bharat campaign. Based on Bhasha Singh's Unseen, it was staged in collaboration with the Jai Bhim Mandram, an anti-caste organisation. The script was authored by Jayarani, a Dalit feminist activist and writer. It featured characters who represented Bezwada Wilson and Narayanamma, who has done pioneering work to collectivise sanitary workers in Andhra Pradesh. The first day 5,000 people landed up to watch the play at the Kamarajar Arangham in Chennai.
Kerala has encouraged trans theatre in a big way and I have done a lot of work there. There was Parayan Maranna Kathakal (untold stories) with Mazhavil Dhwani, a trans theatre group, in 2018. The group came together after a theatre workshop I did with the Kerala Sangeetha Nataka Akademi and the International Theatre Festival of Kerala. It has an open script that features the experiences of 15 transgender actors from various walks of life. There was comedienne Surya Ishaan, celebrity make-up artist Renju Renjumar and Sheetal Shyam, a member of the state's transgender justice board. The play has had 50 shows.
In collaboration with the Seed Money Project of the University of Calicut and Sandeepkumar, assistant professor at the School of Drama and Fine Arts, Thrissur, I recently did a play with Mazhawil Dhwani, Puranangal Punarjanikumbol (when sacred epics are reborn). It spoke of the links between the lives of the queer community, the puranas and IPC 377.
Today, the trans community can boast of big writers, actors, producers and theatre collectives. But it still deals with huge issues of mental health, violence, harassment. The fact that few in the community die a natural death is horrific, they either die by suicide or are killed or victims of botched surgical procedures. And how do transpersons earn a livelihood in the midst of this? It isn't enough to reprimand them for begging or sex work. What else can they do in a transphobic society?
In 2020, a group lot of activists  – Shankari, Priya, Kala, Dayamma, Kaaviya, Sowmiya, Sowndharya, Preethi, Sandhya, Sharan Karthik – and I got together and set up two kitchens, one each in south and north Chennai, the Trans Community Kitchen. We also made sure that every cook and worker in the kitchens was paid. We fed 65,000 people during the pandemic, those in hospitals with no means to access food, their families, those who came to bury their dead, the attendants at crematoriums. And we said a prayer for all of them, those departing un-mourned. An installation on the stage in Nooramma was built from our tributes to the dead and we welcome our audiences to come and take a look at these at the end of the play.
(As told to Malini Nair) 
Support BehanBox
We believe everyone deserves equal access to accurate news. Support from our readers enables us to keep our journalism open and free for everyone, all over the world.