As LPG Prices Soar, Women Return To Toxic Traditional Stoves
A 51.7% rise in the price of LPG refills between January 2021 and July 2022 has forced women from low-incomes homes to minimise the use of gas stoves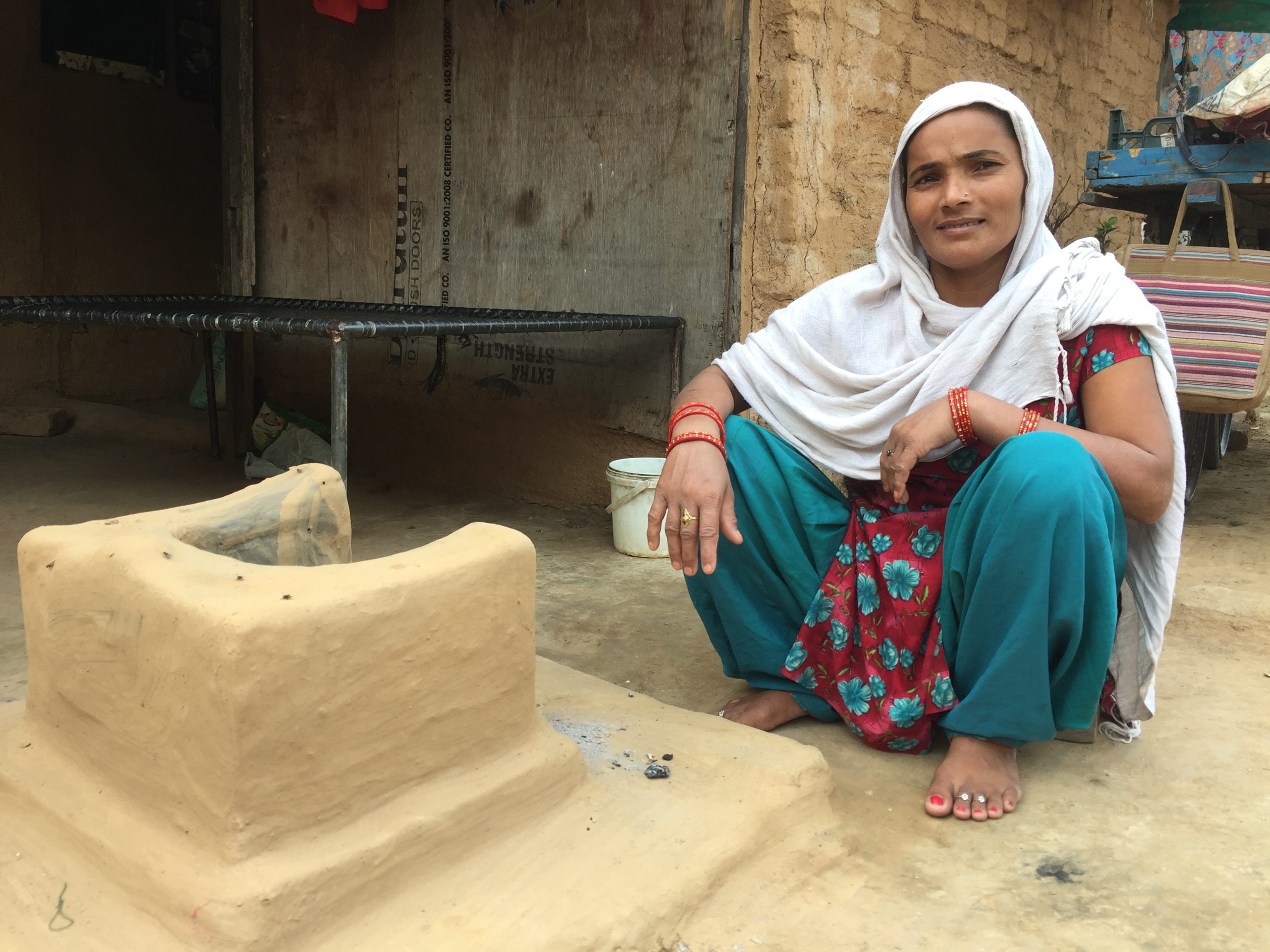 NEW DELHI: "The gas ran out on Chhath Puja day," recalls Phoolwati. It was a late October morning last year and the daily wage worker from Savda JJ colony near the Delhi-Haryana border had only finished half her cooking for the autumnal festival. Phoolwati's daughter gave her Rs 300 so she could buy a refill from the black market to finish cooking. 
That was the last time Phoolwati, a single mother in a family of seven, refilled the LPG cylinder she got a few years ago under the government's flagship welfare scheme, the Prime Minister Ujjwala Yojana (PMUY). Popularly known as Ujjwala, the scheme aims to promote clean cooking in India by enabling poor women to get gas connections.
There are 96 million Ujjwala connections, as per the latest government data. It is widely believed that this scheme provides "free" gas cylinders to the poor. However, LPG connections are "given" to poor households in terms of cash assistance. The current market price of an LPG cylinder is Rs 1053 and it is what beneficiaries pay except that a subsidy of Rs 200 is passed on to them as cash transfer.
Last year, an upgraded version of the PMUY was launched, Ujjwala 2.0, to increase the number of LPG connections. This version aimed at making the scheme accessible to migrants, often seasonally, by doing away with address proof for applicants.
However, interviews with six women, mostly Dalit and migrant workers, living in three of the Capital's low-income neighbourhoods showed that a 51.7% rise in the price of LPG refills between January 2021 and July 2022 (from Rs 694 to Rs 1053) has forced all to return, fully or partially, to traditional stoves fuelled by coal or wood. Gas stoves, they said, are being used minimally for quick cooking – brewing tea, cooking rice or chapatis, for instance. 
The subsidy-as-cash-transfer system is not reaching their bank accounts even after a refill purchase, the women complained. The India Residential Energy Consumption Survey (IRES) 2020 stated that one-third of Indian households did not receive the subsidy for their last LPG refill or said they did not know if they had received it or not. This was the response of as many as 39% of those surveyed in Delhi. And across the country this response was more pronounced among Ujjwala beneficiaries.
Consider the savings made by opting for traditional stoves: some women we spoke to choose to either collect firewood from their neighbourhood parks and forests for free. But even if they buy wood – at Rs 10 a kilo – or cow dung – at ₹10 for three cakes – they make substantial savings. A family of five or more, for instance, can survive a month on firewood supplies costing ₹500-600. 
The average number of LPG refills consumed by India's urban households is 8. In 2021-22, Delhi which has 1,24,794 Ujjwala connections, 22,411 customers took four or less refills, indicating that 17.9% made do with half the gas that LPG users normally consume.
However, as has been documented, the use of traditional stoves causes considerable harm to health. Exposure to particulate matter and other pollutants emitted by traditional stoves causes diseases of the heart, lungs, brain and eyes. The risk of fire accidents and burns is another threat.
This switch also has social impacts – job loss among women during the pandemic and LPG inflation have ended up reinforcing the grip of patriarchy in families, we found. More than before, men and older women now control household decisions and expenditures. For instance, the need to economise is being added to the argument that chulha-made food "tastes better", the women said, disregarding the labour and health impacts. A 2020 paper pointed out that PMUY "does not focus on gender dynamics within the households with respect to decision making and subsequent refills".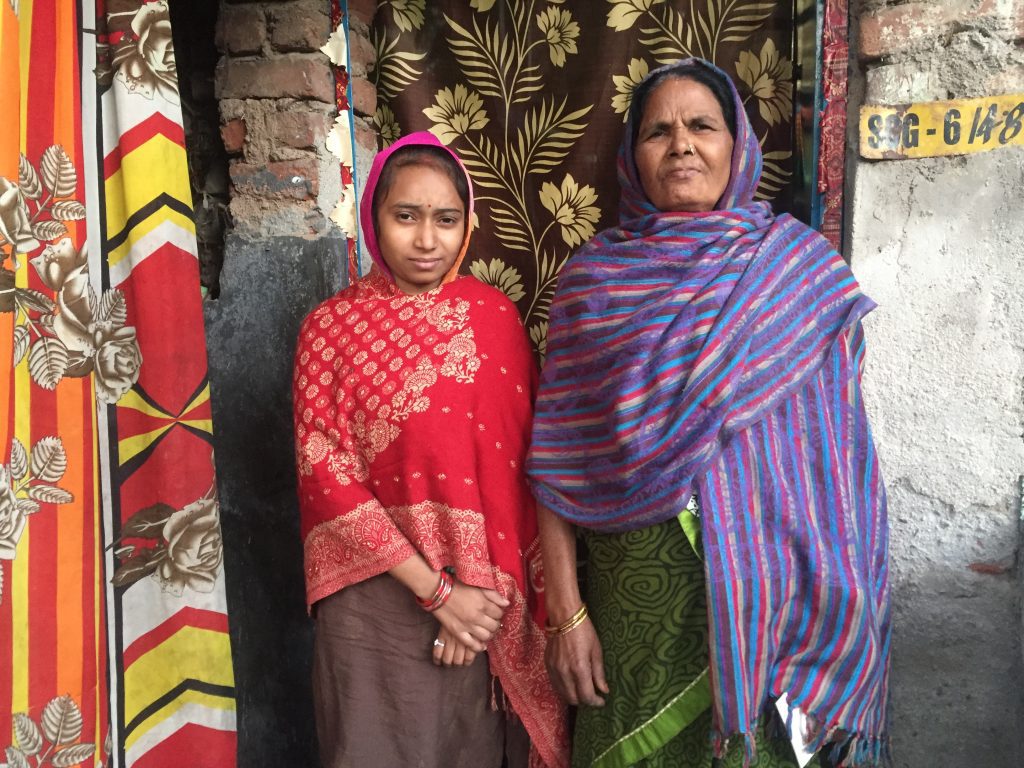 Phoolwati works in construction and agriculture but she and her sons were unemployed in the polluted winter months when the Delhi government temporarily banned construction work. This state of instability has dogged the family since the first lockdown was imposed in India in March 2020. 
Phoolwati recalls refilling the LPG cylinder regularly before the lockdown when it was priced at Rs 805 in the market, with a Rs 200 subsidy paid by way of cash transfer. "After that we have  been making do with this," she said, pointing at the mud chulha outside her home; a pile of firewood sits next to it. The refill price dropped to less than Rs 600 in May 2020 and remained there till December 2020 when it began rising, as per Indian Oil data.
In Delhi, the price of a domestic cylinder has remained at ₹1053 since July 6, 2022 for non-Ujjwala consumers and ₹853 for Ujjwala consumers after the government announced a ₹200 subsidy. 
The per capita consumption of LPG by PMUY beneficiaries in Delhi first increased from 7.91 in 2019-20 to 8.12 in 2020-21, as per government data and can be attributed to the three free refills distributed during the pandemic. But then it dipped to 6.20 in 2021-22, per figures between April 2021 and February 2022.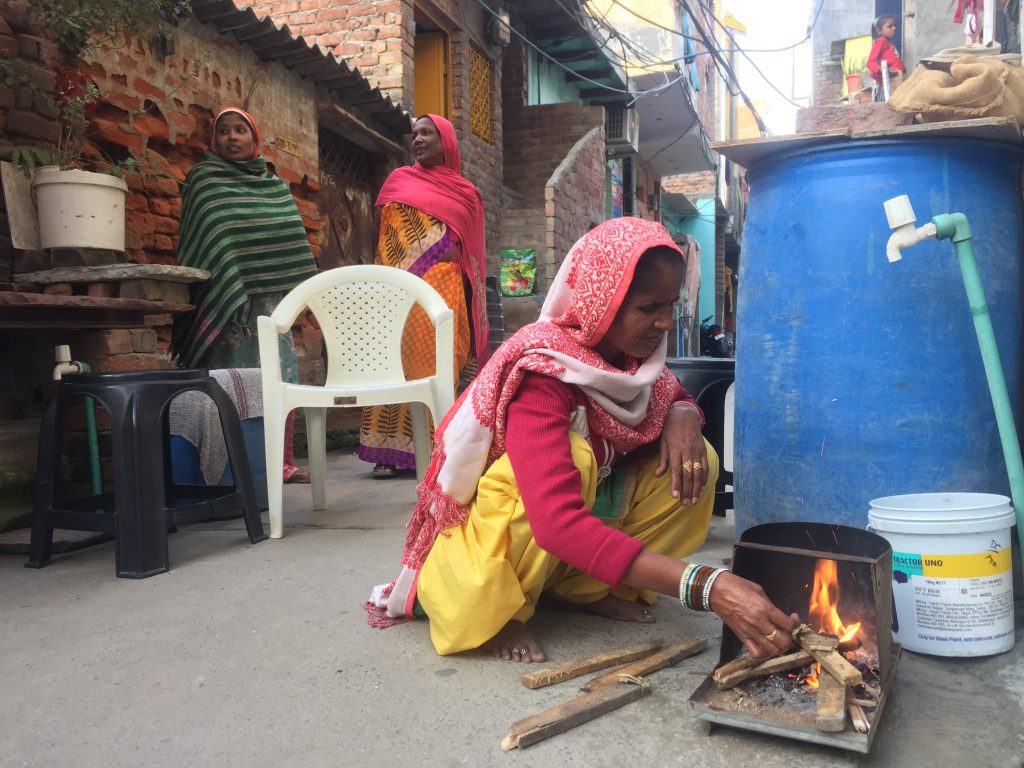 Omwati and her family live a few lanes away from Phoolwati. An agricultural worker, she used to cook on a kerosene stove till she got her first LPG cylinder under Ujjwala. "For a few days, I had to stand in very long queues because everybody was getting the free cylinder at the same time," she said. She remembers the day she got her first LPG cylinder. "It felt very good."
But Omwati now cooks two meals a day on a portable tin chulha she bought for ₹150. The gas cylinder is refilled sparingly now and is kept for tea, meals for guests and for days when she is ill. The family now banks on her daughter's monthly salary of ₹10,000 and lives on a tight budget. Omwati prefers to buy firewood worth ₹600 per month from the market or she collects it from a neighbouring forest. 
Prior to Dec 2015, all households with an LPG connection were entitled to get 12 subsidised LPG refills. In Dec 2015, the government announced that consumers with an annual taxable income above Rs.10,00,000 would not get LPG subsidy. As Ujjwala beneficiaries, both Phoolwati and Omwati are entitled to a subsidy, which was paused by the government in May 2020 for all LPG consumers earning under Rs 10 lakh and restarted in July 2022 just for Ujjwala beneficiaries. They were also supposed to get three gas refills between April to December 2020. But the two women say they have neither got the refills nor the subsidy of ₹200 though they have been buying refills for the last five months. Their agent said the subsidy "has ended". 
None of the phone numbers of Kaushik Gas Agency, which supplies Phoolwati with refills, work. Amit Kumar, an office boy at Bhooshan Indane, Omwati's gas distributor agency, told this reporter that their database showed she last received a subsidy in March 2020. He also said the subsidy has stopped arriving for old Ujjwala customers. His senior coworker Mithilesh promised to provide information on this but has not responded to our queries yet. 
Another resident of the Savda JJ Colony, Zarina, who is more literate and tech-savvy than Phoolwati, also complained about non-receipt of the subsidy.
'Women Bear This Burden The Most'
Ujjwala is regarded as one the most ambitious clean cooking initiatives in the world given its scale, the ramping up of infrastructure and the direct bank transfer of subsidies into women's bank accounts. But the price hike in LPG is a big hurdle to its implementation.
Why did gas become expensive in the first place? Michael Kelly, the chief advocacy officer at the World LPG Association, cites two main reasons — global inflation and the Russia-Ukraine war. Inflation has driven up the cost of steel cylinders, shipping, energy for transport and manufacturing and labour. European countries have stopped buying natural gas from Russia and are now using LPG for industrial purposes instead. They are paying more for gas and this is pricing out developing countries in the Global South. "All of that adds to the cost to the end user," Kelly told Behanbox.
While Ujjwala beneficiaries like Phoolwati and Omwati have gone back to chulha, there are also women who do not have access to Ujjwala and are forced to buy gas from the black market. Bhagwati, a migrant worker who came to Delhi in 2019 from Adilpur village in Uttar Pradesh, is one of them. She and her family of seven live in a kutcha two-room home by the nallah in Madanpur Khadar in southern Delhi. Her job as a domestic worker demands 12 hours of her day with no weekly holidays and leaves her little time for housework. 
After six months in Delhi, Bhagwati insisted on buying a gas stove because she found using her outdoor chulha in summer months acutely uncomfortable. "What do the men care? They roam here and there and eat food. It is the woman who is in pain," she said.  Before the lockdown, she used her savings to buy the whole LPG setup from the black market for ₹4,500 — a pipe, regulator, cylinder and stove. Her sister-in-law in the village got a free Ujjwala connection but Bhagwati could not because she did not have a ration card, a mandatory condition at the time.
With inflation, Bhagwati has to pay more than the hiked market price for each LPG refill in the black market. She is now forced to mostly use her chulha. Bhagwati last filled her cylinder for ₹1200  in October and has continued to do so through the pandemic but she has strict rules about its usage. "It angers me. I keep screaming at my daughter and daughter-in-law: 'Children, don't use the gas, it's so expensive. How will I refill it?'" she said. 
Bhagwati says that others in her Delhi neighbourhood who migrated from her village are all skimping on LPG use. Most of them are employed as domestic workers and have not stopped using gas completely due to the lack of time.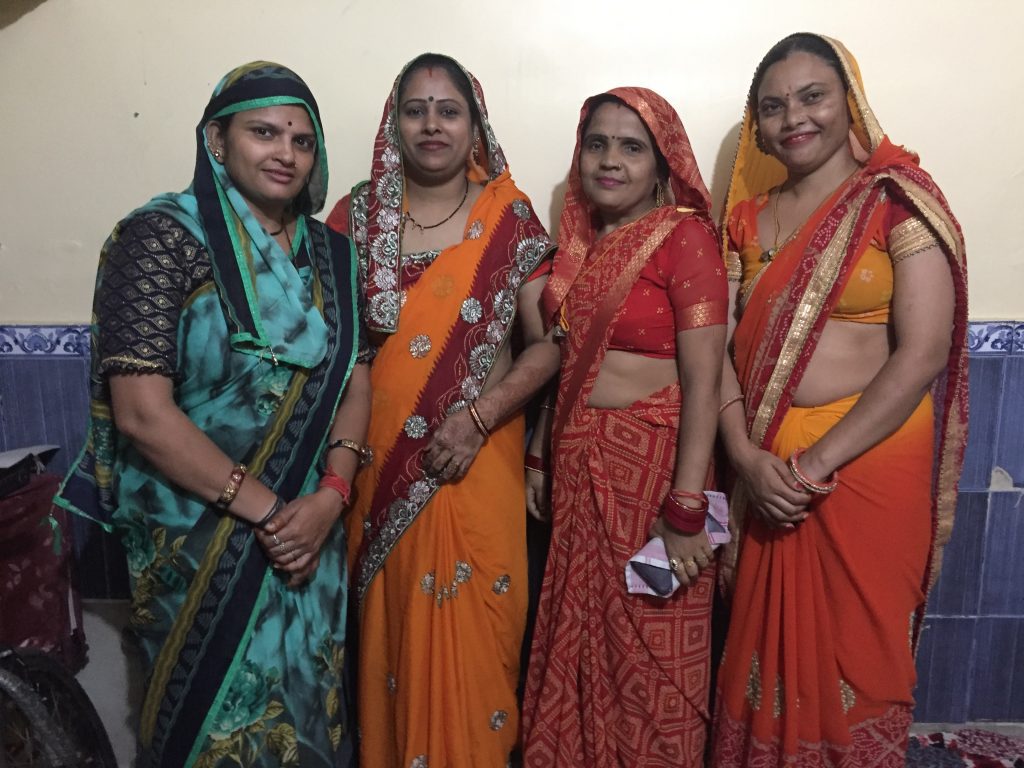 The government estimated that LPG coverage in India stood at 99.8% as on April 1, 2021, a marked improvement from 62% in May 2016, when PMUY was launched. Does coverage ensure sustained use of LPG? 
IRES 2020 showed that 38% of Indian households use both LPG and solid fuels, largely in villages. This practice, when a household uses more than one kind of fuel, is called fuel stacking and is common in developing countries. Although the IRES figure applies to rural India, the pandemic and LPG inflation have encouraged fuel stacking in Delhi, our reporting showed. IRES 2020 showed that 100% households used LPG as their primary fuel in Delhi. However, there has been no survey in the last two years on this practice. The only indicator of this change is the women's testimonies. 
IRES 2020 also showed that recurring cost of LPG refills plays an important role in influencing LPG consumers to stack fuels. It pointed out that when the government stopped the LPG subsidy in May 2020, refills likely became even less affordable. This and job losses due to the pandemic, "pose a risk to its sustained use, particularly among low and middle income households", said the report.
LPG inflation also impacts poor women like Poonam who got an LPG connection and subsidy in the pre-Ujjwala days but are no longer supported by the government. They, too, have returned to the chulha. Poonam lives in a one-room home in Gokulpuri in northeastern Delhi with her husband and two children. Her in-laws live next door. For this extended family of 20, Poonam and the other women in her family cook two meals a day on one chulha, which is placed on the roof of her in-laws' house.
A decade ago, Poonam had convinced her mother-in-law to buy an LPG connection and succeeded in getting two cylinders. "After that our life felt a bit more settled…It freed up my time to do other work," she said. However, like many others, the family continued to stack fuel in the form of chulha and angeethi (a traditional brazier fuelled by coal) which also serves as a heater in winters. And then came the lockdown, which left Poonam's husband, a painter, out of work. Sunita and Durga, Poonam's neighbours and relatives who were visiting her when we were interviewing her, also said that their husbands lost work in the pandemic and are struggling to repay the loans they took to tide over the crisis. 
At one point last year, Poonam's mother-in-law sent back the gas refill she had booked because she found it very expensive. "If the government is increasing the price of gas, our incomes and livelihoods should also increase," she said. 
The worst impact of the LPG price rise is on women's health, as we said. Household air pollution, caused by solid fuels, specially harms women, children and the elderly. Despite the gains made by Ujjwala, according to the Global Burden of Disease Study in 2019, India had the largest number of air pollution related deaths — 1.67 million  in 2019, which makes up 17.8% of the total deaths in India. The Lancet Planetary Health study 2022 shows that out of these 1.67 million deaths, a majority i.e. 980,000 were caused by PM 2.5 but it is worth noting that 610,000 of deaths were caused by household air pollution. 
This study also showed that burning biomass at the household level was the top cause of air pollution deaths in India. A study by the Energy Policy Institute at the University of Chicago (EPIC India) on indoor air quality in Delhi in 2021 showed that "indoor PM2.5 levels tend to spike in the mornings and evenings when households are most likely to be cooking."
Poonam, who studied until Class 10, first learnt about air pollution in school and she knows that Delhi suffers from the worst air pollution in winter months. She also knows that the chulha is harmful in this respect particularly for her mother-in-law, who has trouble breathing and coughs a lot. "But a woman is not able to spend even a rupee on herself. She always has saving on their mind. Her life is spent being ill and no one even asks after her," she said.
'My Head Hurts, I Feel Breathless'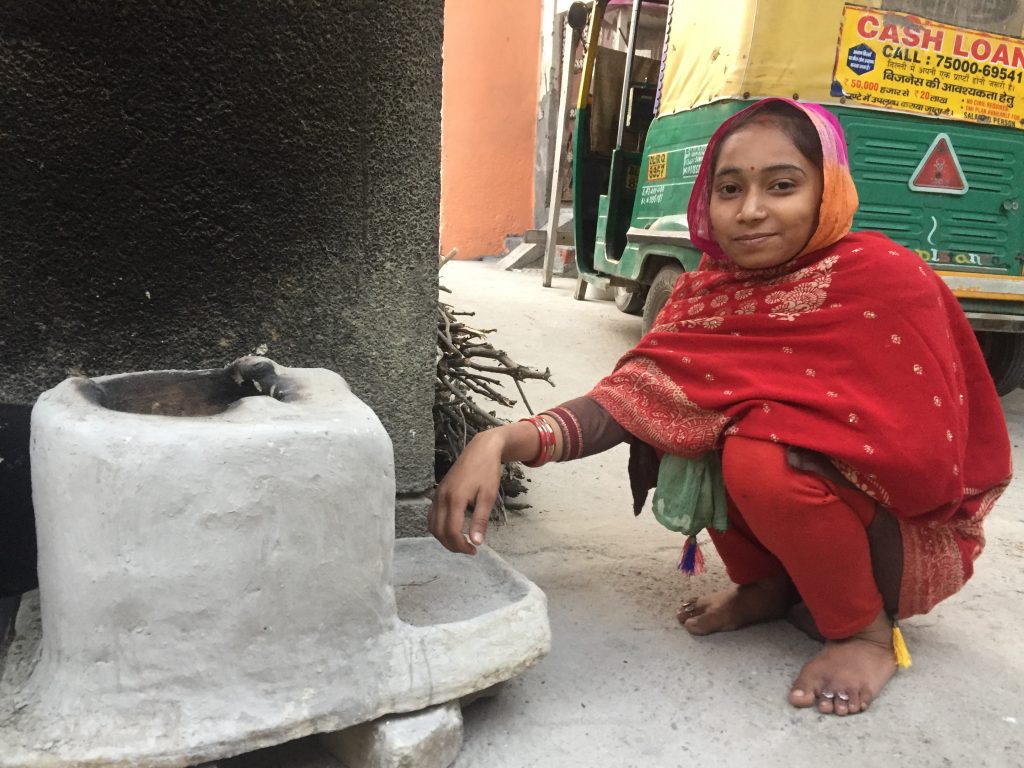 Cooking on the chulha has been hard on Omwati's body. "The smoke stings my eyes. I get breathless. We spend a couple of hours collecting wood, which is heavy and hurts my head [from carrying it]," she said. Omwati needs eye drops daily for her itchy eyes.
Both Durga and Bhagwati said the chulha caused them stress and frustration. "When I inhale smoke, my head hurts. I feel dizzy. When the chulha gets dim and you have to blow on it with a pipe and it still doesn't work, I feel like hitting the chulha with the pipe," said Bhagwati. Krishna, Phoolwati's teenage daughter-in-law started using the chulha for the first time two years ago after her marriage. She complains to Phoolwati about her body hurting from bending over the chulha. "I told her we don't have a choice, we have to feed ourselves," said Phoolwati. 
"In the village, once I left wood burning in the chulha and it caused a fire in my house. My son was lying on a cot under a quilt, all of which were on fire but my sister-in-law rescued my son," said Bhagwati. Some of the women this reporter spoke to said they often burnt their fingers and had holes in their clothes caused by sparks from the chulha.
A 2020 paper in the Journal of Cleaner Production showed that gender inequality within homes influences a family's decision to buy clean fuel like LPG. It also argues that when women make their own money, the chance that they will use clean fuel increases. The same research also found that caste and religion also play a role in clean fuel use: upper caste Hindus are most likely to use clean fuel and members of Scheduled Tribes (STs) were least likely. Majority of women this reporter interviewed who struggled with getting LPG refills were Dalit. Either they, their parents or grandparents are migrants from UP and Rajasthan.
Is there an alternative clean fuel for poor women in urban areas? Energy experts say potential solutions could range from setting up biogas plants on the outskirts of the city to introducing electric cooking. But the lack of capital and infrastructure are hurdles. According to Bigsna Gill, North Hub Lead at Sustain Plus Energy Foundation, a nonprofit collaborative platform that works on renewable energy powered solutions, there is no quick fix solution to this problem. "Ultimately it is the LPG pricing at least in a city context that can solve the problem. That may have to be done in a targeted way, which either philanthropic organisations or the government take up, specifically to address these consumers," she said.
All the women this reporter spoke to had the same demand — a refill priced between ₹500-600 and the return of the subsidy. "If the government reduces the price of gas to ₹500, I will stop using the chulha tomorrow. Why will I blacken my hands or clothes? Why will I choose to die from the smoke?" said Bhagwati. 
[This story has been reported under the National Foundation for India's Fellowship for Independent Journalists 2022.]
Support BehanBox
We believe everyone deserves equal access to accurate news. Support from our readers enables us to keep our journalism open and free for everyone, all over the world.