How Laws Founded On Ideas Of Honour, Purity Have Devastating Effect On Right To Choice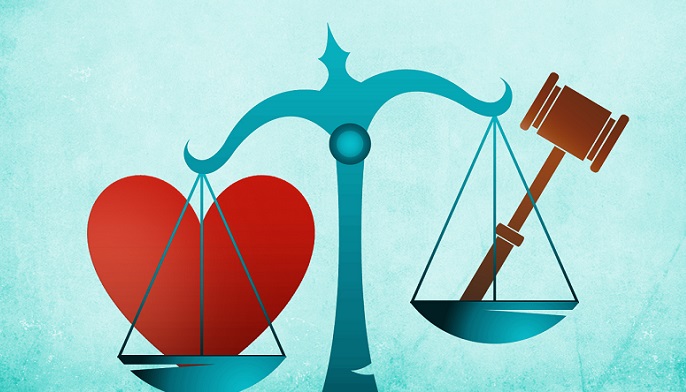 New Delhi: On December 13, 2022 the government of Maharashtra declared the establishment of a 13-member committee to 'track' inter-religious marriages. As per the resolution, this 'interfaith marriage family coordination committee' will 'gather' detailed information about inter-religious couples and the girl's maternal family to provide her 'protection'. This 'information' will be collected from the stamp and registrar's office in a direct violation of the privacy of such couples. This vast enterprise of surveillance has come against the backdrop of the rising right-wing falsehood of love jihad.
Deeply violent and stereotypical narratives have been brought by the media and politicians into at least two recent cases related to the death of young women involved in inter-religious relationships – Shraddha Walker's murder and the death by suicide of actor Tunisha Sharma. In both narratives, the women are blamed for their chosen relationships and not the larger context of patriarchy. 
The Maharashtra panel will further strengthen the State's powers to unconstitutionally interfere in the assertion of choice by couples in an already difficult legal and social environment. Surveys show that 93% Indians reported to have had an 'arranged marriage', a term for marriages within caste and community, often 'arranged' by families to maintain caste hierarchy. 
Law, even while operating within the constitutional promise of choice and liberty, rebukes and criminalises love. It, much like society, sees choice marriages as 'deviant'.  The panel is going to make matters worse. 
In this piece, I will look at the routine manner in which criminal laws and even constitutional remedies are used by patriarchal families to restore family "honour" and halt love and choice marriages. 
The right to choice is recognised as a fundamental right under the Indian Constitution.
In the Advisory Committee on Fundamental Rights of the Constituent Assembly, three members – MR Masani, Hansa Mehta, and Rajkumari Amrit Kaur – had proposed a provision along the lines of Article 54 of the Swiss Constitution which would provide that: "No impediment to marriage between citizens shall be based merely upon difference of religion." The proposal was brought to remove any hurdle in the Special Marriage Act, 1872 for inter-religious marriages. This implies that the constituent assembly members, particularly, women, considered consent and choice necessary for marriage. They had made similar proposals in the Sub-Committee on Women's Role in Planned Economy and in the All India Women's Conference Charter on Rights and Duties of Women during the freedom struggle of India. 
After Independence, the Supreme Court in the Lata Singh v. State of Uttar Pradesh held that in a democratic country a person can marry whoever he/she likes. Lata Singh was a 27-year-old Lucknow University graduate who married outside her caste, and against her family's wishes. The couple had to go into hiding, and the man's family members were beaten up, wrongly confined and threatened by the family of the woman. An FIR of kidnapping was filed by her family against the man and his family. Ultimately, she went through a medical test to  establish that she was of sound mind and married as per her choice. 
Similarly, in Shakti Vahini v. UOI, the three-judge bench of the Supreme Court held that assertion of choice is an 'insegregable' facet of liberty and dignity. The court held that the notions of honour cannot be allowed to send a 'chilling effect' on the exercise of choice. 
Internationally, under Article 16 of the Universal Declaration of Human Rights and Article 23 of the International Covenant on Civil and Political Rights, everyone has the right to marry and find a family.
Multiverse of Legal Hurdles
However, beneath this constitutional framework lies a web of laws that impede the assertion of choice. These include:
Criminal Laws:

charge of kidnapping, theft, statutory rape, and child marriage laws

Use of the writ of habeas corpus

Restrictions under the

Special Marriage Act, 1854
I have previously written about the last two hurdles here and here. In this piece, we focus on the first two laws. 
These laws effectively create a system of preference for relationships that will be sanctioned by law and those discouraged or even criminalised by it. Law prefers relationships with the potential of pro-creation and thus, non-romantic families- friendships, and community living are beyond its imagination. It also prefers relationships that are heteronormative, in the nature of marriage, and within caste and religion. Thus, for instance, under section 7 of the Hindu Marriage Act, 1954, rituals such as saptapadi (seven steps) and vivaha homa (sacred fire) have been given particular recognition. Although other marriage ceremonies have been recognised, this provision creates a confusing situation regarding the legal status of marriage. 
Use of the writ of habeas corpus
Habeas corpus (meaning 'present the body') is a constitutional and human-rights based writ to protect individual liberty against illegal actions by the State. Thus, for instance, this remedy can be used in case of illegal detention or custodial violence by the State under Article 32 and 226 of the Indian Constitution. 
But this writ has also been used by fathers to 'restore' their daughters who have 'run away/eloped' and have married as per their own choice. For instance, in Shafin Jahan v. Asokan K M case, (popularly referred to as the Hadiya case), the father of 26-year-old medical student Akhila/Hadiya had filed multiple writs of habeas corpus before the Kerala High Court on receiving the information that his daughter had married a man of a different religion and had converted as per her choice. The Kerala High Court  under its 'parens patriae (the State's power to act as a guardian to citizens)' jurisdiction, expressed 'dissatisfaction' over her marriage and ordered her to stay in a hostel against her wishes. Reflecting a deeply patriarchal morality, the court noted:
"the detenue who is a female in her twenties, is at a vulnerable age. As per Indian traditions, the custody of an unmarried daughter is with parents until she is properly married……… a girl aged 24 years is weak and vulnerable and capable of being exploited in many ways .."
This, despite the fact, that Hadiya in her statement had clearly stated that she did not wish to go to her parental home and has married as per her choice. She, in fact, had filed a petition against police harassment of her and her husband and had protested the surveillance which prohibited her from talking to anyone.
Notably, throughout the order, she is referred to as 'detenue' who has to be put under some male figure's 'custody'. Terms like 'possession', 'restoration' are other similar terms used in these cases. 
Pratiksha Baxi, in her study of rape trials in Gujarat, finds that for women, the right to choice has to be 'staged' in courts for the choice to be trusted. Much like fathers, courts often act in the name of 'protection' of the girl and illegally put her into state institutions such as Nari Niketans, hostels, and even police stations for long- or short periods. The illegal confinement into these ostensibly 'neutral' institutions is justified on the ground that women may be manipulated and hence, should be kept in a neutral space before their choice can be determined. These institutions become sites of surveillance, wherein each movement of the confined 'detenue' is watched and controlled. In the Hadiya matter, the court even goes on to determine whether she should be allowed access to her phone.
This use of the writ of habeas corpus as a tool for property ownership of women can be seen in multiple colonial cases too. 
Legally speaking, in such cases, fathers and families are liable to be charged for misleading the court because a woman clearly states that she is in a relationship of her own choice. But as Baxi points out, action is rarely taken against the girl's father or family for illegal detention, and harassment of the couple. It is almost as if it is accepted that fathers should be allowed to take whatever measures necessary to 'bring back' their daughters, including through the use of legal machinery.
Independent researchers Ponni Arasu and Priya Thangarajah found similar use of habeas corpus in the case of lesbian women, who are forced to publicly declare that they are just friends. 
Habeas corpus has also been used to reunite the couples illegally separated. Thus, in a case involving an inter-religious couple, the husband filed a writ of habeas corpus against the illegal detention of his wife in a yoga kendra where she was allegedly beaten and abused. She also said in her statement that the kendra was used to 'bring back' girls who married per their own choice and 'restore' them to their original religion. The court has ordered an inquiry into the institution.
Apart from the use of the writ of habeas corpus, criminal law has become a tool for 'rescuing' women from relationships deemed 'improper' by society. Instead of recognising the assertion of choice, eloping couples are often left to struggle with petitions, counter-petitions, statements, petitions to quash FIRs, and above all multiple criminal charges. Pratiksha Baxi finds the following 'pattern' of filing criminal charges against such choice couples:
1. Abduction/Kidnapping: section 363 IPC and section 366 IPC
Charges related to kidnapping are also routinely brought against runaway couples. More than the consent of the girl, the focus of kidnapping charges is on the removal of a person from lawful guardianship. In the case of older adolescents, lawful guardianship belongs with parents and their consent is required. 
Section 366 of IPC punishes the kidnapping of a woman to compel or to induce her into marriage. This provision is invoked against a man or his family, alleging that they have 'induced' the girl to marriage. The language of 'inducing' and 'enticing' makes it very convenient for parents to register a case against the man and his family. 
The law does not think of women as seducers of other women. The provision treats women as permanent victims and men as permanent seducers, as Arasu and Thangarajah point out in their article.
For instance, in Arvind Singh Bagga v. State of UP, a couple got married through Arya Samaj rites against the wishes of the girl's family which later filed an FIR under section 366 of IPC and had all the members of the groom's family, including minor girls aged 10-12 years, detained. Later, his female relatives were freed but the men and the bride herself continued to be illegally confined.  
The Association for Advocacy and Legal Initiatives (AALI), Lucknow, in 2012 had published an entire compendium of similar cases where law obstructed the right to choice. 
Baxi further found that in these cases, the definition of seduction ultimately depends on the court's perception of the 'victim's' moral character and the trustworthiness of her testimony. Clearly, thus, the provision is based on the understanding that women are like property that must be restored to the lawful guardian, irrespective of her own agency. 
2. Statutory Rape: section 376 IPC and POCSO
The criminalisation of sexuality through statutory rape provisions is well-documented. In 2014, journalist Rukmini S. examined every judgment involving rape (section 376, IPC) in Delhi's seven district courts in the year 2013 and found that of the 460 cases fully argued before the courts, the largest category (189 cases) involved consenting couples. And 174 of these cases involved couples who had eloped, after which the parents of the women, filed rape (along with abduction) charges with the police. Many of these were inter-caste and inter-religious couples. These cases also involved those where women had consistently deposed before state authorities that she had eloped and was in love with the accused. Rukmini S. finds similar results in their analysis of 142 cases decided by two sessions courts in Mumbai in 2015. 
Baxi finds a pattern of parental assertion of authority through these charges. Once the couple runs away or manages to marry as per their choice, charges are brought against the husband and his family alleging these offences. Once the charges are brought, the woman would have to go through an intrusive medico-legal process; be put into state institutions under strict surveillance. The man, meanwhile, is arrested and put behind bars. The case would continue at least for sometime while the girl's family attempts to 'restore' her or 'bring her back' to the family so that its 'izzat' (honour) can be protected. Invariably, the couple would also face custodial violence, normalised by the idea of restoring caste-based normative order. If she refuses to return to the family, she will be publicly humiliated through the court trial. Sometimes this leads to an absurd situation where the woman herself is both the victim and the abettor of crime under section 366 and 376 which makes it abundantly clear that the case is not about her or her dignity but an offence against the 'guardianship' of family. 
Matters have been made worse by the 'unintended effects' of some of the provisions of the Protection of Children from Sexual Offences Act, 2012, as found by Enfold India, an organization working against child sexual abuse in India. Through this act, the age of consent was increased from 16 years to 18 years along with mandatory reporting provisions. Irrespective of the consensual nature of relationship amongst teenagers, as per section 19 of the act, any sexual relationship below the given age is considered statutory rape and is liable to be immediately reported to the police. As Rukmini S points out, a 17-and-half year old boy, who is in a consensual relationship, can be charged for all of the provisions discussed here. He is liable to be punished for a minimum of 10 years of imprisonment. This is a massive tool of control in the hands of parents, who may invoke criminal provisions to uphold caste and class restrictions. This, despite the fact that a significant number of adolescents in India are sexually active. 
Instead of allowing adolescents and young adults to choose intimacy outside caste and class, the current criminal law has become a useful tool for retaliating against choice relationships. 
3. Theft: section 379, IPC
In some cases, Baxi finds that charges of theft are also brought against the girl, alleging that she has stolen valuable materials, jewellery from her house while eloping.
4. Prohibition of Child Marriage Act (PCMA), 2006: section 9, 10, 11
The Delhi-based research organisation Partners for Law in Development, in its analysis of cases under Prohibition of Child Marriage Act (PCMA) between 2008 and 2017, found that 65% of cases under PCMA involve elopements or self-arranged marriages by girls. Elopement is the main cause of cases under PCMA, not forced child marriages. Our general imagination of the use of the PCMA is against forced child marriage where young children are being forced to marriage. But in actual cases, this is the least cause of action. Merely in 7% cases, action was brought by Child Marriage Prohibition Officer for preventing a child marriage. 
Parents actually use the PCMA the most, often against eloping couples. A large number of cases involved action by parents to seek custody of their daughter who had eloped or to prosecute the husband of their minor daughter. A large number of cases also involved those where the husband approached the court seeking bail, or cohabitation with wife or defence against criminal proceedings brought by families of the girl, usually an older adolescent. 
This implies that along with POCSO, and IPC, PCMA have been misused as yet another law criminalising sexuality and restricting choices, mostly of adolescent couples, that parents do not approve of. 
In sum, criminal laws are having a 'devastating effect' on the exercise of the right to choice by young couples. Based on patriarchal notions of honour and caste purity, law has become a tool for asserting parental proprietary ownership over daughters. This is in addition to the multiple hurdles the couple face in the solemnisation and registration of inter-caste and inter-religious marriages under the Special Marriage Act, 1954 and the latest anti-conversion laws. 
[This is an explainer based on the scholarship of various scholars — Pratiksha Baxi, Enfold India, Partners for Law in Development, Anandi and many more grassroot feminist organisations.]
Support BehanBox
We believe everyone deserves equal access to accurate news. Support from our readers enables us to keep our journalism open and free for everyone, all over the world.