Insistence On Digital ID Limits Access To Abortion In India, Raises Privacy Concerns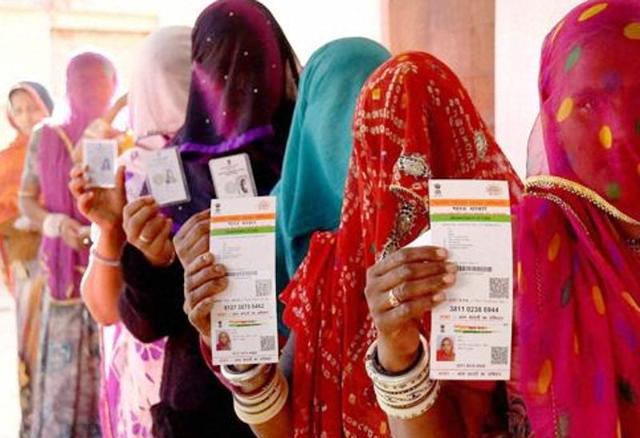 New Delhi: The insistence on furnishing a digital identity proof, especially Aadhaar, at healthcare facilities not only limits women's access to abortions, which is highly stigmatised in India, but also has worrying implications for data privacy, say experts.
Women who seek abortions at hospitals and medical centres, both public and private, are often asked for their Aadhaar card, either for the procedure itself or for the ultrasound sonography (USG) that precedes it, doctors, health workers and health activists told Behanbox.
In an extensively reported 2017 case, the British Medical Journal reported the case of a Chandigarh domestic worker who survived the life-threatening consequences of a botched backstreet abortion. 
Devi* (28), a mother of three, had to deal with as many as six pregnancies – three of them unwanted because her husband, a wage earner addicted to alcohol, disapproved of contraception. She has had to resort to a pill-induced abortion on the sly twice.
Devi was refused abortifacient pills at the Government Multi Speciality Hospital (GMSH), Chandigarh. The hospital wanted her to furnish her Aadhaar card for the USG and also her husband's signature on the consent form for the abortion. Even a private diagnostic centre that she could ill-afford sought a "valid" proof of identity to conduct a USG. "It was a smooth job [at the quack's]. In the government set up there are too many formalities to be completed," Devi said. 
Soon after, she suffered from prolonged and profuse bleeding and needed blood transfusion and also a surgical procedure to remove the remaining contents of her pregnancy.
Contrary to the experience of women like Devi, the law does not require an individual to produce an Aadhaar card to access any public service, including health, but it is routinely asked for (see here, here and here). This has critical consequences for reproductive healthcare – in 2018, a pregnant woman, who was denied admission for not being able to furnish the Aadhaar card, gave birth outside Gurgaon's Civil Hospital. 
Some state and district authorities (see here, here, and here) have made a photo and address identity mandatory for a USG evaluation under the Pre-Conception and Pre-Natal Diagnostic Techniques (PC & PNDT) Act, meant to deter sex determination tests. 
Health is intrinsic to privacy, said social activist Tara Krishnaswamy. "The insistence upon Aadhaar for any health service and not just reproductive health services must be seen as an infringement on the individual's right to privacy," she said. "However, reproductive health is, especially, surrounded by a lot of taboo and shame. This makes the issue much more sensitive. The same is also true for mental health and health issues of LGBTQIA+ and other gender non-binary individuals. Or the reproductive health of men such as impotence or erectile dysfunction."
A gynaecologist, who did not wish to be named and who had worked at a Delhi government women's hospital, told Behanbox that the Aadhaar is sought at the time of registration though not necessarily when the MTP form is being filled. The exception is when the abortion is linked to a criminal act such as rape or sex with a minor (punishable under Protection of Children from Criminal Offenses (POCSO) Act), she added. 
In the wake of the Politico scoop on the Roe judgement last week, we had reported that while abortion is legal in India, it is not available on request and that a range of factors, from social to legal and medical, obstruct easy access to it. We also reported that grey areas in the laws governing abortion make medical providers anxious enough to insist on documents and consent not required under the MTP law, the basic set of rules governing abortion. 
Given these legal and social hurdles, the insistence on Aadhaar also raises issues around data privacy and safety, as we detail later. This is particularly problematic given that data breaches are common in India (see here and here). A recent report by Vice also revealed how easily location data sold by American data aggregator SafeGraph can be used by anti-abortion vigilantes in the US to track and target individuals accessing abortion clinics.
Accessing abortion is a really stigmatised experience, said Anant Bhan, a global health and bioethics researcher. "Instead of adding impediments, there is a need to make abortion accessible to every one who needs it. If a woman is unable or unwilling to produce an Aadhaar, she should not be denied access to these services," he said.
The denial of abortions because of the inability to submit the Aadhaar is a violation of the landmark Supreme Court judgement in Puttaswamy versus Union of India case as well as the Aadhaar Act, both of which hold that the lack of an Aadhaar should not be a reason for the denial of essential services. 
Experts say these requirements are exclusionary. Such requirements, as in Devi's case, have led to abortion services becoming increasingly inaccessible not only for poor women but also for gender minorities such as trans-masculine or other non-binary individuals. 
Behanbox spoke to Sunita Rani, an Accredited Social Health Activist (ASHA) about access issues women face in Haryana. It is not uncommon for public health facilities in the state to refuse abortions or fuss about the details mentioned in the Aadhaar card, she said. 
"As a result women are often forced to visit private facilities, where they are either denied the service again for not possessing Aadhaar or are made to pay double or triple the amount for the procedure," she said. "Sometimes even women with Aadhaar cards are unable to access the service because their cards are either not linked to their phone numbers, or the cards have spelling mistakes. Moreover, there is the possibility of other biometric-related issues where thumbs or eyes have not been scanned properly."
Given their marginalisation, trans persons face even bigger barriers to and stigma around abortion. For instance, when it comes to Aadhaar as means of identification, the number of community members having these cards is abysmally low, pointed out Aqsa Shaikh, a trans rights activist and faculty at the Department of Community Medicine, Hamdard Institute of Medical Sciences and Research, New Delhi. 
Only 41,033 Aadhaar cards had been issued to trans persons, which is only 10% of the community members if the Census 2011 data is to be taken into account, according to the last official available data.
"The MTP Act only talks about women accessing medical termination of pregnancy and not men. However, there are individuals identifying as trans-masculine persons or gender non-binary persons, who the law excludes. When the legal means of private, confidential and safe termination of pregnancies are not available to them then that pushes them more towards unsafe methods of abortion or self-induced methods of abortions," she said.
She further explained the social nature of exclusion of individuals from gender minority communities. "It is very difficult for trans persons to access areas which are categorised as women's healthcare. These are purely women's spaces where access for trans men may be extremely difficult or is often accompanied by abuse." 
A Supreme Court judgement had upheld reproductive rights of women as being integral to her "right to privacy, dignity and bodily integrity". Experts have argued that the insistence on linking identity documents and reproductive services infringes upon the constitutionally guaranteed right to privacy of women.  
The requirement and linkage of digitised identification such as an Aadhaar prevents many women from seeking clinically safe abortions, Ambika Tandon, a senior researcher at Centre for Internet and Society working on gender and technology, found in her field work. "Aadhaar becomes particularly problematic because it is linked to people's personal data including their reproductive choices, caste, religion, sexual orientation or gender." 
Experts argued that Aadhaar has experienced data breach in the past. Linking sensitive information about individuals' reproductive health can be severely damaging, said Krishnaswamy.  "The fundamental premise of Aadhaar data is that the state can use it. The state itself is an abusive entity. There is a history of Aadhaar data being sold and made available. Between use, misuse and wilful maleficence, I think such a linkage is fraught with multiple implications," she said.

One of the examples of the government's wilful abuse of data is the publication of the vaccination data to publicly shame individuals who had taken only a single dose of the vaccine by the Tamil Nadu government, Krishnawamy pointed out. "The Andhra Pradesh government has published Aadhaar- related data of the public so many times that it is difficult to count. The Indian state has had a long history of violating citizen's private data," she said. 
The concern about privacy, although, is much larger than just a data breach, according to Tandon. "Information leaks are not just limited to the digital world but can also take place within the community; among family members and people you may know. Abortion, although legal, is highly stigmatised in India. Because it is a sensitive and stigmatised decision, people do not  want to share their identity cards. This can be especially harmful for unmarried women. It compromises their right to privacy. With adolescents in India, there are no mechanisms for abortion since Protection of Children from Sexual Offenses (POCSO) Act criminalises any sexual activity between minors," she said.
'Surveilling women's bodies'
Tandon and Krishnaswamy both argue that these linkages can be used to regulate women's decisions and bodies. 
"Critically, the collection of personal sensitive data of patients rather than providers is meant to regulate the persons availing these services rather than placing institutions under scrutiny, thereby attempting to control and surveil women's bodies," wrote Tandon in her paper published in 2021. 
Given the premium placed on chastity and honour in a patriarchal society, linking reproductive decisions to digital id burdens women with more anxieties, she said. "In addition to the fear of leak of information within the community, there is now also the fear of a digital compromise," she pointed out.
Between 2007 and 2011, over 65% abortions among women aged 15 to 58, in nine Indian states were unsafe, according to a study, which analysed anonymous data from Annual Health Surveys. 
The study found that in Bihar, Chhattisgarh, Jharkhand, Madhya Pradesh, Odisha, Rajasthan, Uttar Pradesh, Uttarakhand and Assam, which represented 50% of the population, the overall rate of unsafe abortion was 67%. 
The study pointed at socioeconomic vulnerability and inadequate access to healthcare services as being the leading cause of exposure to unsafe abortions. The exclusion of individuals from safe abortion services forces them to undergo medically unsupervised and unsafe methods of induced abortions which have adverse health consequences, as per experts. 
Access to healthcare and right to health is an inalienable right of every individual, activist Krishnaswamy told Behanbox in a telephonic interview. "Even if it is a matter of subsidised healthcare or subsidised insurance, insisting on an identity to provide basic/essential services is really quite shocking," she added.  
At least 57% of women aged between 15-49 years are severely anaemic, as per the latest round of National Family Health Survey. One of the major reasons apart from lack of nutritional food is unwanted pregnancy, according to ASHA worker Sunita Rani. "Indian women have no control over reproductive choices, especially those concerning contraception," she added. Apart from excessive bleeding, the chances of infections, incomplete abortions and other health-related issues remain pretty high, said Shaikh.  
*Name changed to protect identity
Support BehanBox
We believe everyone deserves equal access to accurate news. Support from our readers enables us to keep our journalism open and free for everyone, all over the world.