Its Nutrition Schemes In A Mess, Stunting And Wasting Are Rampant Among UP's Children
Varanasi: A slew of initiatives, some dating back to nearly 50 years, have not succeeded in saving the children of Uttar Pradesh from acute malnourishment, shows an investigation centred in Varanasi's Dalit slums. UP has over 40% of India's severely malnourished children between six months and six years of age, as per government data released in July 2021.
Soni Vanvasi's story, which went viral through our Tweet on February 26, 2022, offers some insights into the crisis. The 14-year-old from the Musahar community, the most marginalised among Dalits, lives in Chateri, a slum in Chitrasenpur village of Varanasi's Sevapuri block, 30 km from the city. 
When we met Soni, she had been bedridden for three months, utterly emaciated, and struggling to breathe. She is a case of severe acute malnutrition, a life-threatening condition of visible wasting. "We do not have enough money to take her to a big hospital. Today, we had to spend Rs 40 to get her some medicine to help her breathe," said Soni's mother, Sudama Vanvasi, who says the child had been sickly since birth.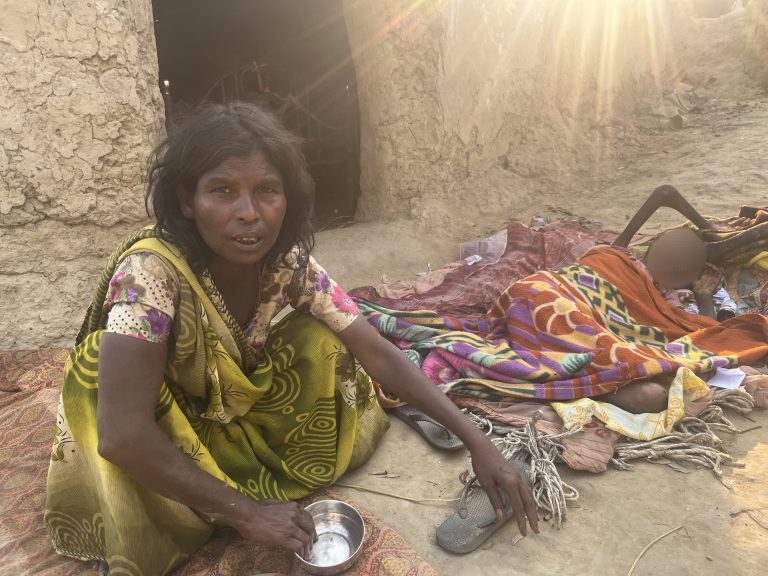 The district administration's response to the 2-minute video had been quick, getting the collector, Kaushal Raj Sharma, to the spot and ensuring her hospitalisation. Sandeep Chaudhary, the district's Chief Medical Officer, who examined Soni claimed that her problems were not related to nutrition. "Her reports say that perhaps she has chronic kidney failure and TB, probably since birth, and this has weakened her bones. We will mark such children in health camps and get them treated," he said.  
Soni, and lakhs of children like her from impoverished families, should not be struggling with fatal levels of malnourishment. On paper, the flagship POSHAN campaign is meant for these vulnerable children, guaranteeing hot meals at Anganwadi centres or dry rations at home, with special attention to the severely malnourished. There are also Nutrition Rehabilitation Centres (NRC) set up by the Centre to treat children like Soni – there is one in Varanasi, for instance, that could have benefitted her.
Why then did the teen fall off the welfare radar? Shoddy implementation of various initiatives, inefficient and inadequate supply of rations, underutilisation of budgets and administrative apathy are some of the reasons, we found in conversations with parents and Anganwadi workers who implement the government's maternal and child health campaigns.
For all these problems, UP is among the three states that underspent their POSHAN allocation by a massive margin – the state left 66% of this budget unused between 2017-18 and 2020-21.
Schemes worth crores never really reach the intended beneficiaries, said Swati Singh, the founder of Muheem, an organisation that has been working amidst the Musahars of Varanasi for five years now. "Leave aside homes and toilets, they don't even have potable water," she said. 
Public outrage over the Chateri video also pushed the district administration into overdrive, organising a ration distribution drive and a health camp. "This is the first time we had a health camp in the village; we've never seen so many officials before. We all got provisions such as biscuits, peas, packed milk and jaggery in bags," said Sudama.
The Sevapuri block incidentally is being monitored and evaluated for development parameters by government think-tank Niti Aayog under a special programme.
'So little ration, a brawl every time we distribute'
Upto 41.3% of children under five years of age in rural Uttar Pradesh are stunted while 33.1% were underweight, 17% wasted  and 7.1% severely wasted, according to the National Family Health Survey-5 (2019-21). The 2015-16 NFHS-4 put the numbers at 48.5% for stunting, 41% for those underweight, 17.9% for wasting and 5.8% for severe wasting. Also, about 53% of the state's women are anaemic, a condition caused by poor nutrient intake, particularly iron.
In Varanasi, Prime Minister Modi's constituency and the scene of many highly publicised election campaigns, about 4000 children were marked as malnourished in 2019. The percentages for stunting, underweight, wasting and anaemia in Varanasi are 43%, 46%, 24% and 60% respectively, while the national averages are 38%, 36%, 23% and 59%, as per a study. 
Soni is not the only malnourished child in this Musahar slum or other adjoining ones. One-and-half-year-old Kriti sits at her doorstep in neighbouring Chitrasenpur Panchayat. She weighs about 7 kg and is lethargic as is Ayaz, 2, who lives next door.  Both have been severely malnourished since birth and are registered as such in Anganwadi records. 
Across the poor pockets of the rural Varanasi, we found many children stunted, others underweight, their ribs showing. Anganwadi workers told us that there is a critical problem relating to the supply of rations. They simply do not get enough material to disburse among all who need it, they complained.
Chateri's Anganwadi worker, Jyoti Jaisawal, claimed that nutrition packs are supplied regularly every month and the main culprit was poor maternal health. But when we questioned her closely about food supply, she admitted there was a problem. "We don't receive enough ration from the authorities to give to all the children registered as malnourished. That is why there is often a brawl when we distribute ration every month. We have no solutions to this," she said.
91% rise in cases of severe malnutrition
To deal with widespread malnutrition and poor health among young children, the government launched the Integrated Child Development Service (ICDS) in 1975, one of the biggest such programmes in the world. It corporated multiple measures ranging from a supplementary nutrition programme, growth monitoring and promotion, nutrition and health education, immunisation, and preschool education. Its targets were children below six years, and pregnant and lactating women. 
One of its most ambitious aims was to provide hot cooked meals at Anganwadi centres for 3-6 year-old children. Children between six months and three years of age were to be allocated rations at home and this includes wheat porridge, rice, chickpea lentils and fortified edible oil. Later, in 2017, the POSHAN Abhiyaan was declared the flagship scheme that would subsume multiple nutrition schemes for the same beneficiaries but within a tech-centric framework.
However, stunting, wasting and underweight, the three indicators of malnutrition, continue to be rampant in UP, Bihar, Madhya Pradesh and Jharkhand. In UP, the worst figures are reported from Bahraich, Balrampur and Shravasti, with at least half the children showing malnutrition indicators. Dalit children and those from tribal communities are more likely to be malnourished than those from other communities, a 2017 study by the National Institute of Nutrition had concluded.
The number of severely malnourished children in India saw a 91%  increase between November 2020 to 14 October 2021, and the pandemic was cited as the reason for the dramatic rise. The spread of COVID-19 and various lockdowns disrupted the hot meal system across the country and only dry rations were being delivered in most places. 
There are more than 1.89 lakh Anganwadi centres in Uttar Pradesh and most were almost shut during the multiple Covid-19 waves. Only dry rations and snacks were distributed in this period.
UP struggled with with multiple drives, experiments
However, even before the pandemic, the nutrition scheme was flailing in Uttar Pradesh. The state was constantly experimenting with the cooked meals system and Anganwadi centres in several districts had switched to dry rations, said this January 2022 Gaon Connection report. The state had also launched another mission, Hausla Poshan Yojana, in 2016 to fix the flaws in the existing ICDS nutrition campaign, but that too stopped functioning effectively. Between July and September 2021, the state also started special nutrition drives such as 'Poshan Mah' (nutrition month) and 'Sambhav'.
The state ICDS director, Sarika Mohan, has also stated that the cooked meal scheme in UP could be handed over to its education department which runs the mid-day meal scheme in schools.
For the effective surveillance of children, pregnant and lactating women, Anganwadi workers were provided with smart phones under the Poshan Mission by the UP government in 2017. But as BehanBox reported recently, there are many complaints about the app tracker's performance.
On December 21, 2021, Prime Minister Modi had laid the foundation stone for supplement nutrition units in Prayagraj. The construction of these units in every district and block to supply supplementary nutrition to ICDS was a promise made by the state government and it is already underway at Fatehpur and Unnao.
On March 1, 2022, soon after Soni's story made news, district authorities weighed 25 children in Chateri, most of them aged below 10, though some were 12-14 years old. With few exceptions, they weighed between 7 and 15-20 kg. Adults too were checked at the camp, and 75 were tested for TB among other diseases, of these 13 samples were sent for further tests; 7 were found to be severely anaemic and of them 4 were women and 3 children had haemoglobin levels less than 7%.
We had travelled across Shravasti, Lakhimpur, Bahraich, Shahjahanpur, Lucknow and Sitapur to cover the just-concluded elections in the state. In every district we saw undernourished children.
Rations only every alternate month
In Barlaiya gram panchayat of Tihar block, about 30-35 km from Shahjahanpur district headquarters, we saw five-year-old Manvi, lying listless on a bed. Her mother says the child stopped feeding on breast milk soon after birth. "She kept getting weaker and now she doesn't even have the strength to walk. She only eats salt and chapati. I tried to get her treated but it didn't help," said her mother, Rani, 35, who knows nothing about the government's nutrition initiatives.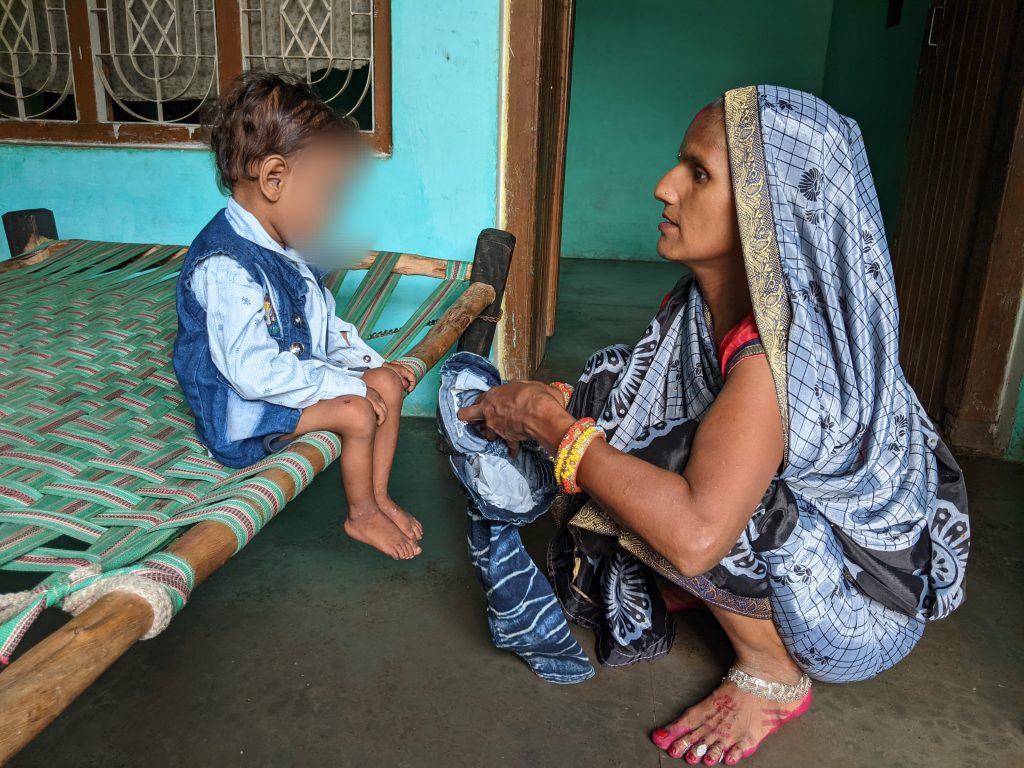 Rani thinks her daughter has rickets but the family does not have the Rs 1000 it would take to get her to Shahjahanpur for treatment.
An Anganwadi worker in Barlaiya, Meera Devi, said her register showed Manvi as "severely malnourished" right after birth. There are six children who are severely malnourished in her register and 17 malnourished. "Manvi's weight is 7.4 kg  and she has been malnourished since birth. We have told her mother a lot of times to get her treated at the Nutrition Rehabilitation Centre, she will get fine  but she never listens," says Meera Devi. "They don't have enough food at home. Their father is a labourer and they have five children."
The family did not even have a home till two years ago when someone gave them a dilapidated hut. As for food, "When Anganwadi sisters get ration from the authorities, they call us to collect it," said Rani.
There are 2,980 severely malnourished and 10,509 malnourished children just like Manvi in Shahjahanpur, as per the district programme officer.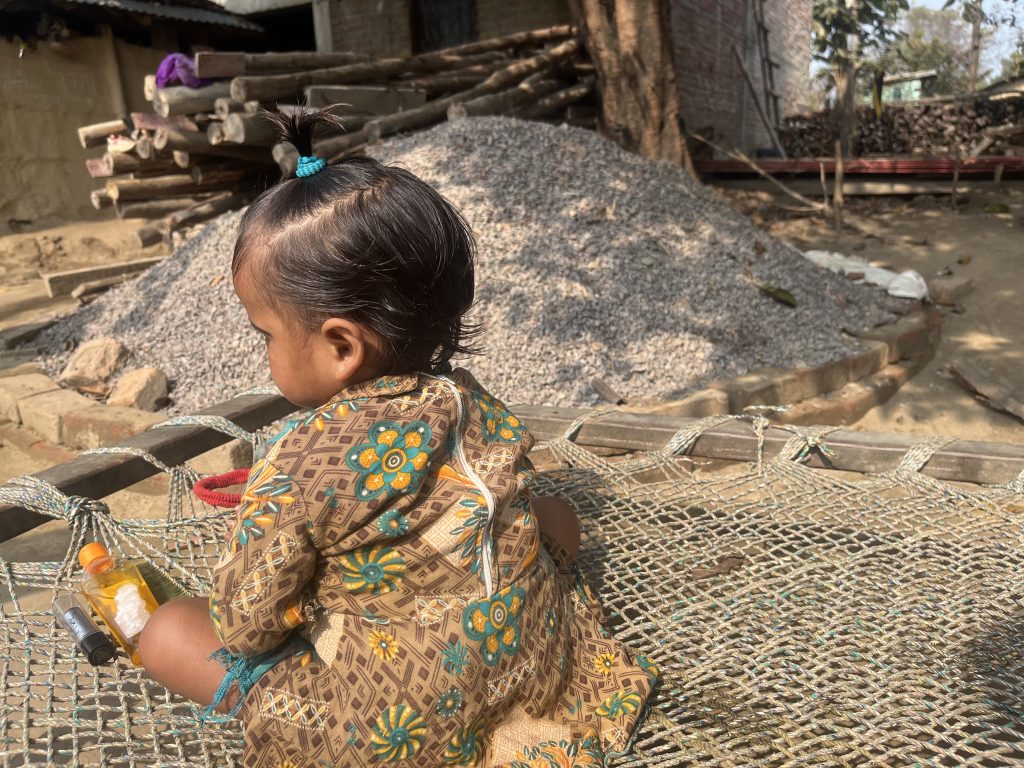 Meera Devi says dry ration was distributed seven times by the Anganwadi Centre last year from March 2020 to September 2021 but it was never enough. "Our centre has 61 children registered in the age group of 3 to 6 years, while ration comes for just 18 children. There are 16 pregnant and foster mothers, while ration comes for just 11. There is a fight on the day when ration is distributed," she said. "We have complained many times but this is only what we receive from above. We give rations to every beneficiary only every alternate month – only then can we ensure that every child registered with us gets it once in three months."
Other districts reported the same problem.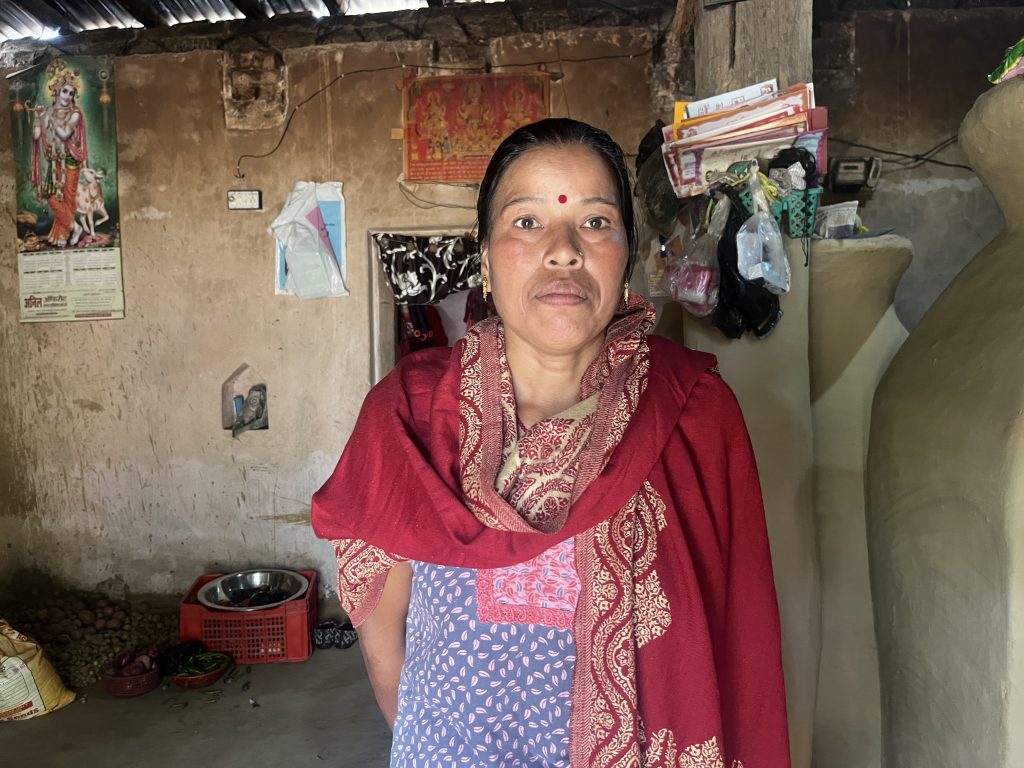 In Shravasti district's Dhod Purva village of Sirsiya block, 35 km from the district headquarters, Anganwadi worker Kiran Rana complained that her centre never gets all the food the children registered there need. The area has a heavy population of Tharu tribals, who anyway live in acute deprivation, as BehanBox reported recently. "We don't like giving ration to some and not giving to others; there are multiple fights," she said.  
Anshika, 1.5 years old is severely malnourished and her mother complained that she has not received anything under the public nutrition programme in months.
Support BehanBox
We believe everyone deserves equal access to accurate news. Support from our readers enables us to keep our journalism open and free for everyone, all over the world.