Delhi Anganwadi Workers To Move Court Against Termination Orders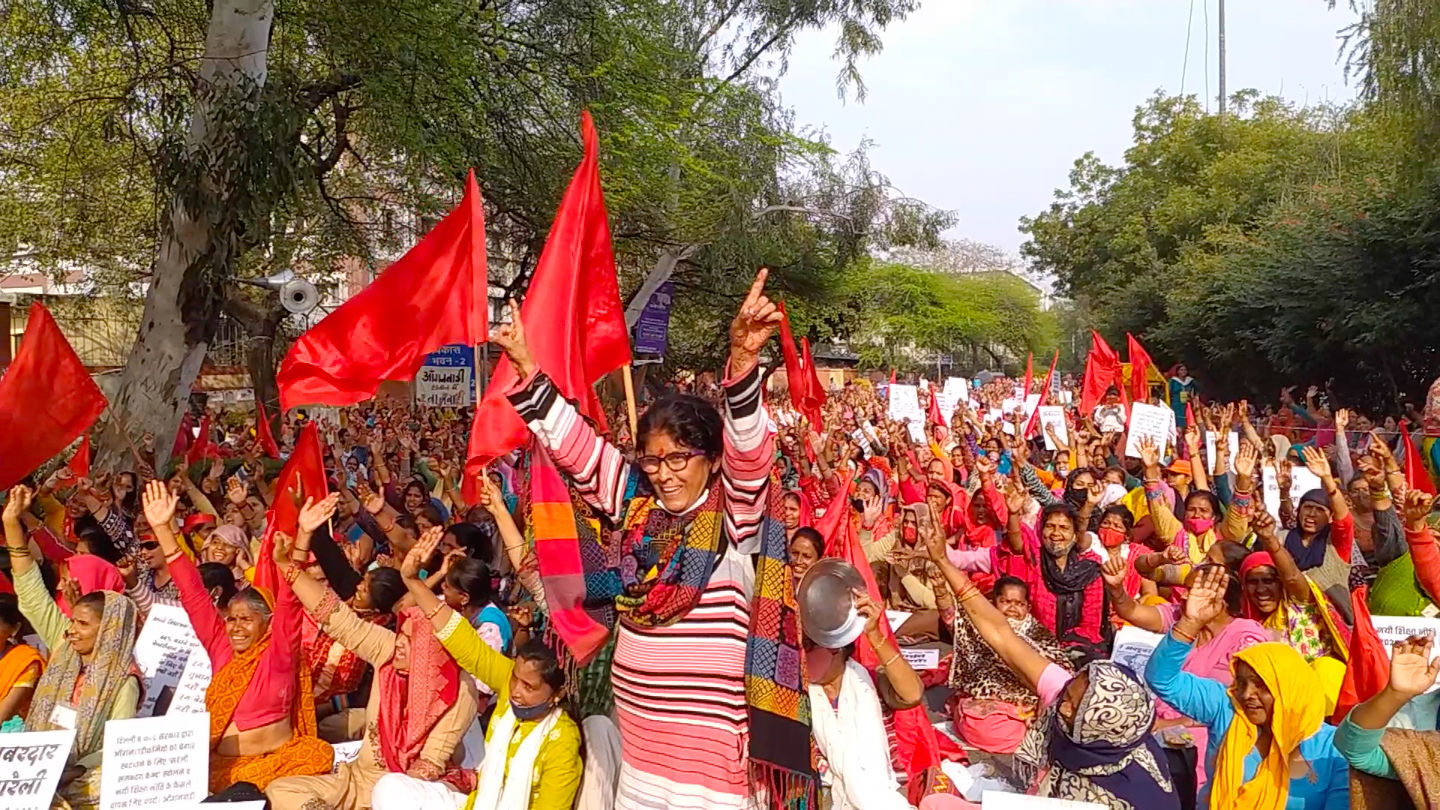 New Delhi: Delhi's anganwadi workers (AWW) and helpers (AWH), who ended their 38-day strike on March 9, will move court against the state government order terminating the services of several protestors and the hiring of replacement staff. At a later date, the workers also plan to go to court against the imposition of the Haryana Essential Services Maintenance Act (HESMA), 1974 to dissuade them from agitating.
The strike, demanding better pay and employment terms, was called off as soon as the Delhi government issued an order declaring Anganwadi services essential and Lt Governor Anil Baijal invoked HESMA. As BehanBox reported recently, the workload of the community health workforce has been expanding over the years and there is widespread discontent among the workers at being labelled as "volunteers" and paid an honorarium despite decades of service.
The order issued by Women and Child Development (WCD) minister Kailash Gahlot under HESMA directed AWWs and AWHs to report back to work with "immediate effect" and stated that daily inspections of the Anganwadi centres would be conducted by revenue officials. Strikes by the workers have been prohibited for six months from the date of the order's issuance.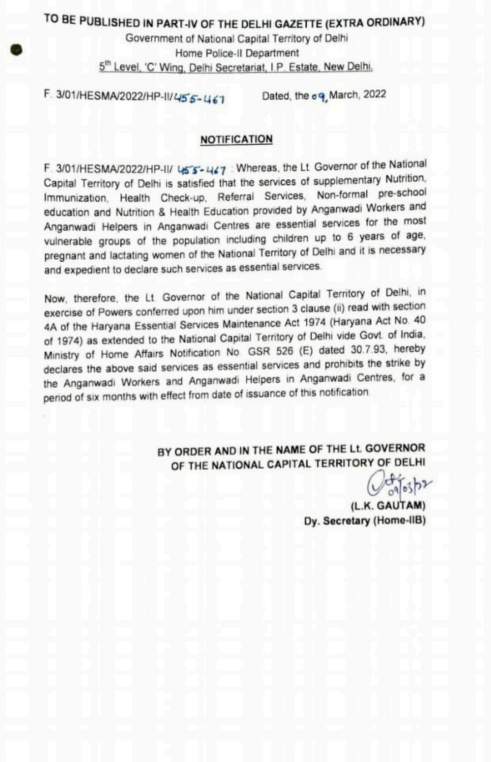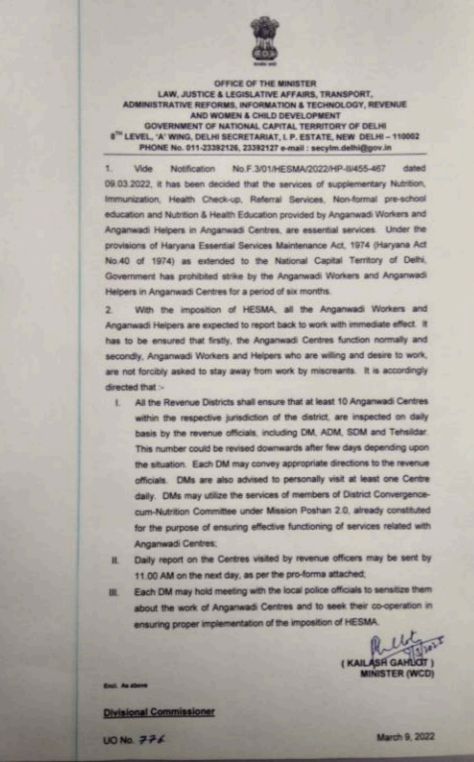 Orders imposing HESMA issued by Lt. Governor of Delhi and WCD Minister
Under HESMA, a protest strike by any person who belongs to a body of workers covered by the order is considered an offence punishable by a jail term extendable upto six months or a fine of upto Rs 200 or both. The law, brought into force in Haryana in 1974, was later extended to the National Capital Territory of Delhi via a 1993 notification by the Ministry of Home Affairs. 
The imposition of HESMA is a "new tool of exploitation and oppression of Anganwadi workers", said Shivani Kaul, who heads the Delhi State Anganwadi Workers and Helpers Union (DSAWHU) that led the strike. "We will be moving the court against the order mandating the imposition of this draconian law," she told BehanBox in a telephonic interview. "The Delhi government and central government have deliberately invoked HESMA as it extends to both, paid and unpaid work. It is a clear-cut attempt to give legitimacy to the treatment of AWWs as unpaid labour or slaves."
Following the government order, the workers and helpers resumed work at Anganwadi centres. But many have been served termination notices – there is no clarity on the exact numbers, with reports ranging between 26 and 90. Some union members even put the number at 300 while talking to us. There are approximately  22,000 Anganwadi workers in Delhi working at over 10,000 centres under 95 projects. 
When AWWs and AWHs resumed work, the WCD department "forced" them to sign a letter of apology for participating in the strike, alleged Kaul. "When the women refused to relent, the department started handing out termination letters in a thoroughly illegal fashion," she said.
The termination notices penalise workers who had exercised their constitutional right to protest, said Vrishali Shruti, spokesperson of DSAWHU. "The WCD department has been issuing termination letters to these women workers in the hundreds. Till now at least 300 workers would have been served in a matter of three days."
The issuance of termination letters had begun before the orders were issued. At least 26 workers were terminated on February 27, said Rajni Saini, an advocate and AWW whose services have been terminated. Saini had been served a show cause notice on February 25 and a response was sought within three days of its issuance. The notice alleged that Saini had been forcing AWWs and AWHs to participate in the strike and had created ruckus at Anganwadi centres. She was suspended despite the submission of a response to the WCD department. 
On March 5, Anganwadi helper Shanno, who prefers to go by her first name, was served both a show cause notice as well as a termination letter without even receiving a chance to respond to the former. "It was for participating in the strike; for exercising my rights, precisely. The truth is I had no choice but to come out on the streets. How am I supposed to run a household with Rs 4,839? I live in a rented house and have kids to feed and educate," she said. 
BehenBox could examine 28 termination orders.
Shanno's husband is unemployed, so the family of five depends on her honorarium for survival. She says her youngest son, who is in Class 5, is not being allowed to attend school because the family cannot afford a uniform. "I will ensure that I win my job back. The department can snatch our jobs, but they have not snatched our hands and feet. To a worker, that is what matters. I will earn a living and fight for my rights, regardless," she said.
Labour and human rights lawyer Maitreyi Krishnan pointed out that the right to strike is guaranteed under the Constitution. "So terminating someone for participating in a strike would undoubtedly be illegal. Secondly, to terminate someone without conducting an inquiry or giving the person an opportunity to defend herself will be completely illegal. The principles of natural justice apply and it is a mandatory requirement," she said. If the reasons for the protest were to be examined, including the fact that the workers are not even paid minimum wages and are denied workers' rights to demand better work conditions, the legality of the strike would become even more apparent, she added. 
In 2015, when an Anganwadi worker's services had been terminated for absence from work, the Madras High Court had quashed the order stating that a worker cannot be dismissed from service without an administrative or a quasi-judicial enquiry. It also noted that doing so would be in contravention of the constitutionally granted rights under Article 14 (right to equality) and Article 21 (right to protection of life and personal liberty).
Support BehanBox
We believe everyone deserves equal access to accurate news. Support from our readers enables us to keep our journalism open and free for everyone, all over the world.