Why Manipur's Women Remain Underrepresented in Electoral Politics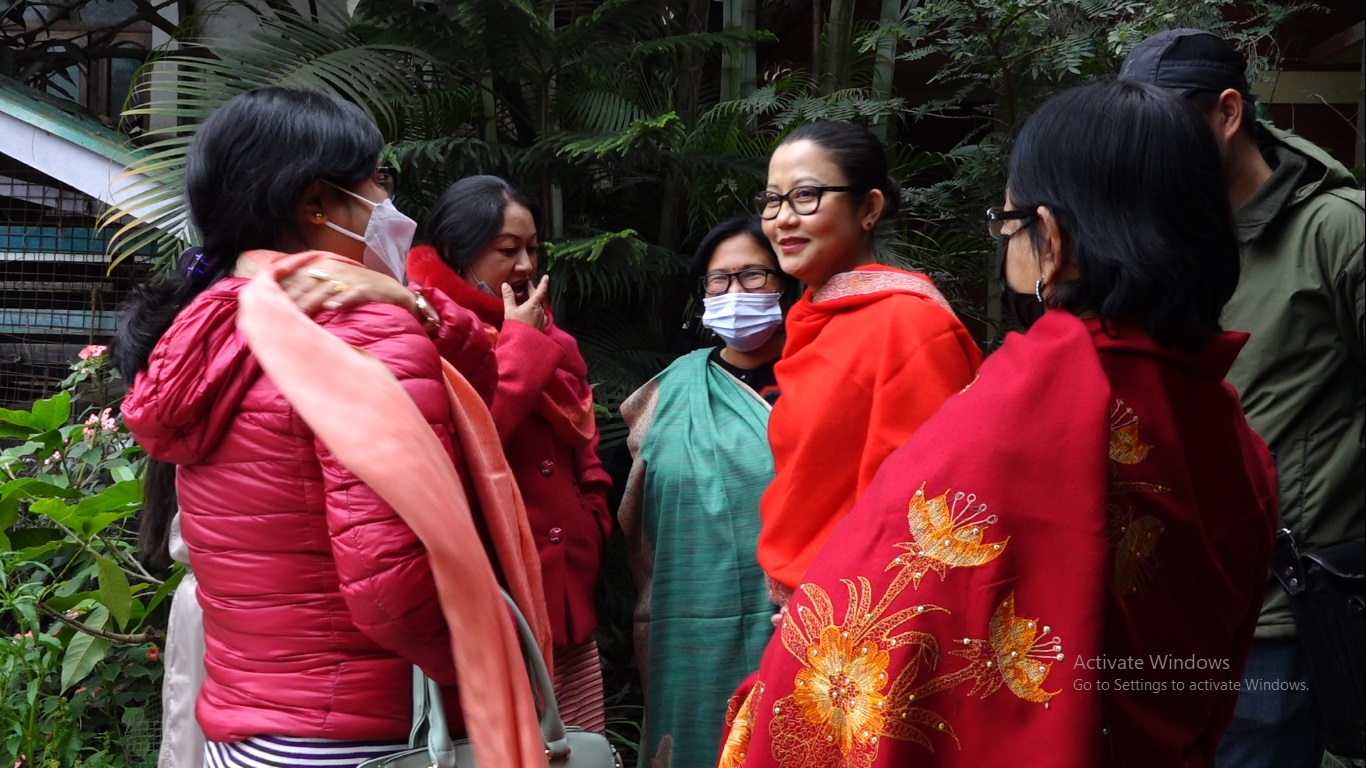 Imphal: Manipur is all set to elect its 12th state legislative assembly as it goes to polls in a 2 phase election, with the electorate voting on the 28 February and 5 March 2022. In a fever pitched campaign which saw  party dissent, pre-poll violence and defections, another reality stands out in a stark manner– low participation of women in elections. Only 6% of the total contestants are women. 
Manipur has more women voters than men, the first time in its history, according to data from the electoral rolls. For the first time ever, 55,000 more women than men will be electing its next legislature.In a state where women have led social and political resistance movements from the colonial times to the more contemporary ones against state repression, we seek to understand why their role in electoral politics is yet to match with both their numbers as well as their significance in society.
Historical Underrepresentation
The low number of women contestants in Manipur's assembly elections this year has been a talking point in the local and national media, inviting disappointment among observers and commentators. 
"Yes, the number is low, but when was it ever high?", asks Ninglun Hanghal, an Imphal based journalist who has observed the political landscape of Manipur for decades.
These elections are seeing the highest ever number of women contesting in the history of Manipur since elections were first held in 1967. The proportion of women of the total contestants in legislative assembly elections has progressed from 3% to 6% between 2007 and 2022, according to data from the statistical reports of the election commission of India (ECI).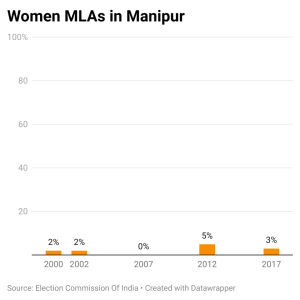 Fewer women contestants also means that very few are elected to the legislative assembly. Manipur's legislature saw the highest number of women MLAs  in 2012, when three women, Nemcha Kipgen, Okram Landhoni Devi and Akoijam Mirabai Devi, were elected to the house. In 8 of the 12 rounds of elections held, there were no women elected according to data from ECI. While the first elections to the state were held in 1967, the first time a woman was elected as an MLA was in 1990, when Hangmi Shaiza was elected from the Ukhrul constituency.
"I expect the number of women MLAs to rise this year, but I doubt it will hit double-digits. That said, I am at least happy that the number of contestants has gone up," said Hangal. 
Manipur has a long history of women led social and political movements which has not translated into their  increased political participation or representation in electoral politics. From the Nupi Lan in 1904 and 1934, where thousands of women stood up against the British empire to the protests against the rape and killing of Thangjam Manorama Devi led by the Meira Paibi (Torch Bearers) who are also known as the Mother's Front in 2004, women in Manipur have been at the forefront of resistance movements. The Meira Paibi, which started out as a support group to address social issues, particularly problems of alcoholism among men and drug abuse among children, became involved in the campaign to repeal the Armed Forces Special Powers Act (AFSPA) in the state.
Another institution which is entirely women led is the famous Nupi Keithel (also known as Ima Keithel), a market entirely run by women. "Although an economic space, Nupi Keithel holds a significant place in the socio-cultural landscape of the Meitei community", writes Siddharth Haobijam, a documentary photographer from the state. "The centrality of Nupi Keithel at Imphal, the capital city, as well at the village level (Leikai Keithel), meant that the women could organise themselves and put up a united front in times of economic, political or social crisis."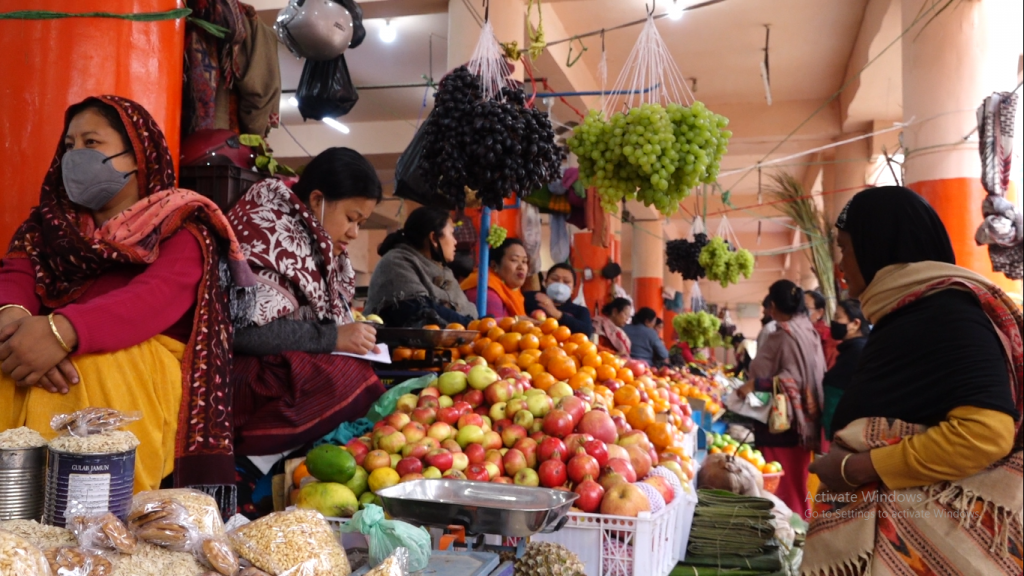 Independent documentary filmmaker Meena Longjam believes that despite the Ima Keithels and Meira Paibis and other movements where women have been at the forefront, they have primarily been used as a 'shield' for men against attacks by the army or the police. "When it comes to important positions of decision making, we women in Manipur have not been given an opportunity or platform. We live in total hypocrisy", Longjam told Behanbox.
The skepticism in politics is most palpable among the women in the market. We ask what they think about the low participation of women in Manipur's politics.
"I do not care," said Nirmala, a 20 year old fabric vendor at the market. "When it comes to big politics women can be as corrupt as men.I did not vote last time, but this time, I will vote for someone honest. Man or woman, I do not care", she said before she asked us to leave and let her focus on her trade. 
Journalist Chitra Ahenthem writes that romanticisation of the role of women in the Manipuri society, whether as those running the markets which are an 'remnant of the old feudal system in which the more privileged occupy the market space and the lesser privileged women are made to fight for space on the pavements' or the protests against AFSPA, overlooks the inherent embedded patriarchy of the society, which might explain the low political participation of women in politics.
This was most evident in the electoral loss of Irom Sharmila in the 2017 elections to the state legislative assembly, say observers. Sharmila, who fasted for 16 years to demand the repeal of the AFSPA, contested elections under her party, People's Resurgence and Justice Alliance (PRJA). The party had fielded 4 candidates, 2 of whom were women. Najima Phumdreimayum, the other woman candidate, the first Muslim woman to contest elections in the state, had been a part of a collective of women working against on violence against women in Thoubal district. Her candidature had drawn the ire of many conservative local Muslim leaders. Both women not just lost the elections but polled a mere 85 and 33 votes respectively.
"She gave us (Manipur) 16 years of her life. Had it been a man, it would have been so different", says Longjam on Sharmila's defeat in the elections.
"The electorate told us that no matter what you do, or how much you sacrifice, we cannot trust you enough to run a state or make policy-related decisions. Run a market, but do not try to run a government," said a  faculty member at Manipur University, who chose to remain anonymous.
Political parties field fewer women candidates as they consider them a 'political risk'.
Between 2012 and 2017, the two national parties,Bharatiya Janata Party (BJP) and the Indian National Congress (INC), reduced the share of women contestants from 6% and 5% to 3% and 4% respectively. However, both parties have increased the proportion of tickets to women– BJP to 5% and INC to 7.5%. 
Brinda Thounaojam, the Janata Dal United contestant  from Yaiskul constituency believes the answer to why parties field so few women lies in campaign finance. 
"In Manipur, elections are so much about money that women simply do not seem a safe bet. No party is ready to take a 'risk' on investing crores of rupees on a woman candidate", the  former cop who spoke against corrupt politicians and the massive illegal drug trade in the state told Behanbox.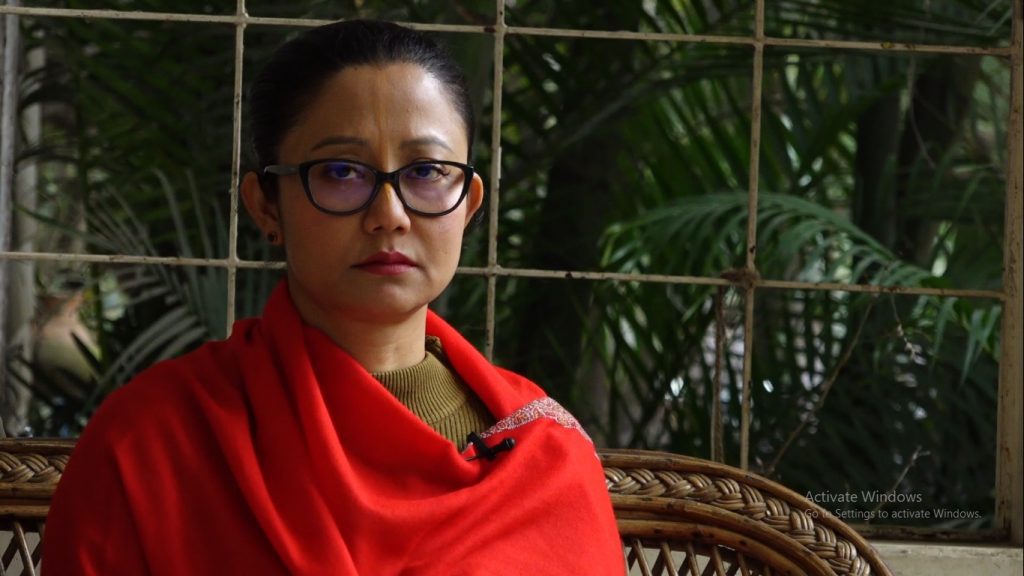 "A lot of candidates are picked by parties because they have made a lot of money and can finance their own campaigns. How many women have access to that kind of money?", she asks. 
Only 6 (6.5%) of the 91 candidates who have assets above 1 crore are women according to the data from Association for democratic Reforms (ADR), a non profit that campaigns for clean political systems,who have analysed the affidavits of contestants. More than half of the candidates (53%) in Manipur have assets above a crore.
Thounaojam believes that reservation for women candidates and cleaning up the electoral process are the only means that can ensure more women make it to the assembly in the coming years.
Worse representation in the hills
The divide between the valley and hill regions, political and cultural, becomes even more stark when it comes to  women's political representation. The valley, where 60% of the population lives, is dominated by Meitei culture and Hinduism. The hills of Manipur have 40% of the state's population, comprising 34 tribal communities and follow Christianity. Politically, this means that the valley has 40 and the Hills have 20 seats in the state legislature.
There has only ever been one woman MLA from the hill constituencies–Hangmila Shaiza, who is also the first woman ever elected to the Manipur legislature, 18 years after Manipur got its statehood. 
Journalist and activist Grace Jajo, a Tanghkhul Naga from Ukhrul, one of the hill districts of Manipur, believes that her election was a result of the prevailing circumstances rather than the electorate's desire to elect a woman.
"She was the wife of Manipur's first tribal chief minister Yangmaso Shaiza, who was assassinated in 1989. The reason why she won was not because we are so egalitarian, but more because she gathered the sympathy vote. Since then, we have not elected another woman MLA", she told Behanbox.
Jajo also warns against the romanticisation of the egalitarian nature of the hill region.
"If you scratch the surface, you will see that we are not really as egalitarian as everyone projects us to be. We are branded as egalitarian only to show us as the opposite of the Hindu society. They use  parameters like dowry, Sati, to show these don't exist in our tribal culture and pronounce ourselves as egalitarian", she said.
The Valley has 33% reservations for women in the local bodies. However, in the tribal regions which come under the Autonomous District Council ( ADCs), reservation for women in local bodies is not yet a reality. 
"In politics, because of reservation, women are represented up to a certain level and that is seen as an advancement (in the Valleys). If you compare that with the Hills (with no reservation), you will notice a complete absence of women or a very low number at the Autonomous District Council level. The other interesting character is that we are allowed to partake in society only as noise makers against men in uniform. We are glorified for this role", Jajo said.
[ This report is a collaboration between Behanbox and EastMojo, a news portal focussing on the North East region of India]
Support BehanBox
We believe everyone deserves equal access to accurate news. Support from our readers enables us to keep our journalism open and free for everyone, all over the world.