Isolated, Bindu Ammini Fights A Lone Battle Against Orthodoxy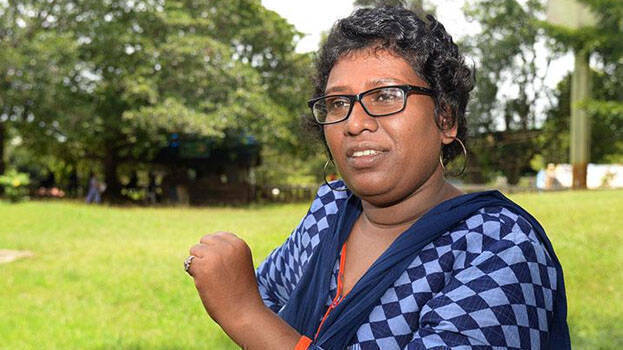 Thiruvananthapuram: "Pinnottilla (won't backtrack)". That message in Malayalam on Bindu Ammini's WhatsApp profile summarises her life so far. The 43-year-old Dalit activist and lecturer of law has dealt with death threats, cyber harassment and physical attacks ever since she walked into the Sabarimala temple in 2019 following a Supreme Court order that ended a ban on women of menstruating age entering the shrine.
Once hailed for her defiant stance against orthodoxy, there has been little public outrage over the assaults on her life and dignity over the last three years. On December 17, she had suffered injuries to her head and lips when an unidentified auto hit her and fled. On January 5, she was attacked near the Kozhikode beach, in full public view, by one Mohandas. Bindu alleged that he had been stalking her for hours before the attack. 
"When the police came, they wanted to arrest me first as I was defending myself against the brutal assault using all means," says Bindu, referring to the injuries the attacker suffered during the scuffle. She finds this ironic given that at a recent self-defence training held at the Kozhikode law college where she teaches, police officials justified the use of attack as defence. "When I asked the police if they wouldn't file a case against me for hurting an attacker, they ridiculed me asking if I didn't know the law. Just days later, this happened," she points out.
In January 2019, the Supreme Court had ordered that Bindu be provided police protection. This protection was arbitrarily withdrawn in January 2021 and then reinstated on January 10, 2022, five days after the latest attack on her.
With little community or political backing, and in constant fear of assault and humiliation, Bindu Ammini is now waging a lone battle against hostile elements. She is having a hard time staying focussed on her career, she told BehanBox. The activist works as a guest lecturer at the Government Law College in Kozhikode. 
"The endless round of interactions with the courts, media and police do not allow me to focus on my work," says Bindu. Weary of the social boycott she is facing in Kerala, she is now considering moving out of the state in search of 'asylum'. "It is not because of the attacks. If Sangh Parivar gangs think that I could be intimidated by all these, they are absolutely wrong," she said. 
'No one can be seen to support me'
The youngest of five siblings, Bindu was raised by a single mother. In her growing years, the family faced a lot of hardships but Bindu then went on to secure both a graduate degree as well as a Masters in law from the Government Law College in Ernakulam and the Kerala University respectively. She taught law in several institutions before moving to the Government Law College in Kozhikode as a guest lecturer. 
Bindu who now lives in Poyilkavu, Kozhikode, with her husband Hariharan and daughter Olga, was also the state secretary and central committee member of the Communist Party of India (Marxist–Leninist). She disassociated herself from the party in 2010 due to political differences. 
Bindu Ammini has been abandoned by the Leftists who once supported her, say her friends.
Two women had been identified entering Sabarimala in 2019 – Bindu and Kanaka Durga, a government employee. But of the two, Bindu says, she has borne the brunt of right-wing rage with little backing from activists and liberals.
"That may be because I was the one who orchestrated the temple entry. People fear being attacked for supporting me. Being a government employee, there are limits to how much Kanaka Durga can do or say," says Bindu. "Some liberals who benefit from political affinity may not want to miff party leaders." 
Activists who support Bindu alleged that having supported the entry of women into the shrine, the ruling Left Democratic Front lost its nerve and refused to back her or protect her. "Bindu dared to take the risk of entering the temple because the Left Government was supportive of women entry and even the police facilitated it," says Sonia George, secretary of the Self-Employed Women's Association (SEWA). "However, this was followed by the expression of outrage by groups led by prominent kulasthrees ('family women', the conservative notion of ideal). Bindu's Dalit identity is another major reason for the apathy of mainstream society. She was attacked more than six times. Had this happened to a kulasthree, would society be this silent? I don't think so," says George.
The fact that the Congress-led United Democratic Front netted unexpected wins in Kerala in the 2019 Lok Sabha elections was interpreted as a popular vote against the LDF for its stance on temple entry. "This triggered the social boycott against me," says Bindu. 
R Bindu, Kerala's state minister for social justice and the lone voice from the government to condemn the attack on Bindu Ammini, says the administration will always support the activist. "Bindu should trust the government and its systems first. Social justice is the top priority of this government. It is unfair to assume that the government has backtracked from the cause of gender politics. For a while it was Sabarimala, next it will be some other campaign. That doesn't mean that we have abandoned the cause," she says. 
The minister points out that her Facebook post welcoming Bindu's entry into Sabarimala in 2019 was widely used by her opponents to attack her during the Assembly election.
In 2019, an image from a pornographic video featuring an unidentified woman surfaced and it was circulated as "Bindu's video". As per the officials of the Koyilandy police station, two men – one from Koyilandy and another from Kozhikode – were arrested on the charge of outraging a woman's modesty. "Chargesheet has been filed against the two accused in the court," the police told BehanBox. 
The Koyilandy police are also investigating the hit and run incident. Around 40 autos were inspected but the culprit could not be found. "The rear view mirror [of the auto involved in the case] was damaged and we found the parts. However, the vehicle couldn't be found," said a police officer who did not wish to be named. 
The Ernakulam Central police station is investigating a November 2019 attack on Bindu. This incident, when a chemical substance was sprayed at her, was recorded and shared widely among right-wing social media groups. The main accused in the case, Sreenath, a Vishwa Hindu Parishad activist, was arrested and later released on bail. 
"Police have not informed me what the content of the spray was. It wasn't just chilly [as was claimed]. I experienced a burning sensation for hours and it affected my eyesight too," recalls Bindu. "Initially the police registered a case only against a single person, who sprayed the chemical. There were [also] people who chanted 'Sharanam' [a manner of invoking Lord Ayyappa] and those recording the attack. It was a planned attack involving several persons. The police included more in the list of accused and stronger charges were brought in only when I persistently raised complaints. The apathy of police also helped the accused get anticipatory bail." 
While granting bail to the accused, the court also observed that Bindu was "an activist and not a devotee". 
As someone who commutes using public transport in Kozhikode, Bindu alleges that she has faced discriminatory behaviour on buses. In September last year, she filed a complaint against a private bus driver for verbally abusing her.
As we said, two days ahead of a protest march convened by a group of women activists, the police reinstated the protection given to Bindu on January 10. This protection came after a Supreme Court order on a petition filed by senior lawyer Indira Jaisingh in January 2019. The police had arbitrarily withdrawn the protection she was given in January 2021.  
"Protection was withdrawn when I mailed a complaint to the superintendent of police, Kozhikode rural, on the way the police treated me," she alleges. "I often use public transport and the police would embarrass me by behaving like they were accompanying a culprit. They would keep their distance as if they were embarrassed to walk with me. After a point, this behaviour became unbearable and I complained. But then they stopped giving any kind of protection." 
On January 12, a group of activists, under the banner of the Bindu Ammini Solidarity Committee, marched to the official residence of the state home minister (Chief Minister Pinarayi Vijayan holds the home portfolio) to protest the decision to withdraw police protection of Bindu. The group was set up by a group of activists including Sonia George, Sreeja Neyyattinkara and M Sulfath among others.
"Despite being a peaceful protest, attended by less than 50 persons who obeyed Covid protocol, the police was quick to file a case against the protestors by slapping sections 143, 147, 149 and 283 of the Indian Penal Code against unlawful assembly, rioting, obstructing duty of government official etc. We had, in fact, informed the commissioner of police in advance about our protest and didn't cause any obstruction to traffic," says George.
Support BehanBox
We believe everyone deserves equal access to accurate news. Support from our readers enables us to keep our journalism open and free for everyone, all over the world.