Women's Political Representation In Assam Slips To Its Lowest In 20 Years
Gauhati:Fewer women will now occupy seats in the newly elected Vidhan Sabha (state legislative assembly) in Assam in 2021.
Six women were elected in the recently held three phase elections between March 27 and April 6, 2021, making up a mere 5% of all members of the legislative assembly (MLAs) in the state. This is a decline from 6% women MLAs in the last Vidhan Sabha elected in 2016. In fact, the new legislative assembly in Assam will have the lowest proportion of women MLAs since 2001.
Of the six women elected to the Vidhan Sabha, three belong to the Bharatiya Janata Party (BJP), two to the Indian National Congress (INC) and one to the Asom Gana Parishad (AGP).
Ajanta Neog of the BJP has been elected for the fifth time to the legislative assembly. She had been representing the Golaghat constituency since 2001 but as a member of the INC. Renupama Rajkhowa of the AGP becomes an MLA for the fourth time representing Teok. Suman Haripriya (BJP) from Hajo and Nandita Das of the INC from Boko have been elected for a second consecutive term.
Two women — Nandita Garlosa (BJP) representing Haflong and Sibamoni Bora (INC) from Batadroba — are the first-time entrants into the assembly. Among these, Neog, Haripriya and Bora have political antecedents. Neog is the wife of  Congress leader Nagen Neog who was killed by the United Liberation Front of Asom (ULFA), Haripriya, the daughter of former Union Minister Bijaya Chakraborty and Bora, the daughter of former Batadroba MLA Kiran Bora and daughter-in-law of former chief minister Golap Borbora.
This election saw Pramila Rani Brahma, Assam's longest-serving woman MLA defeated in the Kokrajhar East constituency. Brahma, of the Bodoland People's Front (BPF), won her first election from the constituency as an independent in 1991. She went on to serve as a cabinet minister in the Tarun Gogoi government between 2006-2014 and the last BJP government headed by Sarbananda Sonowal.
Women MLAs Across The Years
Women have been historically underrepresented in the state legislative assembly in Assam. 
The proportion of women MLAs has hovered anywhere between 1% and 5% for 50 years between 1952 and 2001. Late Usha Barthakur was the first woman MLA of Assam elected from the Samaguri constituency in Nagaon district in central Assam in the first elections in 1952.
In some years, such as 1957 and 1978, only one woman was elected to the state assembly. 
2011 saw the highest number of women MLAs, when 14 women were elected that year. Thereafter, the number of women elected has been on a constant decline, with the lowest number elected in 2021.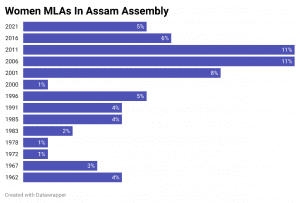 Parties  give few tickets to women 
Much of the poor representation of women in Assam is because political parties give few tickets to women to contest elections.
Only 8% contestants in the recently held elections were women. Among the mainstream political parties, BJP gave 8%, INC 10% and AGP 7% tickets to women contestants in 2021.
"The voter turnout of women has been very good, even in the general elections. But the party tickets given to women have been disappointing. This year's election has been a repetition of the same," said Poonam Kakoti Borah, assistant professor at the department of women's studies at Gauhati University.
Historically, the INC has been marginally better in giving tickets to women compared to other political parties. In the last 20 years, INC has given between 12%-16% tickets to women. However, the share of tickets to women by the party has been on a decline in the last three elections. It gave 16% tickets to women in 2011, 14% in 2016 and 10% tickets in 2021. In contrast, while the BJP marginally increased tickets to women since 2016, the highest proportion of tickets (12%) it gave was in 2006.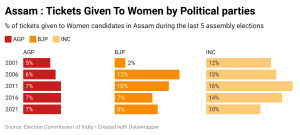 "We deserve every bit of the pie"
Women activists within political parties express the disappointment at not being recognised as leaders, even while parties use their services at mobilising support at the grassroots.
 "Women are the ones who get grassroots work done," said Aparajita Bhuyan, president of Assam BJP Mahila Morcha, the women's wing of the BJP. "Even in these elections, women played a pivotal role on the ground in organising and managing things," she said.
"Traditionally women in Assam were involved in farming. Village folks still prefer getting their daughters married after some basic education and preference for paid jobs is low. But one will see a lot of women in campaigns and meetings," said Rupam Goswami, the chief spokesperson for BJP in Assam. He estimates that 35%-40% of the 42 lakh registered members of the BJP in Assam are women karyakartas (party workers).
 "They are extremely competent," he told BehanBox.
Congress candidate Angkita Dutta  — daughter of three-time MLA and popular leader late Anjan Dutta — lost her election from the Amguri constituency in the recent elections. She narrates how parties allocate a mere two or three tickets for women contestants, which leads to a squabble among aspirants. 
"Men are never told that there are only three seats or even ministries for them. We have been conditioned to believe that there are two slices of the cake. But we deserve every bit of the pie," she said.
The recently constituted 13 member state cabinet headed by the new chief minister Himanta Biswa Sarma has only 1 woman, Ajanta Neog, in the team. Neog has been allotted the finance and social welfare portfolio, making her one of the few women to hold the key ministry of finance.  
"There is extreme reluctance in society to accept women in key positions of power. The internal structure of the political parties is what leads to low representation of women," said Borah. 
"Women are not preferred at the decision making table and therefore there is hardly any scope for them to rise up within the respective parties," said Bhuyan of the BJP Mahila Morcha.
Women leaders across history
Women have played a significant role in Assam's political history.
Soti Sadhani was an advisor to her husband Nityapal in the Chutiya Kingdom of Sadiya in the 13th century. Bar Raja Phuleswari, the chief consort of the Ahom king Siva Singha (1714-44) was the first queen of Assam to govern the kingdom directly. Her successors, Ambika and Sarbeswari, successively governed the kingdom of Ahom. Women like Mula Gabharu and Soti Joymoti are known to have fought against an invading Mughal army and sacrificed their lives for the Ahom kingdom. 
Women leaders also played a prominent role in the anti-colonial struggle. Chandra Prabha Saikiani — freedom fighter, activist, writer and social reformer was considered to be the pioneer of the feminist movement in Assam. Kanaklata Barua who led a procession during the Quit India Movement of 1942 in Gohpur town of Assam was one of the youngest martyrs of the movement.
In contemporary Assam, the late Syeda Anwara Taimur made history by becoming the only woman chief minister of the state holding office between December 6, 1980 to June 30, 1981. The first Muslim woman chief minister of any state in India, she  took charge amidst political instability during the Assam agitation movement between 1979 and 1985. Her term ended abruptly after the state was put under President's rule in 1981.
"She became CM at a very critical time in Assam's political history," said Akhil Ranjan Dutta, Professor of Political Science at Gauhati University. Taimur, he said,  was made CM not because she was a strong woman leader but because the Congress government wanted to tide over this difficult period in Assam's political history. She was later reduced to being the agriculture minister during Hiteshwar Saikia's second tenure as CM from 1991 to 1996. 
Women played an important role in the Assam agitation (1979-1985). While they were denied leadership at the organizational level, they were instrumental in local mobilisation, said Dutta.
"Women leaders have been made invisible in Assam. Even women like Chandraprabha Saikiani or Kanaklata Barua are talked about as followers of Gandhi rather than as leaders in their own right," said Borah of Gauhati university. More work on the historical role and leadership of women needs to be included in the history books, she told BehanBox. 
 Closed spaces for marginalised women
Political participation is worse for women from marginalised communities.
Women, especially Adivasi women, in Assam's tea gardens do not have the resources to participate in electoral politics, according to Sonia Tanti, the secretary of the All Adivasi Women Association (AAWA) in Jorhat district. AAWA is a collective of  Adivasi women working for rights of women tea plantation workers in the state. 
"Money plays an important role. Most of us do not have the resources to fight. A lot of women from my community have the desire to contest elections but society does not appreciate women being at par with men," said Tanti. 
 Contesting elections in a society with a high degree of inequality is a difficult choice, said Borah of Gauhati university.
"Patriarchy, as a system, works by dividing resources unequally which tilts the locus of power towards men. It is even more difficult to contest elections as an independent candidate because there is a risk of losing money when they are defeated," Borah added.
Political representation of  Muslim women since independence is particularly low in Assam, where Muslims constitute 34.2% of the population. Only five Mulsim women have been MLAs in Assam- Begum Aafia Ahmed (1967), Syeda Anwara Taimur( 1972,1977, 1978, 1983 and 1991), Husnewara Islam (2001), Sarifa Begum (2001)  and Begum Gulakhtara (2011). Even the few Muslim women nominated to contest, belong to elite families with political antecedents.
Even a party like the All India United Democratic Front (AIUDF) which represents the interests of Muslims in Assam's politics has overlooked the issue of political representation of Muslim women. Since its inception in 2006, it has nominated just two women to contest elections in the state. 
In the recent elections, only one Muslim  woman, Hasinara Khatun, was given a ticket to contest by the BJP from Baghbor constituency. None of the major political parties nominated Muslim women from winnable constituencies.
For a woman from a marginalised community, being in politics means that she has to fight both societal and economical barriers according to Angika Dutta of the INC.
Women from local bodies not nominated for higher offices
Assam reserves 50% seats for women in urban and rural local bodies.
In the beginning, men exercised political power on behalf of their wives or daughters in reserved seats in local bodies but women began to assert their agency over time according to Rupam Goswami, the  chief spokesperson for the BJP in Assam.
"There are a few women who manage to do well for themselves within these circumstances and rise up the hierarchy," he said.
Women in Panchayat bodies have proved to be capable leaders but political parties have failed to recognise this", said Ratna Bharali Talukdar, an Assamese journalist and writer.
Women leaders, across parties, believe that legislated quotas for women are the only way to increase their representation in legislative bodies.
"Adequate women representation in assembly and parliament will happen only when there is a law for its implementation," said Bobeeta Sarma, the chairperson of the media department of Assam's Congress committee. Sarma contested the state assembly elections in 2016 and Lok Sabha elections in 2019 from the INC but lost both times. 
The Women's Reservation Bill, which mandates 33% seats for women was passed in the Rajya Sabha in 2010 but failed to garner enough support to be passed in the Lok Sabha. The bill has, since then, lapsed.
"Men see it as a loss when 33% are reserved for women. But they overlook the absence of women in politics," said Borah. "Logically, at least a percentage of the women from the panchayat bodies should be nominated for higher offices," she added.
Support BehanBox
We believe everyone deserves equal access to accurate news. Support from our readers enables us to keep our journalism open and free for everyone, all over the world.