Transgender Persons Invisible In India's Prisons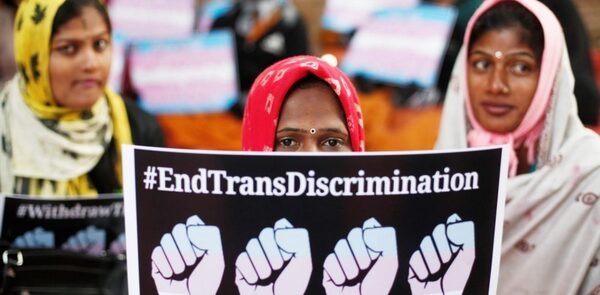 Transgender persons in India's prison systems  remain invisible among all the vulnerable groups, with their rights and dignity as citizens denied, according to a new report "Lost Identity: Transgender Persons Inside Prisons" by the Commonwealth Human Rights Initiative (CHRI) and  University of Dundee.
Take the case of Ishu, a transwoman, who was incarcerated when she was 19 in  Bengaluru Central Prison on charges of attempted murder and abduction in 2017. Inside the prison, she developed a serious infection after a breast augmentation surgery a few months prior to her arrest. Her situation worsened as the prison officials administered generic painkillers. She was taken to the hospital for treatment only after intervention by a  legal advocacy team.
Along with medical negligence, transgender persons routinely face violence- both physical and sexual- inside Indian prisons. Prison systems in India operate without any policy framework targeted to address  specific requirements and vulnerabilities of transgender persons.
The invisibility of transgender persons in Indian prison is mirrored in the lack of data maintained by the prison systems. The National Crime Records Bureau's Prison Statistics 2019 continues to report data of prisoners only within the male-female binary. 
Only 9 out of 34 states and union territories had recorded data on prisoners outside of a male and female binary according to the CHRI report. The data was collected through Right to Information (RTI) requests filed to prison headquarters across the country, between 1st May 2018 and 30th April 2019. 
The omission of data at a national level trickles down to the way states maintain their data. There is a lack of uniformity in recording of data by jails within the state due to unclear definitions of 'transgender persons' in states like Gujarat, Jharkhand, Kerala, Maharashtra, New Delhi, Rajasthan, Tripura, Uttar Pradesh and Bengal.Some  jails in Uttar Pradesh and West Bengal had the option of recording transgender persons as 'eunuch' in their e-prison software. 
Data obtained by CHRI shows a total of 214 prisoners incarcerated in Indian prisons- a number likely to be much higher- according to experts.
"The assumption that trans and non-binary gender identities can be determined solely by genitalia, severly overlooks trans persons who do not conform to these standards, and therefore the number of prisoners might not be entirely accurate", said Sai Borouthu, project officer of prisons reforms Project at CHRI, who contributed to the report. 
Criminalisation of Transgender Persons 
The colonial legacy of laws that criminalised queer, particularly the Hijra community, echo in a new set of policies set out by the Indian government. In November 2020,  Ministry of Social Welfare and Development, launched a portal for online registration of transgender persons. While Social Justice and Empowerment Minister Thaawarchand Gehlot claimed the portal will uphold the 'self-perceived' gender identity of individuals, some members from the community deem the process to be exclusionary.
" It is unfortunate that it rolls back non-medicalised self-identification granted by NALSA, and that once one is declared as transgender, one becomes a citizen governed by discriminatory criminal and civil laws", said Bittu Karthik, an associate professor at Ashoka University.
The National Portal that was recently released to enumerate the number of trangender persons in India resonates strongly with the Criminal Tribes Act, 1871, experts say. 
The Criminal Tribes Act, 1871 Act was amended in 1987 to include 'eunuchs' under a list of communities that were assigned criminals upon birth, and transferred their 'criminality' intergenerationally. It also required compulsory registration of all eunuchs by state authorities, on suspicion that they were engaged in unnatural sex (under Section 377) or kidnapping young boys. 
Draconian laws like the Telangana Eunuchs Act, 1919, criminalised the entire transgender community in the state by giving powers to the police to arrest any transgender person found crossdressing or singing and dancing in public spaces. Earlier known as the Andhra Pradesh (Telangana Area) Eunuchs Act 1329 , the law was framed for the 'registration and control of eunuchs' in the state. The application of the Act was stayed by the Andhra Pradesh High Court in 2018 after a public interest litigation (PIL) by three transgender activists.
A 2018 report by the National Human Rights Commission released in Delhi and Uttar Pradesh  found that 99% of transgender persons had faced some form of social discrimination and rejection. 92% of transgender individuals had faced economic exclusion and 96% were refused employment. 
With continued state sanctioned persecution of transgender and hijra persons in India based on their identity, it is highly likely that they are further dehumanised within prison systems, said the report. This emphasises the need for structural frameworks to safeguard their rights, especially where they are entirely dependent on state support for survival.
Transgender Prisoners  
K.M.V Monalisa, a trans rights activist from Telangana recalled her harrowing experience inside the prison at a panel on " Law, Criminality and Prisons'. 
"Upon being taken into remand custody, we were strip searched by male prison personnel who made dehumanising remarks at our bodies, nose studs and hair", she said. " Under the garb of a procedural checkup, we were groped by these men, simply because we had not fully transitioned and were still taking hormones. After all this, we were still put in male prison cells", said Monalisa.
Gender by examination of genitalia is in direct conflict with the NALSA 2014 Judgement, that upholds the right to self determine one's gender identity. The CHRI report recommends the revoking of these procedures of sex segregation based on sex assigened at birth, or as in the case of Monalisa, provision of isolation wards and solitary confinement for transgender persons that seriously affects their mental health and advances societal stigma. 
 "Prison administrators must provide all transgender persons adequate access to medical care and counselling, including with regard to reproductive health, access to HIV/ AIDS information and access to hormonal or other therapy as well as to gender reassignment treatments where desired" , said the CHRI report.
The negligence is also in due to the fact that no transgender persons were recruited by the prison department in any state or Union territory between January 2014 and January 2019. Neither the prison staff nor other prisoners are neither trained, except in Karnataka, on the recognition of Transgender persons as a legal identity, despite a 2011 Supreme Court directive to do so in all public institutions.
" A welfare state cannot say we cannot give certain facilities to some people. Answers to questions about the problems transgender persons face can come only through adequate training, awareness and recruitment" , said Justice Madan Lokur, a former judge of the Supreme Court, during the release of the report
"It is necessary when we are making laws and policies for a community that has largely been ignored by law making processes, to consult community members and include them in formulating policy to  keep it  responsive to changing trans needs." said Borouthu, empasizing on the need for more  representation of transgender persons in decision making bodies.
Support BehanBox
We believe everyone deserves equal access to accurate news. Support from our readers enables us to keep our journalism open and free for everyone, all over the world.