Adivasi Women Claim Power In Local Elections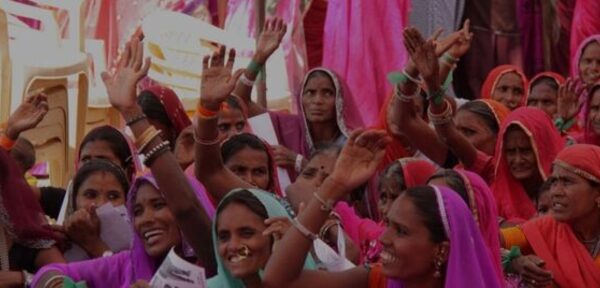 Badami Bai (32), had a problem on her hands, just a week before the Panchayat (India's directly elected village councils) elections in India's western state of Rajasthan in January 2020. The Bhil Adivasi contestant for the office of the Sarpanch (village council head) of Bhagoron ka Khera panchayat in  Banswara district suddenly found two new contestants running for office against her.
"This was deliberately done by former Sarpanch Kamla Devi's husband Chetanpuri, to undercut my vote share. He paid them Rs. 50,000  each to contest", alleged a dejected Badami Bai.
Badami Bai is no ordinary woman.  As a member of Ujala Samooh– a 12000 strong collective of tribal women in South Rajasthan, she has been helping local Adivasi women claim their rights and entitlements in this tribal dominated district.
Earlier, she spoke out against the corrupt practices of the dealer of the local fair price shop who pilfered food grains meant for the poor in the village under the Public Distribution System (PDS). He had been making entries for false deliveries in the government's management information system.
She had also been very vocal against the former Sarpanch Kamla Devi, who allowed only a handful of families to work under the National Rural Employment Guarantee Act (NREGA) – world's largest rural employment guarantee program. Badami Bai, who knew the importance of NREGA and PDS in the lives of the poor in her district, was determined to hold the authorities accountable.
Last year, Badami  Bai also intervened in a brutal public case of domestic violence, where a local man beat up his wife mercilessly and stripped her naked in public during the village fair. She helped her on the spot that day and, later,  also helped her escape her abusive marriage.
Following the success of her interventions in the Panchayat along with other Ujala Samooh members, Badami Bai felt she was ready to contest for power in her Gram Panchayat. She wanted to challenge the undisputed power that Chetanpuri  wielded in his wife's name in Bhagoron ka Khera Panchayat.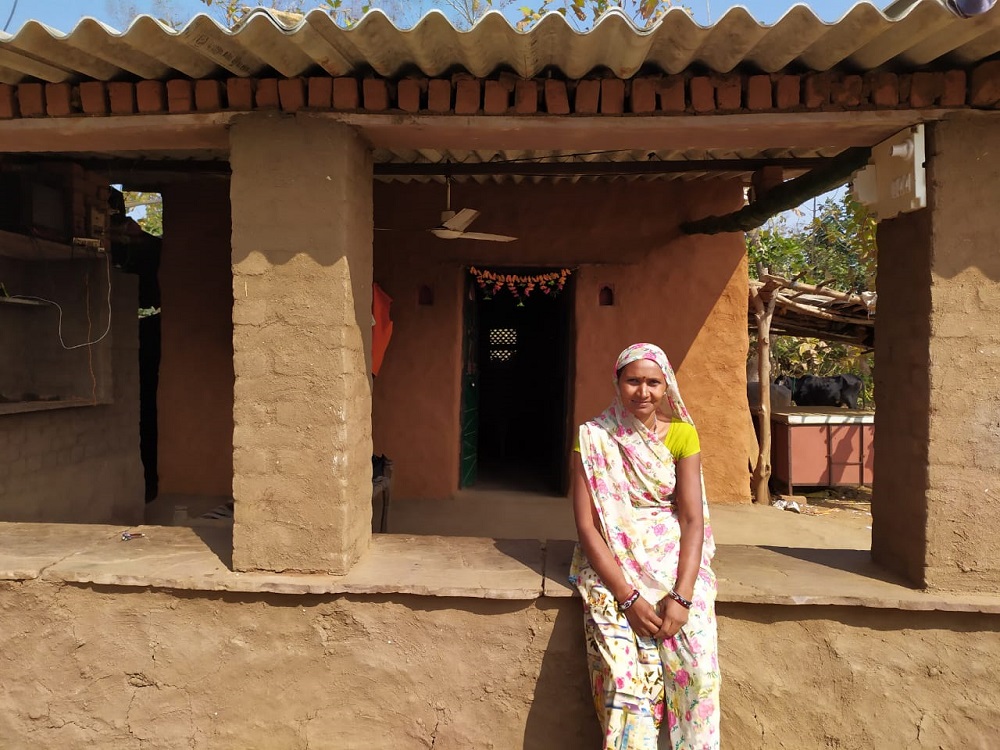 Badami Bai who contested elections against Kamla Devi in Bhagoron ka Khera panchayat in  Banswara district. Photo Credit: Drishti Agarwal
Her election manifesto was a radical one. She had promised to open up the Panchayat's budget and spending to the people of the village, a practice that was never followed before, for greater transparency. She also promised a better Anaganwadi (local creches for children with nutritious food), healthcare, education and better delivery of social security schemes- priorities that are often neglected while drawing plans for the village.
Chetanpuri, on the other hand, not only controlled his wife Kamla Devi's power in office but used money and muscle power. On the eve of elections, he even issued death threats to Badami Bai.
"The night before the voting, he came in a jeep with his goons and threatened to kill me if I stepped out the next day", said Badami, whose modest hut was a 1km inside a forest and far away from the village's only main road. Yet, she remained unfazed, steadfast and refused to withdraw from the contest.
Despite her past work and progressive election agenda, Badami Bai lost to Kamla Devi by 400 votes.
In 1992, India enacted the 73rd and 74th Amendments to its Constitution, reserving a third of seats for women in rural and urban local bodies to ensure greater representation for women in general and other excluded groups in particular, such as scheduled castes and scheduled tribes. Some states, such as Bihar, Himachal Pradesh, Andhra Pradesh, Telangana, Tamil Nadu and Gujarat, have extended the reservation of seats for women to 50%.
However, Panchayat elections, even today, remain entrenched in patriarchy and caste. Dominant forces treat Sarpanchs, especially women Sarpanchs elected from tribal areas, as puppets.
For the tribal women contesting elections in the  227 villages from the districts of Banswara, Dungarpur and Pratapgarh in Rajasthan which have been declared as Scheduled Areas under the Fifth Schedule (safeguarding the resources and rights of the local tribal population), this gives some immunity from oppressive caste hierarchy. However, deeply entrenched patriarchy still remains a battle to be won.
Panchayati Raj Elections in Rajasthan held early this year show, once again, how these elections continue to be bastions of power for the dominant patriarchal and casteist forces while being highly opaque and unfair. Ujala Samooh members from parts of Southern Rajasthan have challenged this structure by contesting elections. In doing so, they have not only challenged the dominant power networks but also displayed valuable strategies for collectivisation and solidarity.
Panchayat Elections As Bastions  Of Patriarchy and Corruption
Nirmala Bhil (25), an Adivasi member of the Bhil tribe from Kucholi panchayat of Kumbhalgarh in Rajsamand district contested for the second time for the post of Sarpanch in January 2020. She campaigned on issues of lack of access to water and proper roads.
After facing a defeat in the last elections in 2015, Nirmala Bai decided to seek her family's support. Her uncle who works in a post office with good local networks also secured Rs 2 lakhs to support her campaign. Even with a progressive manifesto, Nirmala Bai had to rely on her husband and uncle's social networks and money to ensure victory.
Not far from Kucholi, 20-year-old Priyanka from the Mina tribe who contested for the Ward Panch's (Ward member) position of Sagot Panchayat in Dungarpur district also won her seat. Her father, a former Sarpanch himself, and brother both encouraged her and rallied for her.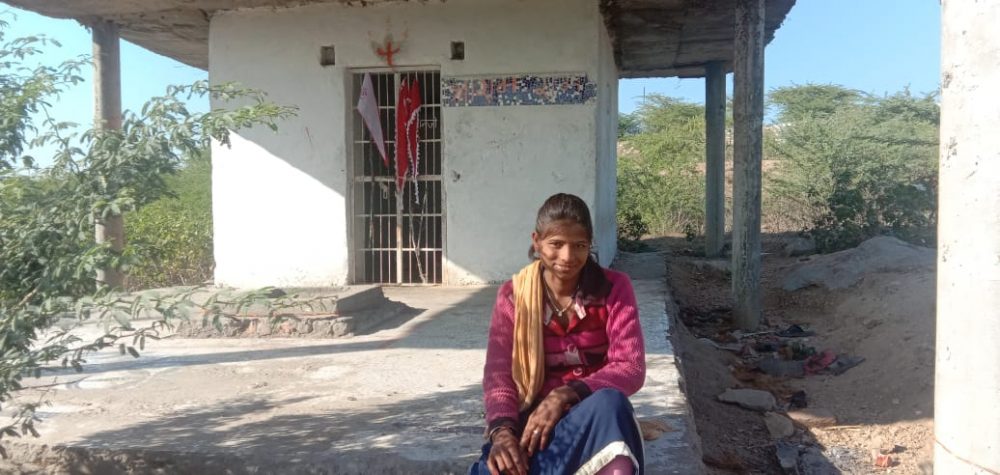 Priyanka, who contested elections for the Ward Panch's (Ward member) position of her panchayat. Photo Credit: Drishti Agarwal
46% of  Sarpanchs in India are women. More women have been contesting local elections  since the enactment of the 73rd and 74th Amendments which reserve at least 33.3% seats for women and marginalised communities. However, only when women contest from reserved seats with the support of their family, do they get  the political legitimacy among the community. In remote rural areas, this familial support is often shrouded in patriarchy, where networks of male family members and money is important to secure a win for women.
Chetanpuri, whose wife Kamla Devi contested against Badami Bai, spent Rs 6 lakhs for her elections. Badami's family income, in comparison, was meagre. She runs a small tailor shop along with a tea stall. Her husband is an unskilled construction worker who often migrates to Chittorgarh district for work.
"Chetanpuri attacked me because he could not stand an ordinary woman challenging his power", Badami Bai told us.
Despite these challenges, women are still contesting to claim their political spaces.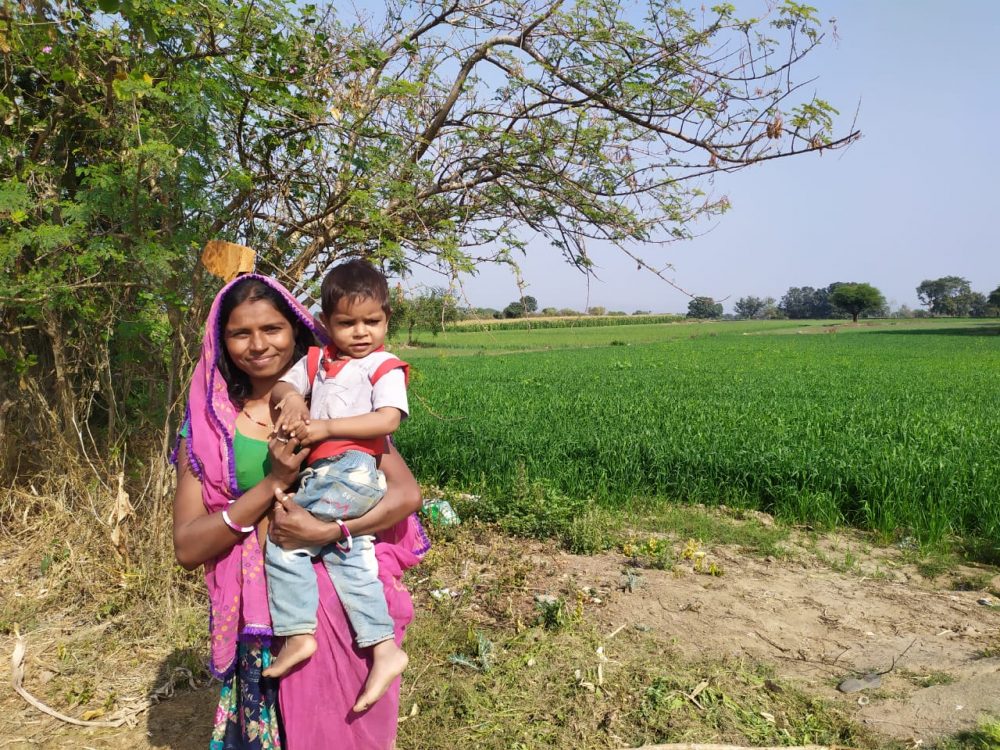 Bhuri Bai who contested elections for the office of Sarpanch of Dunagr Panchayat of Banswara district. Photo Credit: Drishti Agarwal
Bhuri Bai, another Ujala Samooh member from Dungar Panchayat of Banswara district contested for the ward member's office but lost. This was her third loss in the Panchayat elections. When asked why she contested elections despite losing every time, she said:
"I might have lost but I showed my power. The incumbent should know that there are other people who are keeping a watch and his work is being monitored"
Ujala Samooh Women Ensure Free and Fair Elections
Many Ujala Samooh women who do not contest elections act as gatekeepers to ensure that elections are fair and power is being exercised effectively by the elected women. They also extended support to their young and educated Samooh members who are keen to enter the political fray.
Ganga Bai and Laxmi Bai, along with 70 women from Ujala Samooh, campaigned for Bhavna (25), the first time contestant for the office  of Sarpanch in Myasa panchayat in Banswara district.
"We were determined to see that Bhavna does justice to her role as a Sarpanch and does not let her husband and father- in- law take over her work., said Ganga Bai who has seen this happen frequently.
"When we went to rally for Bhavna, everyone in the village said that they will vote for her just because Ganga and I were confident about the candidate. They will catch us if she doesn't work properly", says Laxmi Bai.
Ujala Sangathan members in Kherwada's Harshawada panchayat displaying the demand charters to present to their M.L.A candidates contesting for Rajya Sabha elections. Photo credit: Drishti Agarwal
Ujala samoohs are empowering the weakest link-  young adivasi women to claim their political space with confidence and do justice to their roles.
Before the elections, Ujala Samooh members called for Jan Manchs (People's Platforms), where they asked the candidates to share their manifestos with the women's groups  and engage in discussions. When one such Jan Manch was captured by the former Sarpanch's husband in Saklal panchayat of Kherwada Block in Udaipur district, Ujala Samooh members intervened. They encouraged the woman candidate to occupy the chair, something that she had never imagined in her lifetime, and announce her own manifesto.
Through these collective networks of solidarity, Ujala Samoohs create spaces for collective empathy, support and action which challenge the bastions of patriarchy. They have  invested their time equally in building their political consciousness and enforcing accountability. Through questions around non-payment of NREGA wages, irregular ration deliveries, non-functioning of Aanganwadis in their areas and issues relating to violence against women in any forms and forging their own ideas of development, Ujala Samooh women challenge the male political networks in their areas. In doing so, they are rewriting old idioms  like 'mahila mahila ki dushman' (A woman is another woman's worst enemy) in their Panchayats.
Subverting Reservation
Despite these achievements, the very idea of a Dalit or Adivasi woman contesting from unreserved seats still remains a far fetched idea and practice.
"Women can only contest from the seats reserved for women", repeated almost every Adivasi woman we met during the Panchayat elections in Southern Rajasthan. Women are discouraged from contesting from non-reserved seats, a widely held belief, which has subverted the very purpose of affirmative action. Women like Badami Bai and Bhuri Bai are unable to contest elections in every term and have to wait for their turn when the Panchayat is declared a reserved seat for women.
Meanwhile, their struggles against patriarchy, poverty and inequality continue everyday.
[Drishti Agarwal and Manju Rajput support the Aajeevika Bureau's Family Empowerment Initiative. Aajeevika is a specialised non-profit initiative that provides services, support and security to rural, seasonal migrant workers. Follow them on Twitter  @AgarwalDrishti , @ManjuRa85784609]
[The authors would like to thank Vimla Panda, Preema Dhurvey and Ajampa for their continuous support and strength that they provide to the Ujala samooh women in Banswara district]
Support BehanBox
We believe everyone deserves equal access to accurate news. Support from our readers enables us to keep our journalism open and free for everyone, all over the world.