Bihar's Gender Budget Fails To Bridge Gender Gap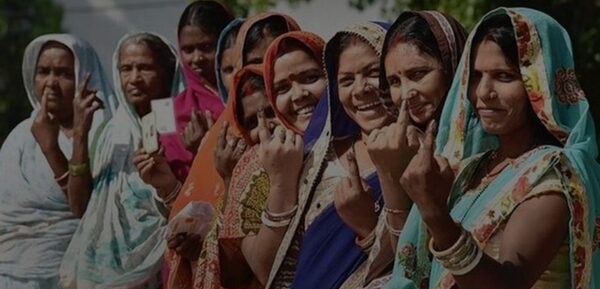 Gender gaps in Bihar are glaring.
Nearly half (46%) of women in Bihar are illiterate, increasing their chances of being married early, found a new report "Mapping Inequality in Bihar" by Oxfam India and AN Sinha Institute of Social Studies, Patna . While literacy rates have increased by 35% between 1991 to 2014, women in Bihar are 20% less likely to be literate than men. In fact, the percentage of illiterate women in rural Bihar is higher than the percentage of illiterate men in rural and urban Bihar combined, observed the report.
Bihar experiences approximately 3.5 lakhs teenage births, leading to high maternal and infant mortality rates. While the maternal mortality ratio (MMR is the number of maternal deaths per 1,00,000 live births) has halved from 312 to 165 in the decade between 2004 and 2014, according to data from latest round of National Family health Survey (NFHS) 2015-2016, Bihar's MMR is still higher than the national rate at 130.
The Government of Bihar, in a bid to address these gender gaps, has instituted several schemes and policies — Mukhyamantri Nari Shakti Yojana  for safety of women and girls in public against crimes or Mukhyamantri Kanya Utthan Yojna ensuring all-round development of girls. In the last 16 years, the Bihar government led by the chief minister Nitish Kumar  has introduced affirmative actions for women.  Bihar was the first state in  India to introduce 50% reservation for women in Panchayati Raj Institutions (local rural governance)  and all levels of urban local government bodies in 2006.  In 2016, 35% of all public service jobs, including police services, were reserved for women.
Bihar is also one of the earliest states in the country to adopt gender budgeting practices in the 2008-09 financial year- 3 years after the first gender budget statement was presented by the Government of India (GOI) in 2005-06. Gender Responsive Budgeting (GRB) is a budgetary practice of allocation and utilization of money for schemes and policies that benefit women to ensure gender equality.
The government of Bihar has presented the gender budget before the legislature as a practice every year but the departments still lag behind in delivering quality gender-disaggregated data for accounting of schemes. While the size of the budget outlays has also progressively increased over the past five years . However, the institutions for inter-departmental coordination and gender sensitization of the administration are weak in the state.
Women, as voters, in  Bihar have been increasingly exercising their franchise in the elections. In the last two state elections in Bihar (2010 and 2015), 54% and 60% registered women cast their votes respectively as compared to 51% and 53% male voters according to data from Election Commission of India.
As Bihar votes for a new government in 3 phases beginning on 28 October 2020, Behanbox looks at the data on allocation and utilization of funds under the GRB practice to decode the spending priorities for gender equality.
Gender Responsive Budgeting In Bihar
Government of Bihar has presented its Gender Budget Statement (GBS) every year since 2008-200,. The latest Gender Budget Summary, published in the  Economic Survey (2019-20) shows that the total fund allocation for women in the budget has increased every year after a dip in 2015-16.  In fact, since 2015-16, the gender budget has grown as a percentage of the total outlays in the total budget every year – from 10.4% in 2016-17 to 15.4%  in 2019-20.
The share of fund outlays for women in Bihar's budget, as a proportion of the Gross State Domestic Product (GSDP), has also seen an increase from 9.2% in 2015-16 to 15.4% in 2019-20 as data from the latest Economic Survey of Bihar and the Gender Budget Statement (2019-20) from the Department of Finance show.
In terms of the size of allocations for gender-development schemes, education received 42% of the total allocations for the gender budget in the financial year 2017-18, followed by 18% allocation to rural development. Only 9.8% of the total gender budget was allocated to health schemes for women according to the latest available Budget Actuals (2017-18) data in the Economic Survey.
The biggest challenge in the implementation of gender budgeting in Bihar is the lack of institutional capacity. Even after 12 years of GRB, Bihar does not have a department (or a minister) or directorate dedicated to women. The Social Welfare Department acts as the nodal department to coordinate and monitor the implementation of United Nations' Sustainable Development Goal (SDG) 5-  Achieve gender equality and empower all girls and women, noted Srijana Dixon and Yamini Mishra in their recently published working paper.
Gender Development Institutions in Bihar's Administration
Source:Government of Bihar
A Gender Resource Centre (GRC), set up by the Women Development Corporation (WDC), an autonomous institution responsible for welfare of women and children is the only institution that works towards mainstreaming gender policies and budgeting. The Bihar Institute of Public Administration and Rural Development, which is responsible for training of the administrators in the state, has not conducted any training for institutional building towards GRB observed the study. States like Rajasthan, Gujarat and Madhya Pradesh have set up interdepartmental committees to monitor GRB. Bihar has not established such a committee until March 2020.
Spending Priorities on Policies For Women
As the proportion of gender budget to the total budget in Bihar increases, where does the state spend its money on women?
Table 1:
Source: Department of Finance, Government of Bihar
Table 2:
Source: Bihar Economic Survey 2019-20, Department of Finance, Government of Bihar
Government of Bihar has two categories of schemes for women under its budget.
Category I schemes, where 100% of money is allocated for women, consist of the government's flagship schemes- Muhyamantri Kanya Utthan Yojna, an umbrella scheme to prevent female foeticide, nutrition, vaccinations as well as education of girls, Lakshmibai Social Security Pension Scheme for widowed women,   Mukhyamantri Kanya Vivah Yojana for monetary help for weddings of girl children and Mukhyamantri Nari Shakti Yojana for ensuring women's safety. It also includes central government schemes such as Pradhan Mantri Matru Vandana Yojana or the Beti Bachao, Beti Padhao scheme where state governments spend money according to the policy directions from the central government.
The overall allocation for the Category I schemes ranges between 27% and 41% of the total outlay of the gender budget according to budget data from the state from previous years.
Category II schemes are gender neutral where it is assumed that at least 30% allocation is for women beneficiaries. These include, for example the Sarva Shiksha Abhiyan policy (Education for All) or the Mid-day Meal scheme.  This implies that out of the outlay for women, a bigger portion has been going to gender neutral schemes, under category II, that are deemed to benefit 30 percent women. Over the previous years, allocations for schemes in this category have ranged from 59% to 73%, according to data from the Economic Survey.
A deeper, gender-disaggregated accounting of Category II schemes is necessary from various departments, which is missing the budget documents currently available in the public domain.
Table 3:

Source: Bihar Economic Survey 2019-20, Department of Finance, Government of Bihar
More than half of the 20 state departments in Bihar make less than 1% contribution to the GBS, say Mishra and Dixon. Within the Education department, 9.6 percent was allocated to category I schemes. Most gender budget allocations are made to the general welfare schemes that assume 30 percent spending on girls' welfare such as the Post-matric Scholarship Scheme or Sarva Shiksha Abhiyan.
Even with these allocations, only 22% of the money for Category I schemes are spent according to data from the Economic Survey of Bihar 2020.  Under this, the department of rural development spent the highest (48%) followed by education (19%) and social welfare (17%).
78% of money allocated to Category II schemes was spent in the same fiscal year. The Department of Education spent the highest with 42% of its funds spent in the fiscal year.
"Officials often lack gender sensitization", said Dr N Vijaya Lakshmi, a  senior bureaucrat in the Bihar government in a webinar organized by the International Growth Centre (IGC) on the challenges in implementation of gender budgeting and spending in Bihar. Lack of institutional mechanism for planning and gender disaggregated data are some of the major stumbling blocks in the implementation of gender policies, she added.
The Economic Survey of Bihar mentions various aspects of socioeconomic gender gaps. Women hold only 14.2% of total land holdings. The labour force participation rates for women are lower than the national average-  only 3.9% rural and 6.4% urban women have paid work compared to 24.6% and 20.4% to all India average. 85.7% of women in Bihar reported marriage as the reason for migration according to the 2011 census.
Table 4:
Source: Bihar Economic Survey 2019-20, Department of Finance, Government of Bihar
While the budget does address gaps in the education sector, other departments remain heavily under-resourced in Bihar's gender spending. Departments of Labour Resource (0.04 %), Industry (0.94%), Home (0.29%) and Urban Development (0.27%) had very low allocations according to the  budget actuals (2017-18) published in the  Economic Survey of Bihar.
The plethora of women centric schemes notwithstanding, gendered issues such as access to employment, piped water and sanitation, safety in public spaces, gender-sensitized infrastructure development, protection for crimes against women remain to be addressed in Bihar government's budgets and spending.
[Saumya Tewari holds a PhD in Development Studies from TISS, Mumbai and is an Honorary Associate Fellow at the Centre for Multilevel Federalism, New Delhi.]
Support BehanBox
We believe everyone deserves equal access to accurate news. Support from our readers enables us to keep our journalism open and free for everyone, all over the world.