Garment Workers Take On Global Clothing Giant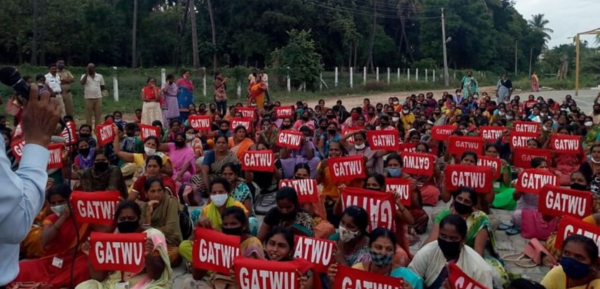 For over a month now, over 600 women garment workers have been sitting in protest against the illegal layoffs in the factory premises of the  ECC 2 unit of Gokaldas Exports Limited (GE), in the town of Srirangapatna- 126 kms from Bengaluru in Karnataka.
On 6 June 2020, Gokaldas Exports which manufactures 70% of their clothing for the 25 billion dollar transnational corporation  H&M, laid off around 1400 women garment workers in the middle of a pandemic depriving them of their only source of income. GE has not paid the workers their full wages for the lockdown in violation of the Ministry of Home Affairs order of 29 March 2020.
H&M has refused to take any accountability for the rights of the garment workers despite its agreement with IndustriALL , a global trade union and claims of  'responsible purchasing practices'.
Meanwhile, despite forcing the garment workers to resign, the women workers have continued to stand their ground, refusing to vacate the factory premises in demanding their labour rights.
The women workers are members of the Karnataka Garment Mahila Karmikara Munnade or Karnataka Garment and Textile Workers Union (GATWU) affiliated to the National Trade Union of India NTUI.
In this interview, R.Pratibha, the president of GATWU speaks to BehanBox about the illegal layoffs, the attitude of the management of GE and H&M and why it is becoming increasingly difficult to organise women workers into unions in the garment industry.
Tell us about the protest of the women garment workers at the Gokuldas factory in Srirangapatna?
The Gokuldas factory in Srirangapatna has 1400 women workers. The company has 20 units all over Karnataka and one in Andhra Pradesh. During the first lockdown from March 24th, all the factories were closed.
When the lockdown was relaxed on May 4 2020, the government advised all industries that they could operate with  30% of the workforce. Many living near the factory joined work immediately. By May 24, most women, even those who come from 20- 30 kms distance using their own transportation had joined work. They worked until 30 June.
On 30 June, at 8:30 PM, some workers reported that machines were being shifted out of the building. It is routine with Bangalore garment industry employers, to shift machinery in the night, especially on a weekend, when they want to shut down a factory.  Because they do not own the factory building and are only renting it, they can put a lock. This has been happening for the last 40 years.
So, from 8 June till today, for more than a month, 600 women workers have been sitting in the factory premises, demanding their rights.
How did the management of Gokuldas Exports respond to the workers demands?
At first, the management assured the workers that they were shutting down the factory. But between 1 June and 4 June all the production material was slowly shifted in front of everybody during the daytime only.
On Saturday of 6 June,  they plastered a  lay off notice at the time of 5:30- a time when the workers were all coming out of the factories. The notice said that all workers were to be laid off from 8 June because there was no work.
This is illegal and a violation of the Karnataka Industrial Dispute Act, 1959. The Act states that the management cannot lay off workers until a permission is granted by the Labour department and a fair intimation to the workers. The management has not done any of this.
What is the  difference between a lay off and a resignation? What are a worker's entitlement if they are laid off as opposed to resigning on their own?
Under the Karnataka Industrial Dispute Act, 1959, management can lay off workers, if there is no raw material or power breakdown or any other unavoidable circumstances. But they have to take permission of labour department and they have to tell the workers. Also, lay off period is for a maximum of 45 days only and workers are entitled to 50% of wages.
A resignation though voluntary is often set off by the management. In Karnataka at least,  garment factory owners are very cunning and they spread rumours about the factory to scare the workers into tendering their resignation.
When a worker resigns, they get only statutory pay and no gratuity or 15 days per year compensation if they resign before completing 5 years. They get a 1 year bonus and some leave encashment.
They will pressurise the workers in several ways. They tell them that if the factory closes and if they go to court it will take 5-10 years and they may get nothing. So it is better to take what they are getting now. They will say that the Human resource (HR) department will close and they would have to go to Bangalore to settle their accounts.Then, there is pressure from their husbands and families too to stop protesting and take whatever they get.
Despite all this, our women workers in the factory have been steadfast in their demands.
How much are the workers paid in garment factories? Has the company paid the lay off wages?
Workers in garment factories are paid a daily wage,  paid on a monthly basis.  It is only minimum wage. The statutory minimum wage is now around Rs 9500 for Zone 1, that is in Bangalore. In Srirangapatna, which is Zone 3, it is less than 8800 for 26 days.
Yes, the lay off wages have been paid last week. workers are very strong and we have campaigned very strongly with H&M and we are affiliated with industryALL,  a global union representing 50 million workers in 140 countries in the mining, energy and manufacturing sectors.
Why has this particular unit of Gokuldas the only one to shuter when it operates, as you said, 20 units all over Karnataka?
This unit of Gokuldas exports is heavily unionized. Hence they are targeting the closure in the garb of Covid-19 losses. Their plan was to first lay off and then ask each worker to tender their resignation and slowly close the company. But our workers Union is very strong. Despite management pressure, they have not resigned. On the other hand, they have filed a complaint in the labour department.
The case is now under consideration. We are also putting pressure on HnM to take responsibility for the 1400 workers because they have worked for them for the last 10 years. This is the only factory in Srirangapatna that employs 1400 workers. 50-60% of the women are single women and sole earning members of their families that depend on this job.
What has been the position of the H&M through this protest?
H&M is signatory to the global framework agreement with industryALL global union but it's response has been weak. They're not taking any responsibility of these workers. Their position is that this is an issue between the GATWU and the Gokuldas management and they could play the role of a facilitator in the negotiation. We have clearly said there is no negotiation and we want the company to open.
How unionised are the women led workforce in garment factories in Karnataka?
Very very very less.  Hardly 1% of the garment workforce is unionised. Even we are working with a very small number. There are 4 lakh workers in all of Karnataka. Less than 40 thousand workers are members of unions. Yeah it is very difficult and any union is not formally recognised by any management.
Help us understand why so few women workers are members of unions in the garment industry?
First, all these women are first generation workers who came from fields to factories. They don't have any experience with the process of unionising.
Secondly, the entire garment industry work space is so pressured that they cannot talk to each other even. They work continuously from 8:30 to 5:30 with heavy production targets. Then, these women are supervised by a male supervisor or a manager who keeps a very tight surveillance on these women workers.
These workers have long distance commutes and have no time after work as they have to rush home for household chores and care work. There is just no chance for them to stay back to meet and unionise.
Another problem is that the turnover in the garment industry is high- 20-30% and in Bangalore it is 100% to 150%. This makes it difficult for us to organise when workers move factories.
Most of all, management of factories  sow fear in the minds of workers about the threats to their jobs if they unionise.
How did the GATWU manage to organise women in this Srirangapatna factory despite all these challenges? 
In Srirangapatna, this is the only factory and source of employment for the women workers. So they are determined to get their jobs back and stay steadfast on their demands. Besides, over the years, our leaders have built the strength to negotiate with the management and the HR department. We trained them on labour laws and the illegality of the management moves. In places like Bangalore, it is a bit difficult to unionise because they have more employment options. Some 7-8 factories have closed in Bangalore only due to Covid-19, but  no workers have demanded or protested for their jobs. They have either joined elsewhere or stayed at home.
How exploitative are these garment factories for the women workers? 
These multinational brands source their garments from factories with cheap exploitative labour from all over the South Asian countries. They place the order on bid for factories that are able to produce more at a cheaper rate and quicker time.
The supplier is also working at a very marginal profit, so that all pressure will transfer to the women workers who will have to do more working hours, more than what an average worker can produce in 8 hours.
So, the workplace situation is is rife with physical, mental and sexual harassment by male supervisors. The patriarchal mode of production is reproduced in these factories where men hold the power to squeeze labour from the women workers.
Very low wages for the women workers is how they keep the exploitation alive.. they are paid only Rs 8800, which is their minimum wage for 25 working days. For a day's leave, she stands to lose Rs 300 a day.
Their work hours are also extendable, even though the law lays down 8 hour work days because they are dependent on production targets.
[Vasudha Varadarajan has completed her Masters from Azim Premji University. She is interested in working with gender and ecology]
Support BehanBox
We believe everyone deserves equal access to accurate news. Support from our readers enables us to keep our journalism open and free for everyone, all over the world.