Women Resist Against India's Citizenship Laws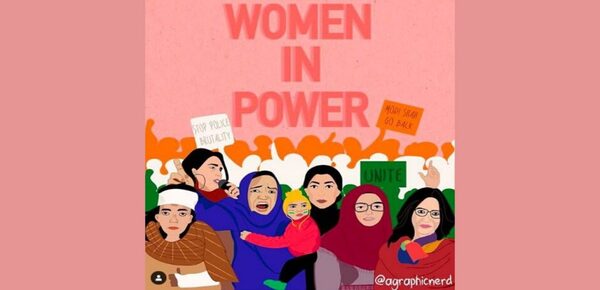 'Jamia ki ladkiyon ne raasta dikhaya hai, toh Jamia ki ladkiyon ko Inqualab Zindabad' [ Jamia's women have shown us the way, so revolutionary greetings to women of Jamia], 
This prominent protest slogan speaks volumes about the leadership of women- especially Muslim women- in India's resistance against the discriminatory citizenship measures passed by the government of India- the Citizenship Amendment Act (CAA), the National Register of Citizens (NRC) and the National Population Register (NPR). 
Since December 15th when anti CAA-NRC resistance began, women have led 426 protests in India.
These include :
87 Women led protest Marches
119    Women led protest Rallies
229   Women led protest Sit-Ins 
Explore the interactive map here:
Caption: Women Led Protest Map against NRC-CAA-NPR
The Government of India has legislated the Citizenship Amendment Act, 2019 which gives citizenship to persecuted minorities from neighbouring countries excluding Muslims. Additionally, it has announced the implementation of a National Register of Citizens, which demands documents of ancestry for future citizenship. Together these two instruments,as political scientist Professor Niraja Gopal Jayal explains, will lead to radical transformation and exclusion to  India's idea of citizenship.
The resistance movement against the NRC-CAA-NPR that started on Jamia Milia Islamiya and Aligarh Muslim University campuses has spread across the breadth of India to cities, town and villages across states within the span of a month. Women are not only playing a crucial role in the resistance but leading it from the frontlines as well as the margins in various ways.
Between December and March, BehanBox has documented the role of women in the resistance movement. Read our series on  Women In Resistance here, here, here and here.
Women Led Protest Map 
Merriam Webster's dictionary describes a protest as 'the act of objecting or a gesture of disapproval'. Across India, people have been protesting against the NRC-CAA-NPR in myriad ways, both on the streets and off it.
Over the last month since the protests began, we have been collecting data on women led protest rallies, marches and indefinite sit-ins, where women have taken to the streets to express dissent against the NRC-CAA-NPR. We have mapped these street protests that are led by women. We have documented 426 women led protests across the country until the protests came to a halt because of the Covid-19 pandemic.
We define women led protests as those where women have started, assumed clear leadership or even participated in equal or greater numbers than men. We have collected this data predominantly from newspaper articles and social media.
We believe each form of resistance is a valid one with the potential of shaking the citadels of power. This map, however, is a register of street protests only.
We believe it is important to document women led resistance for two reasons. One, to understand and acknowledge the scale of women's leadership in the resistance, as more protests are being organised everyday. The second reason is to document women's leadership for posterity so that their role is not relegated to footnotes of history when the resistance is over and important rights and freedoms have been won.
We have classified women-led protests into 3 categories
Har Bagh Shaheen Bagh- Women-Led Indefinite Sit-Ins
Caption: Women Led Indefinite Sit-in Protests
On the afternoon of 14th December 2019, a group of 15 women started a small protest in Shaheen Bagh against CAA-NRC-NPR in India's capital city of New Delhi. This protest not just transformed into an indefinite sit-in over the last month but has spawned similar sit-ins led by women across towns, cities and villages in India. Till date, we have documented 229 such sit-in protests.
In Delhi alone, there are Shaheen Bagh like sit-ins in 21 sites. These are at Turkman Gate, Inderlok Metro Station, Seelampur, Khureji, Kardam Puri, Brijpuri (Old Mustafabad), Chand Bagh (Bhajanpura), Khajoori Khas, Wazirabad, Idgah, Hauz Rani, Azad Park and Jamia Millia Islamia.
Explore the interactive protest map of Delhi.
Caption: Interactive protest map for Delhi state with women led Sit-ins, protest rallies and marches
After Delhi, Patna in Bihar has the highest Sit-Ins at 9 sites:  Phulwari Sharif, Digha, Mangal Talab, Samanpura, SabziBagh, Harun Nagar, Bakarganj, Gandhi Maidan 
Indore has 3 sit-in in Badwali Chowk, Manik Bagh and Kharjana. Such indefinite protests are being held in Pune, Ahmedabad, Mumbai (Mumbhra), Kolkata, Lucknow, Kanpur, Allahabad, Bhopal, Nagpur, Jaipur, Ranchi, Cochin and Aligarh.
Small towns and villages are also seeing women led sit-ins. These are in  Lakhminia( Begusarai), Muzaffarpur, Aurangabad, Kota, Gaya, Malmal (Madhubani), Wasseypur (Dhanbad), Sitamarhi, Araria, Hazaribagh, Nanded, Bareilly, Motihari, Gopalganj, Kishanganj, and Deoband.
Women Led Protest Rallies
Women are not only attending protest rallies but outnumbering men in cities and towns. We have documented 119 women led protest rallies so far. Apart from all big cities, towns like Bijapur, Tumkur, Chikaballapur, Bharuch, Vapi, Kota, Hingoli, Dhanbad, Kurnool, Kadapa,Jamshedpur, Sitamarhi,Siwan and many others have had women led or women only protest rallies.
Women Led Protest Marches
Women have been leading protest marches across towns and cities creating awareness and showing dissent against the discriminatory citizenship measures. We have mapped 88 women led marches across the country.
 Over 3 lakh women in Malegaon in Maharashtra took to the streets on the 6th January 2020 to protest against NRC-CAA-NPR. Women in Attapur in Hyderabad took out a silent protest march. Women in Hyderabad has gathered impromptu as flash protests when police have declined permissions.
Women, queer and transgender communities led a protest march called "Nafrat Ke Khilaaf Savitribai" on the birth anniversary of SavitriBai Phule in Delhi, Chandigarh, Ranchi among places. Towns like Vijayawada, Gauhati, Jamshedpur, Kurnool, Gulbarga and Vasco among others have seen large scale women led marches in protest against the citizenship measures of the Government of India.
Bihar protest map
Among the states, Bihar is seeing massive levels of people's mobilisation against the citizenship measures. In fact, we have recorded 73 women led protests in Bihar, the highest for any state. We have also recorded 60 women led sit-ins in Bihar-  the highest for any state. These protests and Sit-Ins are being organised in villages deep in the heartland of Bihar. There are 10 indefinite Sit-Ins in Darbangha district and 5 in Madhubani district along with many other districts.
Explore our Bihar protest map here:
Caption: Interactive protest map for Bihar state with women led Sit-ins, protest rallies and marches
How to read the Map
Each protest/march/sit-in is marked as a hexagon in the map. If a place (ex: New Delhi) has had multiple protests over time, events are clustered together at India level.

Caption: Events clustered along the Delhi-UP border
For details of the protest, zoom into the map

Caption: Individual protest events zoomed- in near Delhi
Each hexagon holds information regarding the event as a tooltip.
For the tooltip to be persistent (ex: to click the More link), click on the hexagon. Click on the same hexagon to hide the tooltip after observing.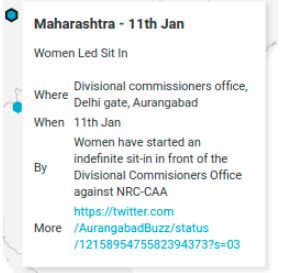 Bhanu K is interested in technology, people, data, society. He tweets @thoughtisdead
Support BehanBox
We believe everyone deserves equal access to accurate news. Support from our readers enables us to keep our journalism open and free for everyone, all over the world.