A Day In The Life Of Women Garment Workers: Some Lessons For Employers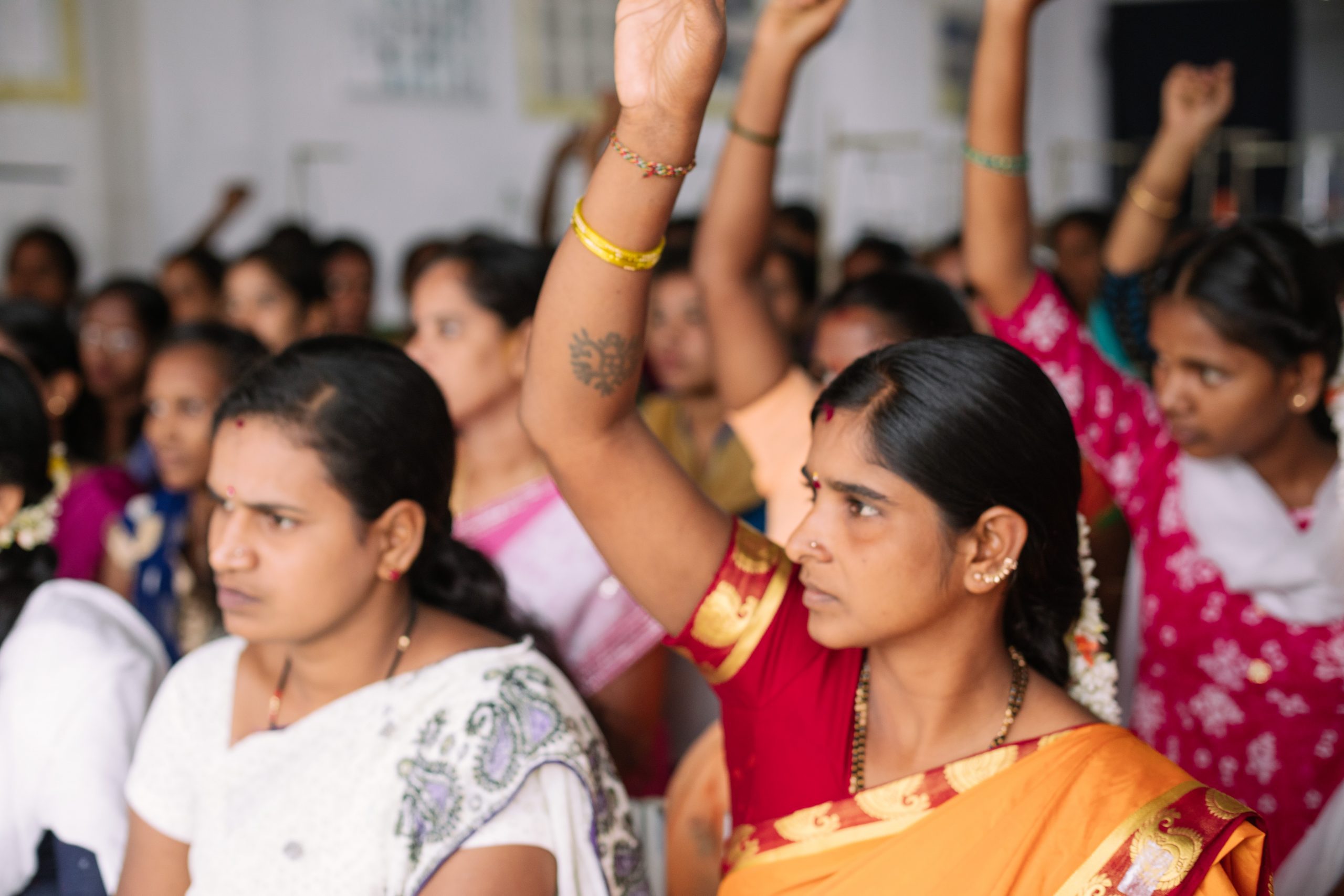 Bangalore: In 2021, a qualitative study was carried out on women's career progression, access to healthcare and grievance redressal mechanisms across the textile and apparel industry. It was a collaborative effort between Good Business Lab (GBL), a not-for-profit that works on labour innovation, and the World Benchmarking Alliance (WBA), which focuses on sustainable transformational processes in the private sector.
The pandemic has compelled several organisations to rethink the way they function and for long "the future of work" has been a buzzword across industries and sectors. But how this future is redesigned must include the concerns, needs, and voices of the workers, shows the GBL-WBA study done for their 2021 Gender Benchmark. This would mean examining the patterns that shape workers' lived experiences.
The largely labour-intensive apparel industry in India, employs about 45 million workers of which 60% are women. One of the biggest challenges faced by  apparel manufacturers is to retain their workforce: a 2018 study found that close to 40% of the female workforce dropped out within six months of joining. While there are myriad reasons for this low retention rate, our interaction with the workers in units across Karnataka and Delhi NCR, revealed a few systemic issues that influence their decision to leave the workforce. 
Women require facilities that support them in engaging in work at all phases of life, we found. A few such facilities include inclusive healthcare, childcare, upskilling and grievance redressal mechanisms, which are legally mandated for larger organisations. Smaller organisations struggle in the race for worker retention, as without the advantage of scale it becomes expensive to provide these facilities for their workers.
Even in organisations where comprehensive facilities are available, crucial gaps in quality of these facilities, training and worker awareness do not allow workers to enjoy their full benefits. Facilities need to be designed with systems and mechanisms that are woven into the existing lifestyles and aspirations of women workers, we found. 
The insights from the GBL-WBA study inspired this fictional piece outlining a day in the life of women garment workers in Karnataka.
—————————————————————————————————————————————————
X-port Co. is a manufacturing chain that employs around 50,000 garment workers across India. Conscious of the business benefits of investing in the health and well-being of its workers it provides them comprehensive facilities such as subsidised transport, basic healthcare, creche and toilets on every floor. As most of its workers are women, X-port provides subsidised products and supplements for menstrual and reproductive health. It has free training programmes that cover soft skills, financial as well as industry skills at various levels. Xport also set up a state-of-the-art grievance redressal system in 2021. All workers have access to a migrant support system to help them settle into their work destination, access government schemes and fill out the paperwork.
Here is an imagined day in the life of its women workers in a unit in Bangalore based entirely on reality.
—————————————————————————————————————————————————
7:30 am: Neethi, 30, boards a public bus. She finds an empty seat at the back, and she is soon lost in thought as she gazes out of the window. Her 11-year-old son has a maths exam and though she is not educated enough to help him prepare she hopes the okra and bisi bele bath lunch will energise him. She wishes he took his studies more seriously, concentrated better and worked harder. Like his younger sister. Like she had herself once yearned to.
8:15 am: Prathiba, a curious young woman from an Odisha village, moved to Bengaluru two years ago. As she walks into the driveway where the morning prayers are held at the factory, she finds her colleague Neethi queuing up in the back row and tells her gleefully that she has finally found a market close to her home that sells vegetables special to her home state. Prathiba is slowly learning to frame sentences in Kannada and Neethi is usually patient and encouraging with her attempts but today she seems distracted. Neethi has caught sight of Manjula standing in the first row of the prayer assembly. "Ahead as always," she thinks and sighs.
Neethi, Prathiba and Manjula all work in the same sewing line on the second floor of the bustling factory. They all work under the same supervisor whom they call "Sir". But that is where the similarities end. 
Prathiba in Bengaluru learning, unlearning and getting accustomed to a city that is hundreds of miles away from home, both in distance and culture. She is very proud to be able to make sense of what Sir is saying in Kannada. 
While they work in the same sewing line, Manjula ranks highest among the three. She is among the few women to have been promoted recently to the position of a captain. She wishes the workers would call her "Madam" the way they refer to their supervisor as "Sir". But her linemates still call her Manjula because they were friends first. Manjula is also on the restroom and canteen committees where she is in-charge of ensuring cleanliness and hearing her coworkers' concerns.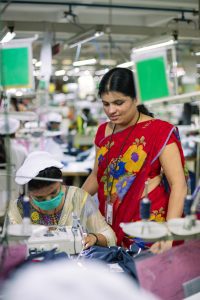 In a factory with skewed managerial representation, it is refreshing to see Manjula and five other women take charge as captains. Many women have been offered promotions to captainship and supervisor roles, predominantly held by men, but a majority of women have declined these posts for a number of varied reasons. Some women perceive themselves to be underqualified and say: "I don't have much knowledge about being a supervisor, I'm not that educated." 
There are others who cite familial responsibilities: "I don't get any support because I am expected to do all the household chores." 
Though she lives from paycheck to paycheck, Neethi would argue that money is not everything. She says she must fulfil her responsibilities, "as a mother and wife". It is evident that she believes that her family wouldn't support her aspirations. A supervisor has to spend an additional hour at work, being aware of and teaching junior staff the different types of stitching, while communicating delays and concerns to managers. The role also includes ensuring that line operators stick to their schedule and achieve their targets. This could mean she wouldn't have sufficient time to manage her household. 
Many women learn what being a supervisor entails by observing Sir. They fear that they would have to emulate his aggressive style of supervision if they are promoted and this is one of the biggest barriers to their career progression. This fear is exacerbated by the absence of women in positions of authority who can act as role models. Sure, there are HR, welfare officers, doctors and nurses – but are they held accountable to the same hourly targets as a line supervisor? 
It is for having beaten these odds and taken on the challenge that Prathiba and Neethi are in awe and look up to Manjula. How does she manage, they wonder, to seamlessly juggle work, family, social obligations, and all other responsibilities?
Manjula, 27, is an out-of-towner, married with two children. Like everybody else in her line, she struggles to provide for her family and constantly worries if she is doing a good enough job. Since she cannot spend much time at home, Manjula and her husband have left their children with grandparents back in their hometown. This also allows for additional savings. But at all times Manjula feels guilty about having left her children in the care of someone else. She tells herself that this is a price she has to pay for giving them a better life when they are older. 
……………..
8:30 am: Manjula has set up everyone's places and allotted them the pieces they have to start work on while she takes attendance. Then she is on her toes ensuring that targets are met. She also takes the place of any worker who is absent, or away visiting the dispensary, or on a washroom break . Prathiba and Neethi sit next to each other but their only interaction is during their short cleaning and lunch breaks.
Manjula learns that one of her linemates, Asha, who works as a 'helper' is a few months into her pregnancy and will not be able to continue many of her tasks. Asha's role requires her to be on her feet all day, walking up and down the massive factory multiple times. Manjula now needs to transition Asha into an operator role that will allow her to sit, and also to modify everybody's targets so that the daily total is met. As a result, the targets of Prathiba and Neethi are increased by three pieces each. Prathiba sighs. This means that she would need to squeeze in a few additional  minutes from her breaks to wrap up on time.
She then overhears Asha telling her friend about her  plans to go on maternity leave. Prathiba remembers being briefed about the provision when she joined, but hasn't seen anybody make use of it in the two years she has worked there. She is glad that Asha is able to get paid in full while being on leave. She remembers her village, and how her sister-in-law had to quit her job as a weaver. Her own mother had no choice but to manage farm-work  while single-handedly caring for an infant. She thinks about how ideal it would be if Asha's husband had such a provision for parental leave as well.
She continues to hear snatches of their conversation. She learns that Asha and her friend prefer a private hospital over the Employee State Insurance (ESI) facilities where the workers are entitled to basic treatment. 
12:30 pm: Prathiba asks Neethi why this is even a discussion because ESI provides free healthcare. The women around jump in as though they have been waiting for the day when they could finally talk about how the public healthcare system has failed them. 
"Oh! ESI doesn't cost money but it definitely costs you time. Isn't that the same thing? I can't take a full day off to see a doctor for a minor inconvenience." 
"But your ESI covers your immediate family. I make sure my whole family avails this facility. Why doesn't your family use it, if not you?" 
"Aiyyo, my kids live with their grandparents in the village. There is no ESI there." 
"I went there for my first childbirth and the doctor was so rude to me. I would rather pay more and get treated where I'm respected."
"That's true. They can be rude but they are giving the services for free, na?" 
"It doesn't justify that. And no, these services are not entirely free. Don't you see in your payslip that some money is deducted from your salary every month? It is meant for your ESI, and the Employee Provident Fund (EPF). We have every right to demand a better service!" 
The discussion tapers off as the workers file downstairs to the factory floor for their afternoon shift. 
1 pm: All Pratibha understands from this exchange is that her salary is being deducted for a number of services that she isn't fully aware of. She decides to meet with her HR officer sometime soon to figure out the details. She had gathered from her friends that she could take home a lump sum of Rs 2 lakh from her PF upon completion of five years. This has been her plan all along – work till she turns 23 and collect the money to pay for her own wedding.  
In the next line, conflict is brewing. One of the workers has requested leave to go to her village for her niece's wedding but the supervisor is not willing to grant it at such short notice. At first he brushes aside her request, but when she persists, tempers begin to flare. 
"I'm the only one that never gets leave," she exclaims. 
"Your niece gets married every other month!" the supervisor shoots back. "And how many times has your uncle died?" 
Tears stream down the worker's cheek as she retreats to the restroom. Manjula follows her. 
"There's no use in being angry, sister," Manjula tells the worker. "You have to learn to solve your problems. Why don't you go and speak to HR? Ask if they will talk to Sir."
The worker looks unconvinced and shakes her head. "What if Sir takes it out on me? He is always picking on me. Rupa has taken leave twice this month already. I'm the one that never gets a leave."
"You should definitely discuss this with HR," Manjula reiterates. "And if you feel you are being treated unfairly, you can always leave an anonymous complaint in this box ." Manjula points to the suggestion box placed outside the washroom.
Suddenly, Manjula is hit by self doubt. Will she ever have what it takes to be a supervisor, assert herself like him? He seems to be able to withstand all the workers' outbursts. He can be firm and harsh but she doesn't she can do the same.
4:50 pm: As workers begin to clear their workstations, Manjula does a final round to make sure that the line is left tidy, the pieces collected, counted and stored. Then it is time to hurry for the bus. 
5:50 pm: When her bus rolls into her home stop Manjula finds her neighbour and friend Sunita there. They haven't seen each other in a while. The last time they spoke, Sunitha was an operator at a smaller garment factory which produced apparel for an Indian retailer. 
"How is work?" Manjula asks. "How are you managing?" 
"Work is going well," Sunitha says "Now that my in-laws have gone back to the village, I have got permission to work from home so I can also look after Chikku."
"How does that work? Is there no creche at your factory? Some of my colleagues leave their young children under 5 years-old in our factory creche and pick them up after work," asks Manjula, whose own children are much older. 
"No, we don't have anything like that," Sunitha admits with a hint of envy. "but I have got permission to work from home through the week and drop the pieces off on Sunday. This way, I can be close to Chikku and watch him grow up. After all, I'll need to help him with his homework once he starts going to school next year."  
"Chikku doesn't seem like he would need your help. He's too smart for his age!" Manjula jokes. 
Many women workers lack access to childcare facilities which keeps them from participating in gainful employment. Unlike Sunitha's employer, most small units cannot offer flexible work arrangements nor do they offer on-site creches.
As they come to a fork in the road, Manjula says "Sari, nale sigona (I'll see you tomorrow)"
She wonders how Sunitha will manage to be productive as she juggles childcare with  housework and thinks about the facilities that her friend is missing. Now that she thinks about it, she realises that she does look forward to going into work every morning and seeing her colleagues, even the volatile Sir. She feels proud about her role in the committee and how she has contributed to the wellbeing of her colleagues. 
7:00pm: At home, all three women get busy with cooking and cleaning. After dinner, Manjula and her husband check on their children over the phone. Neethi grills her son about his maths exam while her daughter recites a poem she learnt in school. Prathiba and her roommates struggle to stream a movie on her phone with limited internet bandwidth. 
10:00pm: The three women mentally brace themselves for another day of work and look forward to Sunday.
Support BehanBox
We believe everyone deserves equal access to accurate news. Support from our readers enables us to keep our journalism open and free for everyone, all over the world.