---
Women MP Track
8th-9th July 2019
Highlights
Women MPs in Lok Sabha
asked 20% of Oral Questions
17% of Written Questions
17% of Zero Hour Speakers
7% of MPs who raised issues under Rule 377
Questions (Oral and Written)
Finance
Raksha Khadse (BJP) asked the Minister of Finance if NITI Aayog has listed 192 loss-making Public Sector Undertakings (PSUs) for disinvestment if there were any objections raised by labour organisations.
Meenakshi Lekhi (BJP) wanted to know from the Finance Minister if the Goods and Services Tax (GST) has helped in widening the tax base of the Government along with the data.
Steel
Pritam Munde (BJP) asked the Minister of Steel if about sub-standard or defective steel being imported which is hurting the domestic manufacturers. She also asked if high prices of domestic steel has resulted in non-competitiveness of Indian downstream engineering exports
Rama Devi (BJP) also wanted to know from the Minister if steel is being imported despite huge production in the country She sought answers on whether import of cheap steel from various countries including China has badly affected the indigenous steel industry and whether the Government proposes to increase import duty on the steel.
Corporate Affairs
Poonam Mahajan (BJP)asked the Minister of Corporate Affairs if Government was planning to start automatic data exchange across the country.
Child Labour
Shobha Karandlaje (INC)sought data on the total number of cases of child labour in the country which have come to light during the last five years and asked if Government is adopting a multi-pronged strategy to combat problem of child labour.
Caste Discrimination
K Kanimozhi (DMK) wanted to know from the Minister of HRD if rampant caste based discrimination took place in the higher education institutions in the recent past and the action taken by the Governement, including constituting special cells and committees to look into complaints of discrimination against Scheduled Caste/ Scheduled Tribe students.
Aparupa Poddar(TMC) asked the Minister of Heavy Industry on discrimination against Other Backward Classes (OBCs) employees working in Public Sector Undertakings (PSUs) over calculation formula of 'creamy layer' in the country. She also asked Government's policy decision and reasons for not not applying uniform formula in calculating creamy layer in PSUs.
Women's employment
Aparupa Poddar (TMC) asked the minister of Labour and Employment if average women participation in employment dipped over 70% in the last 5 years. She also wanted answers on why women labourers and employees in private sector of the country earn less than that of national wages. She wanted to know Government's policy on generating employment for women.
Mines
Meenakshi Lekhi (BJP) sought data on themining accidents and fatalities of workers reported in the last 3 years. She also wanted to know if Government has provided adequate fire safety and security systems to combat any such fire accidents and other dangers arising out in mines and the status of fund allocated, disbursed and spent on security of mines
Labour
Dr. Pritam Munde(BJP) sought to know whether the Central Government has announced a cut in contributions made by employers and employees towards the health insurance scheme of Employee's State Insurance Corporation (ESIC)
Queen Oja(BJP) wanted to know ifthere is variation among States in wages offered to various types of unskilled labourers in the country and Government's plans on making Minimum Wage mandatory for all states.
Tribal Affairs
Remya Haridas (INC) wanted to know from the Minister of Tribal Affairs if Government has received petitions from diverse tribal villagers who have been displaced by National Water Projects and any compensation awarded to them.
MPs discussed the Union Budget on both days. 8% of the MPs who participated in the discussion were women.
---
1st July 2019
Highlights
20% of Oral questions were asked by Women MPs
9% of written questions were sought by women MPs
8% of speakers during Zero Hour were women MPs
19% of MPs raising issues under Rule 377 were women
18% of MPs debating on the Bills were women.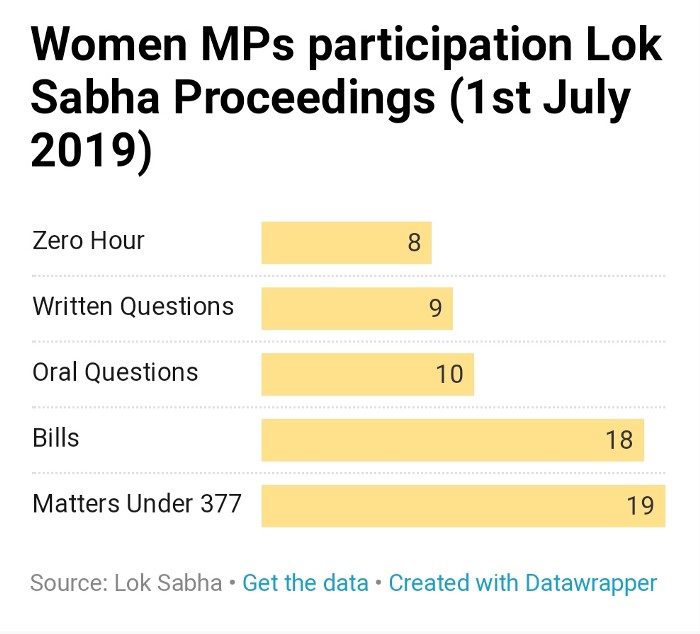 Zero Hour
Queen Oja (BJP), MP from Gauhati raised the issue of Smart cities. Gauhati, declared a Smart City 3 years ago has only spent 16 Crores till now. A Special Company called the Gauhati Smart Cities Company was registered in 2013 which the Assam Government is a shareholder with a total capital of Rs 2,296 crores.
---
Questions (Written and Oral)
Labour
Dr. Pritam Munde (BJP) MP from Beed in an oral question asked the Minister of Labour and Employment if the Government was planning to extend the applicability of the Minimum Wages Act to all forms of employment and workers in both the organised and the unorganised sectors.
Ranjanben Bhatt (BJP) MP from Vadodara asked if the Government is considering to increase the coverage of social security in the country for the unorganized workers. She asked if workers in Delhi have access to social securities like provident funds, family pensions, gratuity, workmen's compensation. She asked if the Government proposes to bring about a sea change in the labour laws through amendment keeping in view the interests of labourers/workers.
Supriya Sule (NCP) from Baramati and Dr. Heena Gavit (BJP) from Nandurbar sought to know about the number of jobs provided in Government/Private Sectors during the last three years and whether the data released by Labour Ministry recently has shown that
unemployment rate rose to 45 year high of 6.1 per cent in 2017–18. They asked for the sector-wise details where the unemployment was highest.
Rama Devi (BJP) from Sheohar sought to know if the Government is implementing equal rate of wages in every State and if it
plans to increase the wage structure as the cost of living has
increased. She also asked if there were any health facilities for workers?
Finance
Rama Devi (BJP) asked the minister of Finance if the Reserve Bank of India (RBI) does not take any action on illegal recovery of loans by the private sector banks unless a complaint is lodged.
Public Libraries
Supriya Sule (NCP)and Dr. Heena Gavit (BJP) sought to know from the Minister of Culture about the number of public libraries set up and proposed in the country and the number of libraries including at panchayat and district level. The also asked about the Central assistance made available and utilized for this.
Corporate Affairs
Supriya Sule and Dr. Heena Gavit asked if the Government has
signed a Memorandum of Understanding(MoU) with Securities and Exchange Board of India (SEBI) recently to curb the white collar frauds and if it plans to constitute Data Exchange Steering Group to review the data exchange status periodically.
Bills
Central Educational Institutions (Reservation in Teachers' Cadre) Bill, 2019.
4 Women MPs spoke during the debate of this Bill
Protima Mondal (AITMC)
Supriya Sule (NCP)
Dr. Pritam G Munde (BJP)
Anupriya Patel (Apna Dal)
Protima Mandal, speaking on the debate of the Bill, highlighted that the Bill was an effort to bring equality and by reviving the 200 points roster as against 13 points system put forth by the High Court of Allahabad in a "democracy still tainted with caste-based discrimination."
She objected to the process of Ordinance resorted to enact this. She also recorded her objection to sub-clause (a) that mandates certain institutions which will be kept out of the provisions of this Bill and wanted to know the basis of selection of the institutes. She said that from the pattern visible, institutes fall under the category of science and technology.
By doing so, is the Government again repeating the mistake of doubting the capabilities of the concerned category? When these universities have reservation for the student community, then why not for the teachers as well?
She suggested that reservation should be allowed for the universities that are excluded and a regulatory board should be constituted to ensure proper functioning of the provisions of the Bill.
To avoid cases like that, which involved suicide of Rohith Vemula, this is a very important step that the Government can and should take. It cannot be done until serious steps are taken because another young girl Payal Tadvi lost her life. Sukhdeo Thorat, a Professor Emeritus of JNU and former UGC Chairman who headed the Committee to investigate the allegations of discriminatory treatment against the Scheduled Caste and Scheduled Tribe students at AIIMS, had found that lower caste students faced discrimination in everyday lives at the premier institute.
She concluded by quoting Sheetal Sathe, an Ambedkarite poet:
"Nausea served in the plate, the untouchable nausea,
The disgust grows in the belly, the untouchable disgust
It's there in the flower buds, it's there in sweet songs
That a man should drink another man's blood,
This is the land where this happens
This is the land of hellish nausea."
The Bill was passed